Here is our top list of best hotels in Europe.
Read on and get ready to zzzz easy
Intro
Within you'll discover the list of best hotels in Europe. We carefully selected our list of accommodations and ranked them based on various criteria.
Having visited a few cities in Europe, we now have a good grasp on what qualifies a terrible versus a great hotel.
Our ranking is quite simple, since we travel to explore the destination city we know we won't be spending a lot of time indoors. Find our criteria and list of best hotels in Europe below.
---
" Proximity to the city center is one of our most important criterion, since it allows us to save time going to and from our Hotel. Plus it saves us money for car rental / public transportation ! "
---
Disclosure: This page contains affiliate links, meaning We receive a commission if you decide to purchase using our links mentioned in this page, however at no additional cost to you.
---
How we evaluate Hotels
Here is the list of important criteria when looking for overnight accommodations.
1. Accessibility
We usually look out for accommodations in proximity to the city centre and try to combine this with our allocated budget. However, there are instances where we need to extend to the outskirts when the cost per night is too high.
For instance, this was the case when we searched for a place to stay in Amsterdam. Luckily we found what we felt was the perfect solution.
Check out our recommended accommodation in Amsterdam, in suggestion number 3.
2. Quietness
Since we spend little time in our hotel or BnB rooms, quietness is also very important for a good night's sleep.
If we spend 2 or 3 night in a particular city, chances are we'll only stay in our room to shower and sleep. In this case, we'll want to maximize our exploration time in the city so we'll need a great night's sleep. Which is why quietness is important.
Unfortunately, this criterion is hard to evaluate from the hotel's website, which is why we use Google Reviews or other to get a better impression from previous guests.
3. Cleanliness and ergonomics
Our first impression is usually based on how clean the room is along with its layout and liveable space. We're no clean freaks however, we enjoy the peace of mind that our room is clean and well prepared. It shows that hotel management is concerned and respectful of their guests.
We also prefer the natural fresh feel rather than stuffiness or overpowering scent of harsh cleaning products. Again, this is something to look our for in guest's reviews as the hotel may or may not elaborate on this topic.
4. Inclusions
Usually the large hotel chains have a long list of inclusions on their pre-booking page. However the smaller scale BnB's and Inn's might not publish this.
We recommend that you make a list of what's important to you and make it a point to seek them out. For instance, you might need to blow dry your hair or use an ironing board when getting ready for a nice restaurant.
It's also nice to be surprised. A few of our recommendations below managed to pleasantly surprise us once we arrived onsite.
5. Personality
At number 5, we have personality. For a few reasons, we usually try to give our business to the smaller businesses rather than large hotel chains. One, of those reasons is that large hotel chains lack personality because everything feels almost generic.
Usually, smaller accommodations have the ability to wow with the personality of the building and rooms, the staff and the decor.
Each recommendation that we have in this blog has impressed us with their personality. They have managed to create a different experience for us, almost like an escape from our vacation!
Read on.
Here is the list of our favorite accommodations.
1. Les Voiles Vertes, Mont Saint Michel
There was a mix of hype and stress as we planned our trip to see the Mont Saint-Michel. We wanted to plan our trip to this remote part of the world correctly because missing our shot would be very costly.
Part of our stress came from understanding the accessibility of the Mont. Our worries were 'where to stay' and 'was it necessary to rent a car' ? Luckily, when we found 'Les Voiles Vertes' many of our questions were answered.
Great place to stay in Mont Saint Michel
It's a BnB ran by a charming British lady between Ponterson and the Mont Saint-Michel. Our host, Marianne helped us with transportation to and from the Ponterson train station as well as a few local lifts. She also offered to prepare tea before bed as well as a delightful breakfast.
We only wish we could have stayed longer to explore the region, especially since Marianne seemed to have such great recommendations for us.
Our Voiles Vertes Ranking :
Accessibility 4/5
Let's face it, the Mont Saint-Michel is a highly touristic area, however it's not exactly a bustling city with lots of public transportation. Nonetheless, our host Marianne made it super smooth for us with help to and from the train station and a few local trips.
Quietness 5/5
There were a few rooms inside this BnB, yet we didn't hear a peep from anyone except during the day. We had two nights of restful sleep.
Cleanliness 5/5
Our room was organized in a very British fashion and met our cleanliness standards.
European hotels
Inclusions 5/5
Our host, Marianne offered to prepare tea for us at night. She was very attentive to our needs and made various suggestions to make our stay more enjoyable. The best gift, as we've already described was the help in getting to her place with a lift in her car !
Personality 5/5
This BnB has style and that's what we look for when travelling. The decor was clean, simple and had purpose. Everything blended well together, from the rooms to the hostess herself.
Highly recommended to stay at Les Voiles Vertes. Please feel free to book using our affiliate link to Hotels.com
In conclusion, Les Voiles Vertes was part of our best hotels in Europe because of the proximity to the Mont Saint-Michel, the spacious room and the wonderful host Marianne.
Les Voiles Vertes
---
We recommend Hotels.com
Plan your stay in Ponterson with the help of our Hotels.com affiliate link.
Remember, book 10 nights = get one free
---
2. Fun Key, Brussels - Our FunKey Raking :
Accessibility 3/5
On the plus side, FunKey is very affordable as you pay for the size you need. However, it's not exactly downtown Brussels. We made our way to the centre with the bus, otherwise it's a 20-25 minute walk to the attractions.
Quietness 5/5
We felt our room was quiet during our 3 night stay in Brussels.
Cleanliness 4/5
Our room was clean, simple and tidy. Some parts of the establishment felt a little clunky (entrance, game room), however for the most part everything felt really clean.
Inclusions 5/5
The inclusions at FunKey were different. For instance, instead of a key they provided a small cell phone which would allow entry to the main building plus the room. The breakfast was quite elaborate and great to load up for a day of discovering. Plus, it was possible to borrow a computer from the reception. Oh and they had a beer fridge at the reception too !!
Better than Best Western
Personality 5/5
FunKey was our first real taste of hotel room with personality. We adored their concept and wished we could have stayed longer. Even the front reception staff were nice and approachable. They suggested non-touristy-local places to visit.
In conclusion, FunKey was part of our best hotels in Europe because of the uniqueness in decor and style, it's open approach and easy to speak with reception and simple yet delicious breakfast.
Funky
3. Frans Hals Loft, Amsterdam
Frans Hals Loft was perfect for our stay in Amsterdam.
We wracked our brain trying to find a place to stay in Amsterdam. At a first glance, we felt everything was so expensive, plus we couldn't figure out where to stay. It made it especially hard when we knew nothing of the city layout and accessibility.
Frans Hals Loft was a little far from the train station plus we felt the taxi driving tried to take advantage of us. Additionally, it came with a few last minute surprises some good others not so much. However, once we were checked in, we immediately fell in love with the place.
Outside the city centre
Frans Hals Loft is located just outside the main city centre, however it's located in a quiet, quaint and stylish neighbourhood.
Our recommendation is that once you arrive in Amsterdam, purchase the 48 or 72 hour public transportation pass. This will allow you to travel to and from the city centre. On the plus side, the accommodation is located 10 minutes from the Museum Quarter and 5 minutes from the Heineken factory!
Our Frans Hals Loft Ranking :
Accessibility 3/5
As mentioned in the description above, Frans Hals Loft is well positioned in the city. We did have a little difficulty getting to the establishment initially though and felt the taxi driver tried to pull a fast one on us.
Our room was a little far from the city centre, however close to the Museum Quarter and the Heineken factory. So overall, very well positioned.
Also, the room is located on the 3rd floor of a single home. Try to picture an attic with a lower roof line. The stairs heading up are quite steep, which is something to bear in mind when preparing your luggage.
Quietness 4/5
As mentioned, the room is located on the 3rd floor from a single home. It felt like the top level was converted to gain more space and create rental property. This said, we could sometimes hear the individual on the lower level. However nothing too excessive that would prevent us from sleeping.
Europe Tourism
Cleanliness 4/5
Our room was clean, simple and tidy. Albeit very small, yet we had everything we could possibly need and perhaps even more.
Inclusions 5/5
To our surprise, the host regularly fills the small mini fridge with goodies in case you want to stay in one night to snack. This is especially great for your first night seeing how it's possible to stay in and enjoy local treats.
We were also impressed when our host decided to help us carry our luggage up the 3rd floor. We're not exactly sure that he does this for everyone. So be sure to pack lightly!
Personality 5/5
We were spoiled during our Brussels / Amsterdam trip because our accommodations were simply spot on. First we experienced FunKey and then Frans Hals Loft. Having our own little space on the top level of a home in Amsterdam made us feel like locals. The entire apartment was well decorated and stylish. Quite impressive for such a small layout.
In conclusion, Frans Hals Loft was part of our best hotels in Europe because we had our own space, the loaded refrigerator with goodies and the value we got for our money.
Frans Hals Loft
---
We recommend Hotels.com
Plan your stay in Ponterson with the help of our Hotels.com affiliate link.
Remember, book 10 nights = get one free
---
4. Estalagem do Marvão, Portugal​
Estalagem do Marvão made us feel like royalty.
Marvão was a wild card, last minute addition to our trip to Portugal. Oddly enough, it is one of the most memorable destinations from our entire trip.
A screen saver image of Marvão is how we first heard of this destination. The city is located on Portugal's eastern border and roughly 4 kilometres from Spain. Positioned atop a large mountain, you'll be amazed as you make your way up to the city. We definitely recommend renting a car, unless of course you're planning a bike tour of Portugal.
Everything is very accessible
Marvão is quite small, so everything is a short walk away. The only accessibility issue is getting here. Staying overnight at the Estalagem felt like staying inside a castle.
Our room had an old chamber feel to it, yet it was properly furnished, clean and well decorated. We also enjoyed the Mercearia de Marvão, which is the small convenience / grocery store located at the main entrance.
Our Estalagem do Marvão Ranking :​
Accessibility 5/5
For starters, you definitely need a car to get here. Mind you, we met cyclists that were travelling from village to village so that's an alternative if you're in shape.
Marvão is located on top of a mountain, like an entire fortified city. Watch out for the GPS as it might not make the distinction between a road and pedestrian street. That's because the roads are extremely narrow. However, once you arrive at your destination, it's all worth it for the view !
Quietness 5/5
Our room was quiet, perhaps it had to do with the large castle like walls.
Cleanliness 5/5
The room was simple and clean. A private bathroom was included in the room, we also had a small workspace and a beautiful view from our window.
Inclusions 5/5
Although the room was simple, we had access to a grocery / convenience store at the base of the establishment. We also had a very good breakfast and our host was great about suggesting places to visit.
Cheap places to travel in europe
Personality 5/5
The castle like feel of Estalagem do Marvão was style in itself. We also enjoyed the family owned feel from the establishment. There was a small binder in the room, explaining the family's mission in Marvão. We definitely recommend a stay here, for the unique accommodation experience and to visit the magnificent city !cheap places to travel in europe
In conclusion, Estalagem do Marvão was part of our best hotels in Europe because of the staff, the market on the main floor and the unique castle like rooms.
5. Staycity Aparthotel Dublin​
Very spacious and accommodating Staycity Aparthotel in Dublin.
Arriving in Dublin early on a Saturday morning fresh off the redeye flight, we needed a place to leave our bags prior to checking in. Staycity Aparthotel was able to accommodate by letting us check our bags.
We enjoyed our spacious 2 bedroom apartment, since it felt like a home away from home. There were few nights where we decided to stay in and we took advantage of the kitchen, dining room and living room.
We reckon that Dublin is a party city and it was felt late at night. The party noise carried from other apartments and into ours, however the reception could quickly manage the issue.
Our Staycity Aparthotel Ranking :
Accessibility 4/5
Located just a short walk from Dublin's downtown core, we were roughly 10 minutes by foot from the famous Temple Bar. Also well positioned to visit the Guinness and Jameson factories.
There are a few Staycity Aparthotel locations in Dublin, ours was located on Saint Augustine Street. Which was a brief walk to one of the oldest pubs in Ireland - The Brazen Head!
Quietness 3/5
Well that depends on your neighbours. In general everything was fine, however one night in particular we heard a rumble as drunken folks made their way back to their rooms. They were stuck in the courtyard and forgot the key code to enter the building and started shouting for help. We called the (24hour) front desk and they quickly took care of things.
Cleanliness 4/5
The apartment was clean and spacious. We had two bedrooms, we think there was an upgrade at no extra cost. There was a musky smell coming from the washroom, however it was most likely moisture or humidity since when we wedged the door open - the smell dissipated.
Places to travel in Europe
Inclusions 4/5
Access to the apartment in Dublin was more than we could ask for. Although there are so many pubs to visit and eat dinner, sometimes it's great to stay in for the evening. We received guests one night and enjoyed the kitchen, dining room and living room.
The 24 hour front reception was a plus, although the night staff looked uninterested to work, we felt secure.
We arrived in Dublin at 8am from a red eye flight and were happy to learn that we could leave our luggage in a locker upon arrival. That way we could roam the city and come back to check our room later!
Personality 4/5
Although Staycity Aparthotels exist in various cities in Europe, it didn't give off a generic and franchise feel. The brand felt welcoming and consistent with its details.
In conclusion, Staycity Aparthotel was part of our best hotels in Europe because of the spacious apartment, proximity to the city centre and amenities.
---
We recommend Hotels.com
Plan your stay in Ponterson with the help of our Hotels.com affiliate link.
Remember, book 10 nights = get one free
---
6. Oporto Guest, Porto, Portugal
Oporto Guest is perfect for Harry Potter fans or anyone looking for a jazzy place to sleep!
Travelling in Europe without a data plan can be challenging. This became evident when we made our way to Porto by car. It was quite difficult to communicate with the host in order to swap the key. However, once we checked in and got our keys, it was smooth sailing until the check out.
Most importantly, we enjoyed the spacious apartment with various Harry Potter decorations. It felt cozy and comfortable, like a home away from home. We enjoyed all aspects of the apartment, the proximity to the city attractions, spacious and well furnished rooms.
Our Oporto Guest Ranking :
Accessibility 3/5
On the positive side, Oporto Guest house was easy to find via GPS navigation. It was also perfectly located inches away from 'Rua de Santa Catarina' pedestrian street. Which made our discovery of Porto that much more enjoyable!
On the downside, we felt it was difficult to communicate and access the owner. On our end, we didn't have a data plan therefore we communicated with the host when connected to wifi.
Once we had an ETA, we relayed this to the host as we expected to meet them in person at the establishment. Needless to say it was very complicated because the host sent another individual to leave the key and they weren't there at the time we specified.
Quietness 4/5
The apartment was relatively quiet throughout.
Cleanliness 4/5
The apartment was clean and well decorated. Although there were many Harry Potter decorations, it was tastefully decked out and didn't feel overly cluttered.
Inclusions 4/5
Luckily, once we found the individual to pick up our key, they informed us we had access to an indoor parking lot. That was very relieving as we didn't have to worry about street parking.
The most important feature about this apartment was the fact that it was well furnished with large appliances, refrigerator, oven, coffee machine. There was even a nice sun room at the very back with a hammock cotton suspended chair.
Best countries in europe to visit
Personality 5/5
For all you Harry Potter fans, you will love this place as it's properly decorated with many artifacts. The decoration is tasteful and well balanced.
Overall our room was clean, well decorated and organized. We felt the staff could communicate a little more efficiently and be better organized, especially for key pick up and drop off. Despite our difficulty and confusion with the check in and check out, we recommend that you consider this place when planning to visit Porto!
In conclusion, Oporto Guest Harry Potter was part of our best hotels in Europe because of the proximity to the Santa Catarina pedestrian street, the spacious and well furnished apartment and of course the Harry Potter decorations.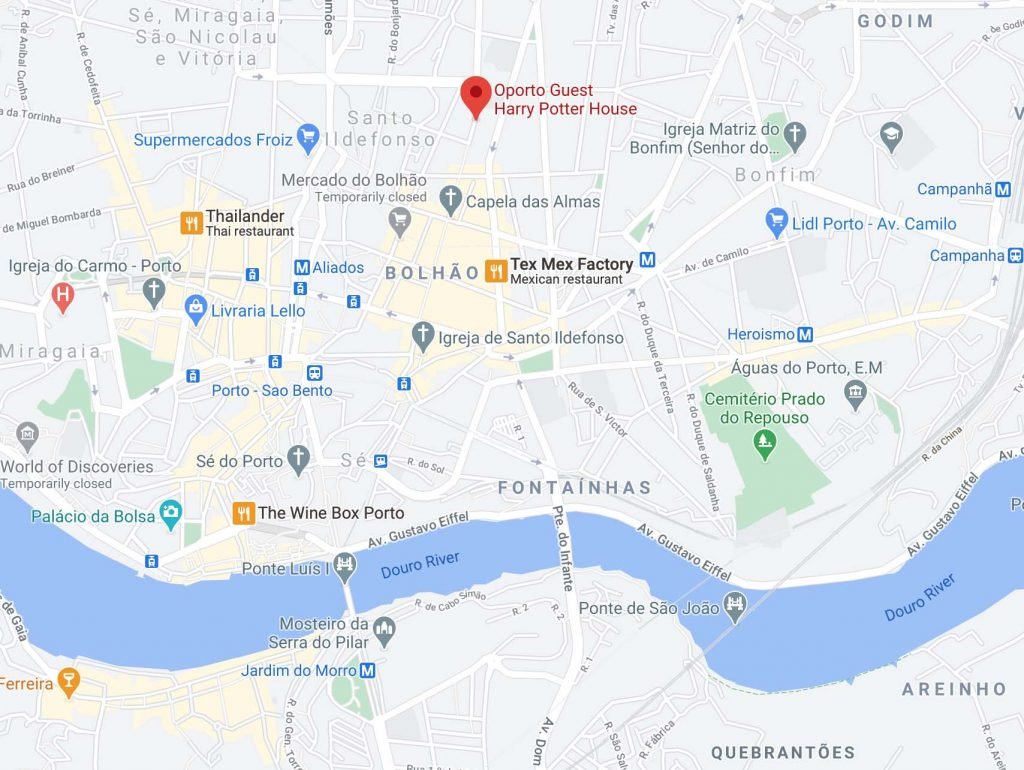 Plan your spending wisely
Use our Orange Key - 47826980S1
To get a head start in your new Tangerine account. You save monthly fees as this is a virtual bank plus your money is accessible in various places in the world !
Available in Europe and South America for easy access to your money, rather than taking out large sums and worry about where to keep it.
To acquire your $50, simply visit the Tangerine website, copy our Orange Key and paste it on the sign up page. Simply note, there are conditions to acquire the $50. Please see the Tangerine website for details.
Where to sleep ?
We chose to book with Hotels.com because they have a large network of hotels. However, it doesn't stop there Hotels.com now has access to BnB's, Motels and much more. Additionally, accumulate 10 nights and get one free !
Want to know why we systematically use Hotels.com to book our accommodations ? Click here to find out.
Get your Guide for your city tours
Skip the lines, more value for your holidays
If there's one thing that takes up a lot of time in new cities, it's waiting in lines for special attractions. Also, there's much time lost trying to find the right places plus not knowing how to navigate the city efficiently.
This said, we recommend Get Your Guide to fix your timing issues. Not only will you skip the queue, Get Your Guide also provides a tour guide who will help you along your discovering quest.
Get Your Guide link
We've started building Google My Maps list for many cities we've visited. This is a great place to start exploring vacation activities. Alternatively check out Get Your Guide, which can help pre-pay for your adventures and skip the waiting lines !
Book Your Canadian Adventures with
OUR Get Your Guide Link
Please follow and like us: