''Why visit the City of Porto and what's there to see''​
---
88%
Tourist activities...
+ Spots
São Bento Station, Dom Luis 1 bridge, Lello library and more!
3-4 days
Recommended stay in Porto
---
The City of Porto Blog is divided into 3 sections. First we'll identify how to get there.
Then we'll list the places we've visited and lastly recommend the restaurants and Portuguese dishes we tried.
We've also made a downloadable PDF list which is easy to review while on the road.
Simply provide us with your email address and we'll gladly share it with you 🙂
---
---
While visiting Portugal, we felt that discovering Porto was necessary.
Despite being a small country, Portugal is quite surprising !
The north has so much to offer in the way of food and architecture.
Discover Porto, Portugal's northern hub filled with exciting sights to discover.
---
Places to visit in montreal
How to get to Porto, Portugal ?
It may seem like a trivial question with a simple answer, however we were told about the scarcity of this topic online and that by travellers that we met. The truth is, Porto is a medium size city and there are many ways to get there. Here is what we recommend.
Travel to Porto by plane
Travellers typically fly into Lisbon as a main hub and later dispatch from there. If flying is your preferred method, then you will love the quick 55-60 minute flight from Lisbon to Porto. However as we all know, you'll spend most of your time travelling to and from the airport with potential traffic. Additionally, you'll need to make your way to the airport 90-120 minutes prior to departure. Add this up and you might as well ride in comfort via rail!
Travel to Porto by train
As you may already know, our preferred travel method in Europe is by train. We explored Europe in 2017 with the EuRail pass. Portugal is no exception to this rule. That said, with no check in required, you can make your way to Sete Rios station by metro. The city of Lisbon is easy to navigate, as we described in our YouTube video and our Discovering Blog. Also feel free to consult our EuRail Vlog to discover why travelling Europe by train is the BEST way to navigate!
Travel to Porto by car
All depending on your itinerary, travelling by car might be the better option. Although we love travelling by train, it doesn't stop in every city especially the remote destinations. For instance, our itinerary from Lisbon to Porto included Fatima, Coimbra and Talasnal. The latter is located in the mountains roughly 1 hour away from Coimbra. We were able to discover Talasnal and make our way to Porto afterwards. Essentially, the car rental gave us the flexibility to travel where we wanted, when we wanted.
---
The city of Porto by activity
It made sense to add Porto to our itinerary, we wanted to get a taste of the north. We had been told how the north was quite different than the south. And now we were seeing it with our own eyes.
We would like to recommend spending 3-4 days to properly discover Porto. The city is not nearly as large as Lisbon however certain sights are spread apart. Read on as we recommend top places to visit AND dishes to eat while discovering Porto!
Get your FREE List - City of Porto sites
Get inspired to visit Porto- with our new PDF quick start-up list of places to visit !
Download it for FREE and have it handy on your phone or tablet as you carve your way through Porto.
Simply provide us with your email address and we'll gladly share it with you.
What is there to see in the city of Porto - Portugal ?
The city of Porto has a lot of churches, great architecture, interesting bridges, a spectacular funicular, great views of the River Douro, a castle, a food market, a phenomenal book store and so much more. Here are the top places in Porto.
Montreal tourist attractions
Skip the line with Get Your Guide
1. Santa Catarina Street | The most important shopping area in Porto - Portugal
Located in the Bolhão district of Porto, there is a 550 metre stretch of Santa Catarina Street, considered the most important shopping area in Porto - Portugal, which is closed for pedestrians.
Walking down Santa Catarina, you'll come across Trade-in the indoor shopping malls, the most traditional stores and restaurants for this magnificent street. Everything you will ever need in Porto is on this street, energy, night life, restaurants, shops, souvenir stores, sporting goods, cafes - did we forget something !?
Oops, we did - the Chapel of Souls. This beautiful church (free of charge) covered by beautiful, traditional blue tiles, or the famous Portuguese "azulejos", which designs are full of history.
Montreal Tourist
2. Livraria Lello | The Gorgeus Lello Bookstore
According to Lello's official website, Lello bookstore very much os its times ever since 1906, carries over a century of history and stories.
Oddly enough, this book store comes with a small entrance fee. We understood that it's because so many tourists were discovering the bookstore yet not buying any books. There are probably also arguments stating that it's for the general upkeep of the store. However all is not lost, your entrance fee is converted into a credit towards the purchase of a book.
It's hard to describe in words because the bookstore compares to a historical library. All the books are neatly stacked, the staircase at the very back is picture worthy plus the details are quite mesmerizing. For your information, you'll find books on Portuguese literature and just about everything else.
The "Livraria Lello" also became really famous for the story that JK Rowling got inspired by visiting the bookstore at the weekends, as she used to live in Porto - Portugal as an English teacher. Then, later on she got inspiration behind some of the famous Hogwarts scenery in Harry Potter, as per the floating staircases for example.
If it's true or not, we don't know exactly, but it's totally worth the visit and you will also find some of the Signed Collection of Harry Potter first editions at Livraria Lello.
3. Dom Luis 1 bridge
This is a double-deck metal arch bridge which is an icon to Porto. The structure spans over the River Douro linking Porto and Vila Nova de Gaia. You might cross this bridge to get a better view of the river or perhaps head over to Gaia for a culinary experience or a port wine degustation.
The arched bridge carries a low-level road & a high-level metro line. We think you'll want to experience the sight from both levels as each view presents interesting points of views.
4. Clérgios Church - Porto | Portugal
The Clérigos Church is a Baroque church in the city of Porto. There's a tall bell tower at the back (known as the Torre dos Clérigos). The tower can be seen from various points of the city and is one of its most characteristic symbols.
At the front intersection, Clérgios street and Conte de Vizela, the church is easily identified with an overlapping stairway. We recall having a great elevated view of the Clérgios street from the stairs.
Montreal attractions
---
---
5. São Bento train station - Porto | Portugal
After the Clérgios church, we headed down the street via Praça da Liberdade in direction toward the train station. After walking for 5 minutes, we arrived at São bento. For those of you arriving in Porto by train, this will be proof of just how centrally located it is.
You'll find that São Bento is a satisfying attraction if you enjoy the traditional blue tile work which comes across the country. The construction began in 1904 and ended over a decade later. Once inside we saw the beautiful historical architecture and at the same time it felt very clean and modern.
We felt it was a great sight to discover to see the azulejos (approximately 20,000), the great decorative framework and the energy in the vestibule.
Montreal tourism
6. Sé do Porto - The Porto Cathedral
If using Google Maps to navigate the city, you might see it written Sé do Porto. The word Sé circles back to Cathedral
The Porto Cathedral is one of Porto's oldest monuments. That said, it's interesting to visit this particular church for the various architectural influences. You'll find baroque, romanesque and 20th century interventions all within this discovery.
The cathedral is located roughly 5 minutes walking distance from the train station. There is an entrance fee.
Montreal to do
7. The church of Saint Ildefonso - Porto | Portugal
Located a short 7 minute walk from the São Bento train station and 1 minute from the Batalha square is another great church to visit. This one is both beautiful and free and just might be on your itinerary.
This is an elegant 18th-century church with a blue & white tiled covered facade which was added in the 1930s. Saint Ildefonso is an homage to Ildephonsus of Toledo who was the bishop of Toledo in the 7th century. Here you will find architect work from Nicolau Nasoni and artist/azulejo designs (roughly 10,000) from Jorge Colaço.
On the way to Saint Ildefonso or after, we also recommend discovering the Batalha square. It's a commemoration of the battle that took place between the Moors and Christians. Besides the monument and plaque, you might find local vendors selling artwork and whatnot.
8. Bolhão Market - Porto Food Market
Moving onto food, we'll recommend a unique experience. The Bolhão Market is just a short 7 minute walk from the Saint Ildelfonso church. We're not exactly sure if the pandemic has affected this site, however if it remains open we recommend having a peak.
Inside the historic market you'll find traditional and local treats as well as Port wine tasting. It's a great place to visit if you're looking for a quick bite or planning a quiet night in.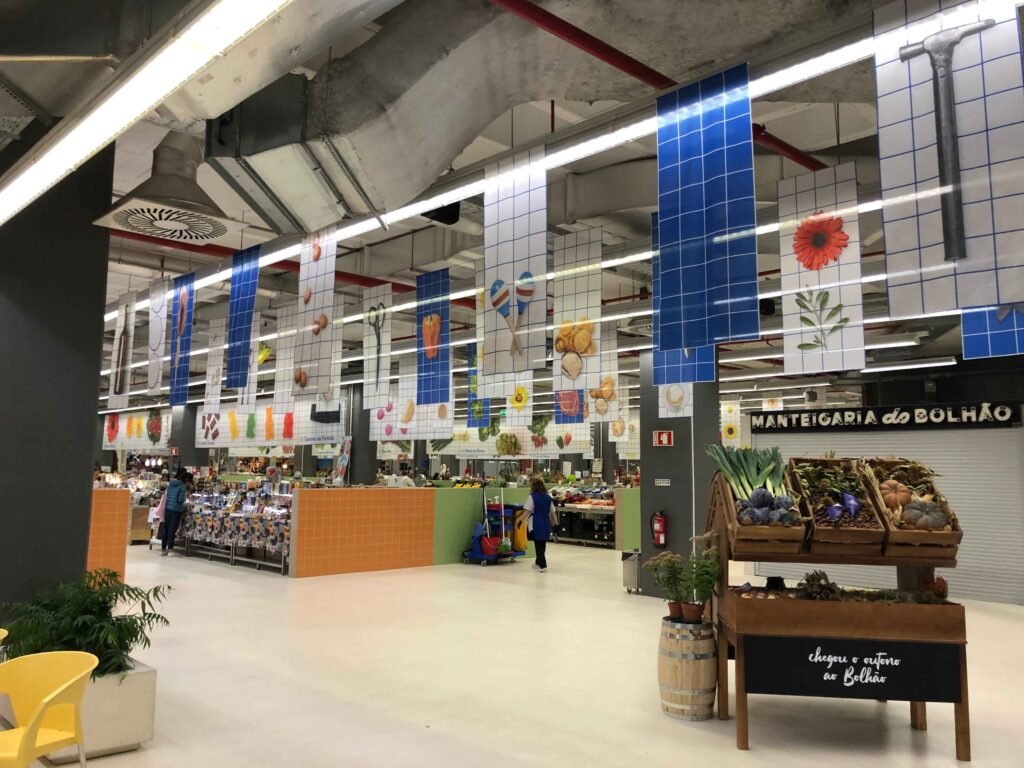 9. Muralha Fernandina - Porto | Portugal
Muralha Fernandina is a medieval stone walls & towers built as fortifications, with scenic views of the city & river. It was built with the intent to protect the city in 1336.
This stone wall is located 10 minutes by foot from the Saint Ildelfonso church in direction toward the Douro River. We saw this attraction as we crossed the second level of the Dom Luis I bridge. It felt like a really cool way to see the tower and funicular which stands beside.
10. Funicular dos Guindais - Porto - Portugal
Another suggestion is to visit and perhaps ride up the funicular. As described in our last bullet point, you'll get a great view of the funicular from the upper level of the Dom Luis bridge. Should you visit in the same fashion as we did, we recommend that you cross over to Gaia. Otherwise it's a short 5 minute walk directly to the funicular.
We feel there is more merit, crossing over to Gaia, discover the monastery, the gardens then make your way down to the water level and discover the main street Av Diogo Leite. On your way back to Porto, cross the Dom Luis bridge (lower level) and once across you will see the funicular which you can use to get back up.
There was a small fee to ride the funicular, we forgot how much it was because we enjoyed our ride so much.
11. Casa Oriental - Porto | Portugal
The Casa Oriental is located near the Clerigos Tower and Tram station is a traditional and beautiful grocery store that sells the famous sardines and cod fish. The area is quite charming and seeing the tram journey down the narrow street is quite impressive.
The grocery store is worth discovering because the display is mesmerizing and well nothing says Portuguese souvenir like a can of fish! 😂
Few restaurant and dish ideas while discovering Porto
From experience, we've learned that it's risky business to blog about restaurants. This is because each year, countless restaurants open their doors and countless more close them. For this reason, we don't like to promote places to eat. This said, we've carefully selected a few eateries as well as dishes, so that if the restaurant is closed- you'll be able to order a similar dish elsewhere.
1. Taberninha do Manuel - Restaurant Porto | Portugal
Lia found this place while researching Porto before our trip. She added it to our itinerary and we're both glad she did.
Taberninha do Manuel is located in Gaia and 5 minutes away from the Funicular. Its quicker to cross the lower level portion of the Dom Luis 1 bridge.
We ordered a few different dishes to experiment a little with Portuguese cuisine. From memory, we tried the 'Mushroom Feijoada'. Feijoada is a popular brazilian dish served with beans and various cuts of pork. In this case, the restaurant made a vegetarian spin which was quite tasty.
2. Cafe Santiago - Restaurant Porto | Portugal
You'll find Café Santiago in the Bolhão district of Porto. To give you perspective, it's a 3 minute walk from the Saint Ildelfonso church we talked about earlier.
The specialty here is the 'Francesinha' which is very delicious and at the same time hard to describe. Think of a hot chicken sandwich, meeting a chicken club and with an egg on top and gravy poured all over. Yet substitute the chicken for beef and add a slice of cheese. Well, we told you it was hard to describe, now you'll just have to try it for yourself and find an easier way to describe it. 😂
More on Cafe Santiago here !
3. Café Majestic - Restaurant Porto | Portugal
Café Majestic is also located in the Bolhão district, more precisely on Santa Catarina street. Our BnB was located on the same street, so we passed in front of the cafe everyday. Every time we passed in front, there was a line to get in.
One of the reasons to visit this restaurant is to discover the Belle Epoque-era cafe decoration with ornate interior featuring carved wood, mirrors & chandeliers. It will truly transport you in time. Another reason is to try the Rabanada Majestic, which is a fancy word to say French toast. At the same time, it's way more flavourful, which is why we urge you give it a try.
4. Bolhão market - Porto Food Market
Built for locals which means it's a great place for discoverers! It's a historic, bi-level market in a neoclassical building with vendors selling produce & prepared foods.
At its current location, the market is currently undergoing renovations. Through research, we've discovered the market has since been temporarily relocated to La Vie shopping mall in the basement floor right under Decathlon. Be sure to visit them at the temporary location and at the original location once the renovations are complete.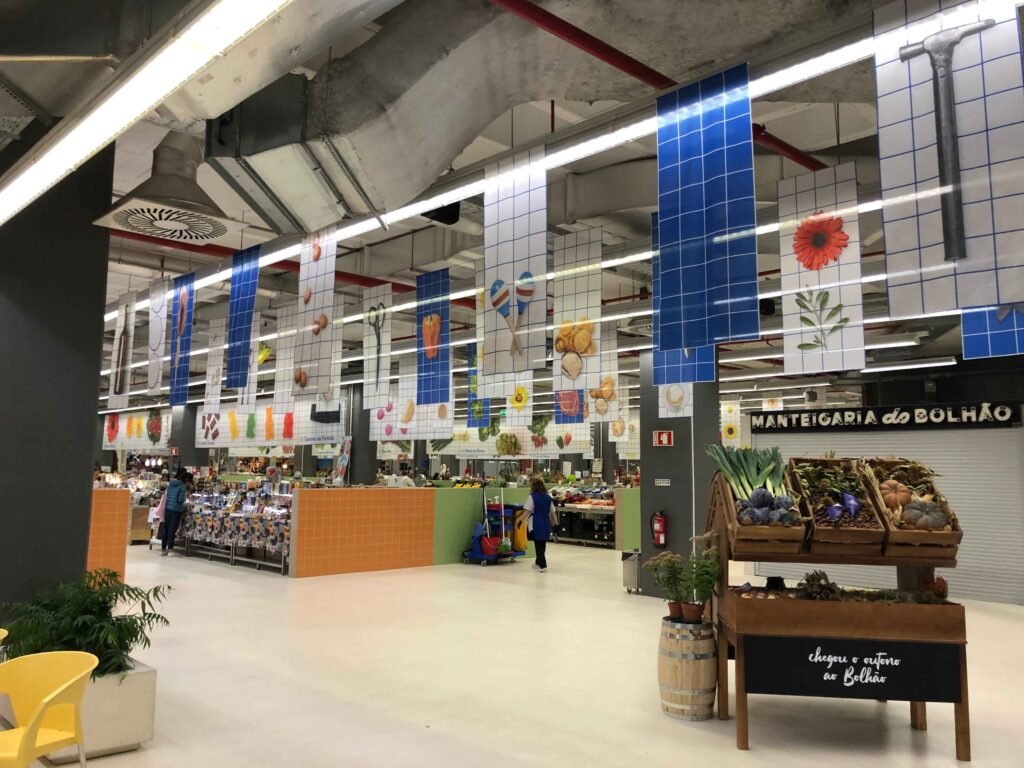 Questions about Porto answered
Q - How safe is Porto ?
A - We felt very safe while exploring all of Porto. We found ourselves walking up and down Santa Catarina street at night and felt completely safe. That being said, do exercise caution against pick pockets.

Q - Where to stay in Porto?
A - We really loved our stay at the O'Porto Guest house. Check it out on our ratings page!

Q - Where to eat in Porto?
A - We made a quick list in this blog and will add more locations moving forward. Check our recommended restaurants and dishes in this blog.
Q - What language to speak in the city of Porto ?
A - You'll get around just fine with English and if you speak Portuguese, we're sure the locals will appreciate you trying.

Q - What to eat in Porto ?
A - As mentioned in this blog, we think you should try the Francesinha, the Rabanada, the sweets, the Porto, Feijoada and Bacalhão dishes (bacalhão is cod in English).

Q - What's the weather in Porto?
A - We visited in October and found it relatively cold in comparison to Lisbon. If you are planning to visit both cities in the same trip, do bring a variety of clothes just in case.

---
---
---
---
---
THANK YOU for going over our city of Porto blog, we hope it inspired you to discover 'The Port Wine Capital of the World' !
---

Below you will find our Eurail purchase recommendation with countless benefits plus Youtube video tutorial. Our 2 months continuous Eurail pass saved us countless hours of commuting and hundreds of dollars in public transport.
---
Itineraries and Attraction recommendation
Bolhão and Clérgios district 1.5 days
Sé do Porto and Gaia - 1 full day
Hop on Hop off - 1 - 2 full days
---
---
Growing Portfolio
1000+ images and counting​
We've been taking quality shots since 2016 and adding them to our Shutterstock portfolio.
You'll find a wide range of images, some that you can print for your home decoration or even use for a digital project you're working on.
---
Recent posts
Please follow and like us: