One of the most rewarding hikes we've completed is 
Le Sentier Eucher in 'La Baie, Saguenay'.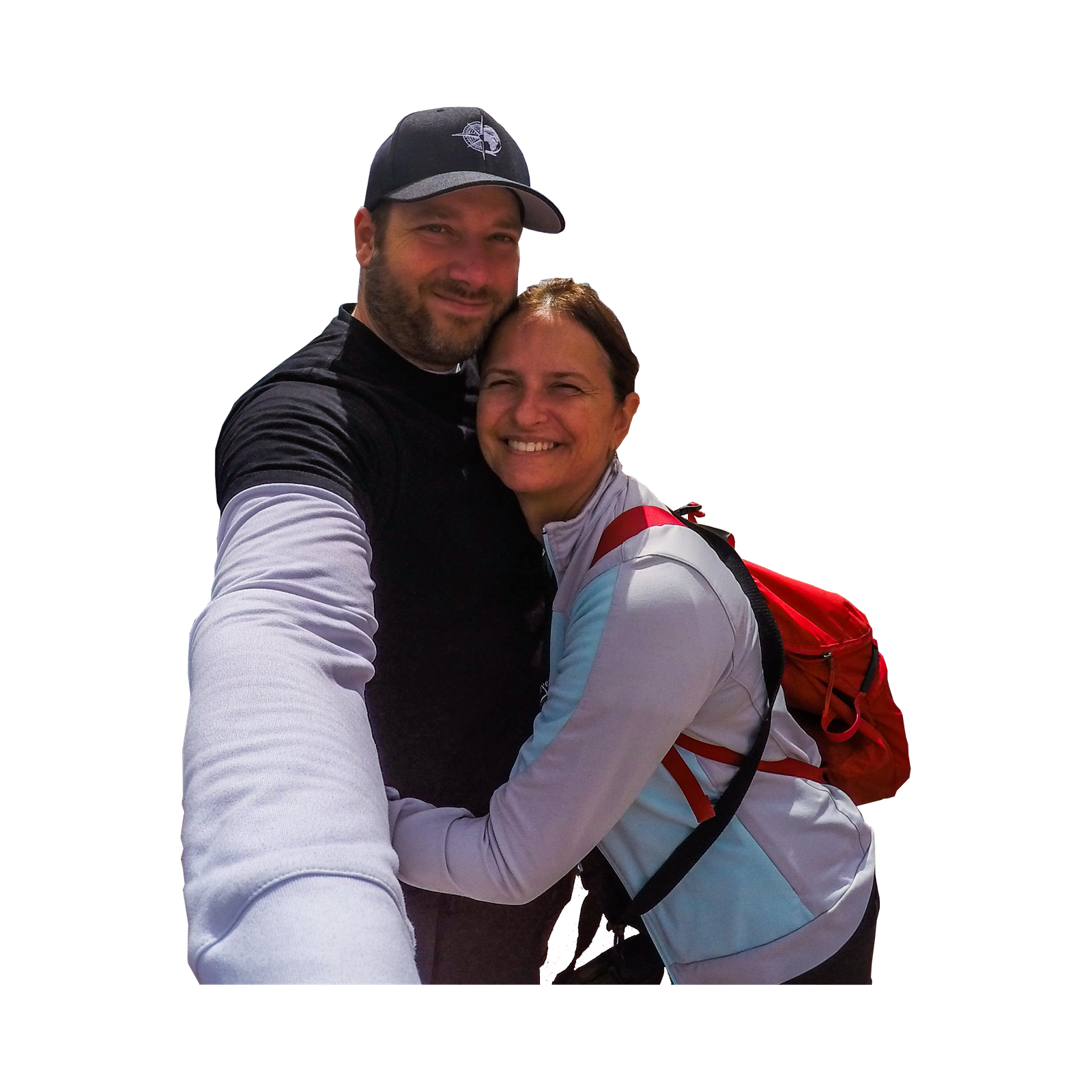 By Serge Larose & Elisandra Buges
Le sentier Eucher is a must see when visiting the Saguenay region !
A few years ago, we planned to discover the Saguenay / Lac St-Jean area. We started pinning places that we thought could interest us yet never got around to travelling there. Fast forward a few years and the travel restrictions from the Covid-19 pandemic forcefully funnelled our choice to Ontario and Quebec destinations. Which is why our 2020 summer vacation comprised of Quebec destinations.
Our biggest challenge this year was to prioritize our selected discoveries with our allocated time. Our ambitious demeanour allowed for one extra discovery during our last morning in Saguenay. The Bed and Breakfast staff recommended a quick tour to a nearby city called 'La Baie' plus a hike on a trail called 'Sentier Eucher'.
"In 1845, Eucher Gobeil, his wife Geneviève Bouchard and their eight children leave la Malbaie for Grande-Baie. After many generations the Gobeil family still own the land, yet hikers are given a right-of-way."
Le sentier Eucher is located roughly 4 kilometres north-east from the small town of La Baie. Coming from Saguenay, it's possible to go directly to the trail. The fastest route from Saguenay is a 19 kilometre drive which equates to a 25 minute ride which bypasses the cute town of La Baie.  Alternatively, we recommend that you plan a quick visit to La Baie.  There you'll find a large port with information for cruise tours, gorgeous waterfront views from the Saguenay river and great restaurant selection. 
We stayed a few nights in a beautiful home called 'Gite du haut des arbres' in the suburb of Saguenay. Our options were to stay in a generic hotel chain near the city centre or relax in this beautiful tree house type resort. Luckily we managed to book a few nights in this busy establishment and would definitely return. 
On the land there are roughly 2 large houses with various room arrangements inside all of which have their own private bathroom. They usually prepare a great breakfast which we couldn't experience because of the pandemic. However there is a shared kitchen where it's possible to prepare your meals.
We also counted 5 bbq's on the property to make the guests feel right at home. Additionally, the gorgeous double decks and pool facing the Saguenay river will definitely get anyone relaxing!
Plan your night at the Gite du Haut des Arbres with the help of our Hotels.com affiliate link. 
Remember, book 10 nights = get one free
We squeezed one last discovery on our last day in Saguenay. Actually, we gave ourselves half a day before setting to our next destination. Since we had a road trip ahead, it was imperative that we start our day with a hearty meal. This is why we reserved a breakfast table at the Bistro café Summum. Highly recommended by the way !
If you're planing to visit La Baie, it's possible to park the car in the city centre and walk around the water front. Le Sentier Eucher is 
roughly 8 minutes away from La Baie

and 23 minutes from Saguenay
Other local places to visit
You may want to consider adding some of these destinations to your list of discoveries.
Café Bistro Summum
Sculpture Saguenay and Cruises Fjord
Les jardins baies lactées
(for fresh produce)
Le sentier Eucher is in a remote location. We noticed many hikers with snacks along the way.  Should you opt to bring a snack/lunch, we urge you to bring a garbage back for your trash and left overs.  Countless times we've seen trash along trails and it breaks our hearts to see this.  We want to divulge and promote sites that we discover, and in turn we want for tourists and our followers to keep these destinations clean!
As mentioned earlier we enjoyed our experience at the Café Bistro Summum.  Alternatively there's a cornucopia of restaurants in the La Baie village!
What to do along the trail ?
At the main entrance, you'll notice a map indicating various trails.  Many of which are filled with lookouts and belvederes. In 2005, the city contracted a firm to create guard rails along the rocky cliff plus belvederes for safer lookouts. 
We noticed people hiking with dogs, various family sizes enjoying the outdoors and runners/joggers challenging themselves up the mountain. 
The Centennial cross is a worthy target and offers beautiful views of the Saguenay Fjord (see photo below). 
Le sentier Eucher is quite challenging, especially since there are few trail indications. We noticed many hikers spread across the mountain, which was good for social distancing however misleading to stick to the trail.
We recommend that you take your time and find your own path, because everyone has their strengths and weaknesses.
Also good to know about multiple trails leading to the cross. At the very beginning of the trail is a fork in the road, to the left is a slow and steady path which leads up to the cross. To the right is a much harder path with steep rocky terrain, muddy and tough terrain with roots sticking out. 
Great for the family
We noticed people of all ages along the trail, from kids ages 9-10 years old to senior and retired people.  This is a great activity for everyone to enjoy.
Recommended circuit
Based on our experience, we feel the appropriate circuit is the following.
In order to get a good appreciation for the hike, we recommend counter clockwise loop of the sentier Eucher.  
Enter le sentier Eucher
Stay right at the fork
Climb the mountain and enjoy various lookout points
Explore around the Centennial cross
Make your way back the easy way 
(stick to your right as you make your way back)
If you want to spend a little more time hiking, it's possible to continue past the Centenary Cross along the orange and yellow paths. 
Bring comfortable shoes with a good grip because you'll be marching in various terrain (dirt, mud, stones, steep rocks). Also be sure to bring sunscreen, bug repellent and a water bottle for hydration.
You can also bring snacks or a lunch to reenergize. Also very important bring a plastic or garbage bag for your trash!
Clothing
We recommend that you bring layers since the Lac Saint-Jean area is a little cooler than Quebec City. You might need a long sleeve shirt in the early morning and gradually take off the layers as your blood starts flowing from the hike. 
Ideally you could wear hiking type pants that turns into shorts and a breathable t-shirt or long sleeve shirt.
Helpful tools to plan your Trip
Please follow and like us: