''Nova Scotia - The Sea Bound Coast''​
---
83%
Coastal views with the Sunrise Trail, Celtic Shores, Cabot Trail...
13 Spots
Cape Breton, Louisbourg, Halifax, Peggy's Cove, Lunenburg
5days
Recommended stay in Nova Scotia
---
Nova Scotia, also known as the sea bound coast, is one of four Atlantic provinces on the east coast of Canada. It is the most populous of Canada's three Maritime provinces and four Atlantic provinces. Plus, it's Canada's second-most densely populated province and second-smallest province by area.
---
---
-Alexander Graham Bell once said
"I have travelled around the globe. I have seen the Canadian and American Rockies, the Andes, the Alps and the Highlands of Scotland, but for simple beauty, Cape Breton outrivals them all!"
---
About Nova Scotia
It's said that nowhere in Nova Scotia is more than 67 km (42 mi) from the ocean. This explains why there are so many coastal driving trails. It also paints a clearer picture as to why it is called the sea bound coast!
Here you'll find many influences from Scotish, Irish, French and British decent, making for a great mix of history and culture.
What to do in the Seabound Coast
Nova Scotia the sea bound coast will continue to amaze you throughout your road trip. Starting with scenic highways like the Sunrise Trail, the 92km Celtic Shore Coastal trail which stretches from Port Hastings to Inverness on the west coast of Cape Breton Island. Then there's the famous Cabot Trail, where Alexander Graham Bell expressed his strong sentiments.
Moreover
There are great fortresses to the likes of Louisbourg (which is truly magnificent) and the Halifax Citadel which has been preserved today to remind of the rich colonial and military past.
Additionally, you can make time for small cities and towns such as, Sydney, Halifax, Peggy's Cove and Lunenburg to name a few.
Read on
1. Coastal Trails in the Sea Bound Coast
Nova Scotia is the second smallest province in Canada, but don't let that fool you. It can take up to 9 hours to drive from coast to coast and another 5-6 hours to exit from either extremity.
It's possible to ride along the coast, bouncing from sunrise trail to the Celtic shores coastal trail and later Cabot Trail in Cape Breton.
More on the Coastal trails below.
Sunrise Trail
With roughly 450km of highway, the Sunrise Trail runs just outside Amherst all the way to the Canso Causeway. It's said there is much to discover with many resting areas such as bnb's and cottages along the way.
Alternatively, you can remain on the main highway and select main points to visit, like Cape George for example.
Celtic Shores Coastal Trail
The sea bound coast offers a 92km Celtic Shore Coastal Trail which stretches from Port Hastings to Inverness on the west coast of Cape Breton Island, Nova Scotia. Along this highway, you'll enjoy magnificent views in Judique, Port Hood and Mabou.
We did just that, as we drove from Port Hastings all the way to Inverness on the Celtic Shores Coastal Trail. Stopping along the way to take pictures when a view struck us.
The Cabot Trail
After driving through the Celtic Coastal Trail we arrived at the Cape Breton Highlands National Park.  We had no clue what to expect in Nova Scotia and were completely taken by surprise with the Sunrise Trail and the Celtic Shores Trail. In hindsight, we recommend to break the drive in two instead of 'rushing' from one trail to another. This way, you can take your time and enjoy each stop rather than feel rushed.
There is an entrance fee to the Cape Breton National Park, estimated to be $ 15.60cad. If you're travelling around Canada day you'll enjoy knowing that July 1st is free of charge to visit the park.
Our Cabot Trail discovery continued as we left the Cheticamp Information Centre, stoping at the big rock and Petit Étang for some quick pics.
The Cabot Trail gives coastal views, all the way until Pleasant Bay. At which point the highway bends to the East for more gorgeous views on the other side.
We recall the highway conditions being optimal, despite the many roller coaster like mountains to climb.
The Cabot Trail is out in the open, so you won't get much refuge in case of rainy days. Our second day was overcast, however not raining. We explored Ingonish Beach, Mary Ann Falls on our way to Meat Cove.
If you are blessed with a sunny sky in Cape Breton, then we recommend that you soak it all in. You'll enjoy stopping at the various viewpoints to admire the wonderful views. Also, if you're into hiking you'll want to take note of the multiple trails.
Meat Cove
Before leaving our motel the next morning, we spoke with the main reception in order to get local inside information. The front desk told us about a place called Meat Cove, how it wasn't part of the Cape Breton park but that it would be worth checking out.
We left Mary Ann Falls in direction for Meat Cove and only got coastal views as we approached our destination. We stopped at the main campground and 'Chowder Hut' and decided to enter for some lunch. Here was yet another memorable moment from the sea bound coast.
To our surprise, the Chowder from the Meat Cove Chowder Hut was very delicious! The staff were great and even helped us find our next discovery! They spoke about a trail that led to a spectacular view from a hill/cliff.
Many times during the trail, we thought we were lost because the woods were dense and faintly indicated. Crossing paths with other people secured us that we were on the right way. Alas, we finally arrived at the edge and were so grateful that we spoke with the staff at the Chowder Hut !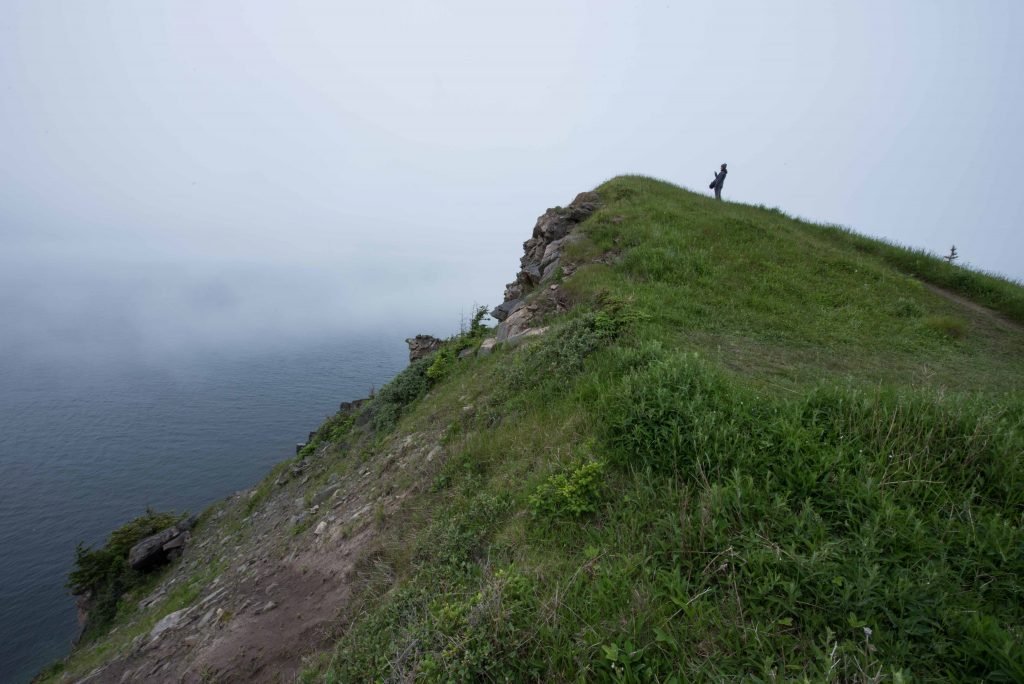 It was difficult to select just a few pictures to describe Meat Cove, so we'd like to invite you to visit our ShutterStock catalog.
2. Louisbourg Fortress
Also worthy to visit in the sea bound coast is the Fortress of Louisbourg National Historic Site, which is a construction from 18th-century. It was partial reconstruction by the Government of Canada and according local information, from 1713 to 1768, the fortified port of Louisbourg was a place of profound significance in the Franco-British struggle for empire.
The GPS might give you two locations for Louisbourg. We found out it's because there's the 'main reception' area where you need to purchase your tickets then a shuttle bus which takes you to the main Fortress entrance.
You'll need to 'clear' the front gate as the armed guard asks a few questions of where you're from and the purpose of your visit. This guard did not break character 😉
Many activities are timed throughout the day, all are listed in the pamphlets from the main entrance. Then it's possible to pick and choose what you would like to see based on your arrival time. Lucky for us, we arrived just in time for the cannon ceremony.
It's an entire reconstructed village to the likes of 'Upper Canada Village' and 'Green Gables'.
If you enjoy discovering Fortresses, then you'll enjoy being part of this reenactment and strolling around the various streets. Check out the Parks Canada - Louisbourg Fortress site for a list of activities. From rum tasting to firing canons.
Allow yourself to be surprised or plan in advance, we think you'll enjoy it just the same.
3. Sydney
Sydney is the largest urban area on Cape Breton and the island's historical capital according their Official Website visitors website information page.
We just spend an hour there, walking around the waterfront, where we check out the ''Big Fiddle'', which according their website, it's the world's largest fiddle, built in recognition of Cape Breton's musical talent.
The sea bound coast fiddle constantly plays local music, kind of Irish music style and it's really fun to walk around it.
The harbour & waterfront walking paths are the main attraction, where you can also find cute stores where you can buy some local crafts and souvenirs.
4. Halifax
After discovering the beautiful Cape Breton Island, we headed over to civilization. Halifax is a small yet charming city with lots to discover. Get your legs ready for walking because the city is build on a slant facing the water. It will feel like a stair master as you make your way from the harbour front to the Citadel!
- Alexander Keiths Brewery
Our 1st destination and a must see! Alexander Keith's Brewery was our first discovery in Halifax.
The Brewery is located on Lower Water street. According to local information, it was founded in 1820 by Alexander Keith who then immigrated from Scotland.
We recall paying roughly $30.00cad per person which we felt expensive at the time. However it came back to us in form of beer and entertainment.
Check the Keiths website for group and family bundle prices.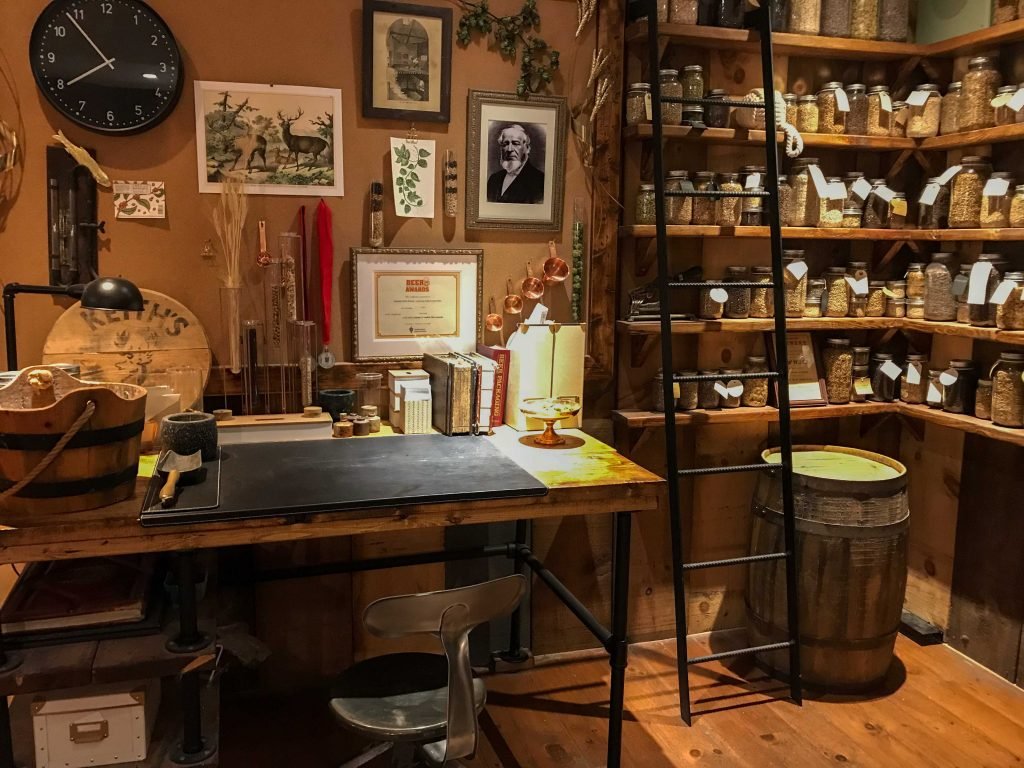 They offer guided tours which include beer tasting throughout the visit, a guided tour inside a museum with old relics and a nice surprise at the end 😉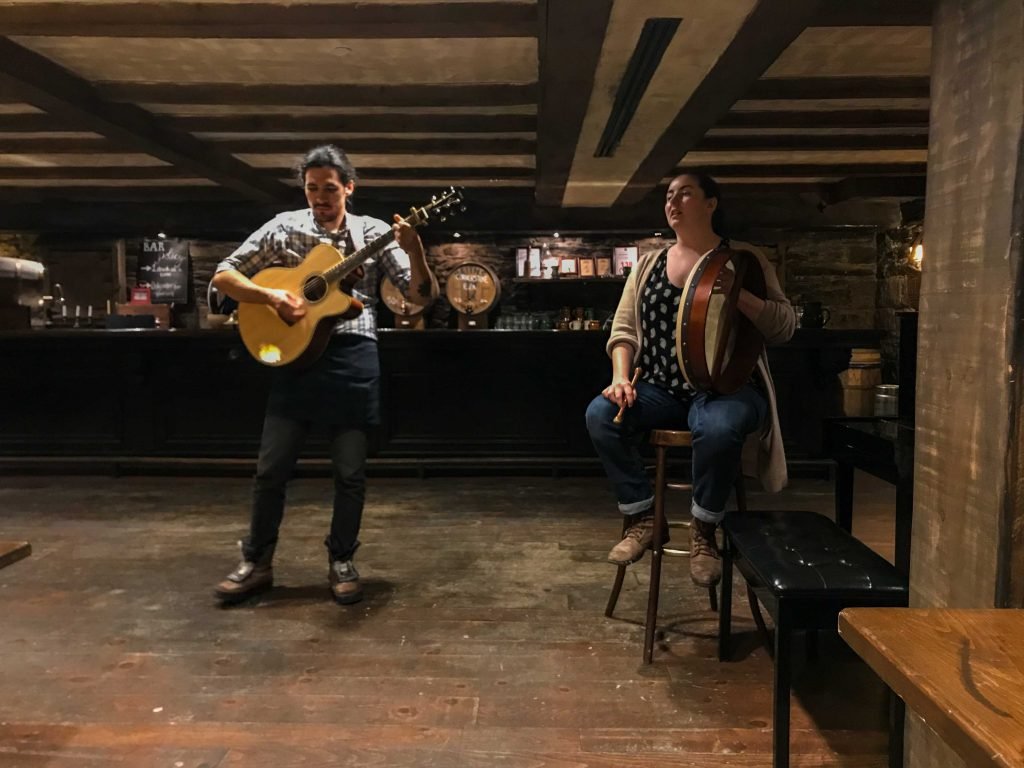 - Art Gallery of Nova Scotia
The Art Gallery of Nova Scotia, or Museum of Fine Art it's a central located building where you will find many expositions of Canadian and World Art.
Although the object of our visit was the Maud Lewis exposition.
There's an inspiring biography of Maud Lewis with Ethan Hawk as Maud Lewis' husband. It's an emotional yet beautiful and inspiring movie. Maud teaches how to transform a poor and sad living space into a happier more colourful place with her simple yet unique art.
We highly recommend watching the movie before you visit the permanent Maud exposition at the Halifax Art Gallery.
Maud and her husband lived near Digby and we were planning a visit to see her house. It was difficult to find exact information online at the time, yet we're glad that we discovered that her house had been transported to Halifax. This way we added an extra day to explore Halifax and made sure to visit the exposition.
Halifax Harbour Walk
Halifax Harbour Walk offers amazing sea views, great restaurants, gift shops and craft stores plus many others activities going on. It's a beautiful and vibrant place during the summer, especially on a blessed sunny day !
You can get an online Harbourwalk map to check the many activities around on the following Webpage
It's possible to walk from one end to the other on the boardwalk, plan a boat tour, rent a bike or even plan a bike tour! This way you can see Halifax Harbour in a beautiful and different perspective. There's also a Ferry from Halifax to Dartmouth which could be a cool activity on a sunny day. Although we heard Dartmouth is more of a suburb.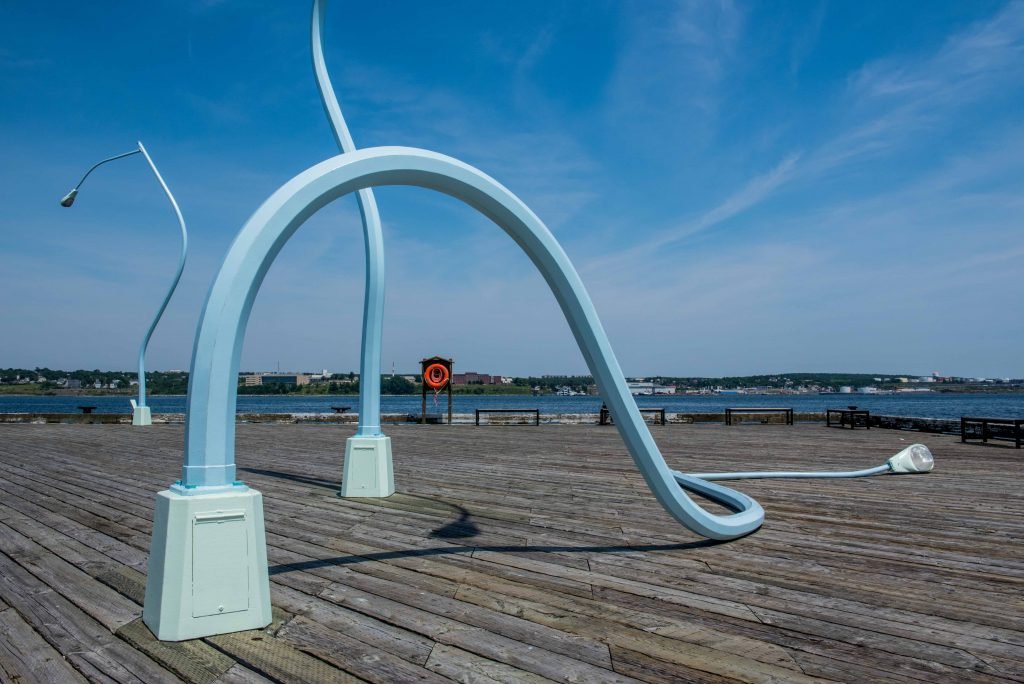 Also, don't forget to check the funny "Drunken Lampposts" during your walk. According to Google, the two displays are described as "nakedly honest portraits of unseemly behaviours that are often playing out on our own streets after dark" kind of concerned? We're not entirely sure if this is accurate, so if someone has further explanation, please let us know by leaving a comment on this post! 
Food wise
There's all types of food available. If you're looking for something healthy you'll want to head north to the Halifax Seaport Farmer's Market.
Alternatively, there are food truck, fast food available.
- Citadel
A must see is the Citadel of Halifax which is located at the top of the hill, it was built to defend against a land-based attack. Today's Citadel was completed in 1856 and is the fourth to occupy the hill overlooking the city.
Since its founding, roughly 1750 until the late 19th century, Halifax was one of four principal overseas naval stations in the British Empire.
There is an entrance fee to pay, however really not expensive as far as attractions go. Seniors get a discount and the Youth enter free. Check the official website for additional details.
We had a great guide walk us through the Citadel step-by-step. He also talked about the Great Naval Explosion of Halifax.
He spoke about the largest man-made explosion prior to the first atomic bomb which happened in the Bedford Basin.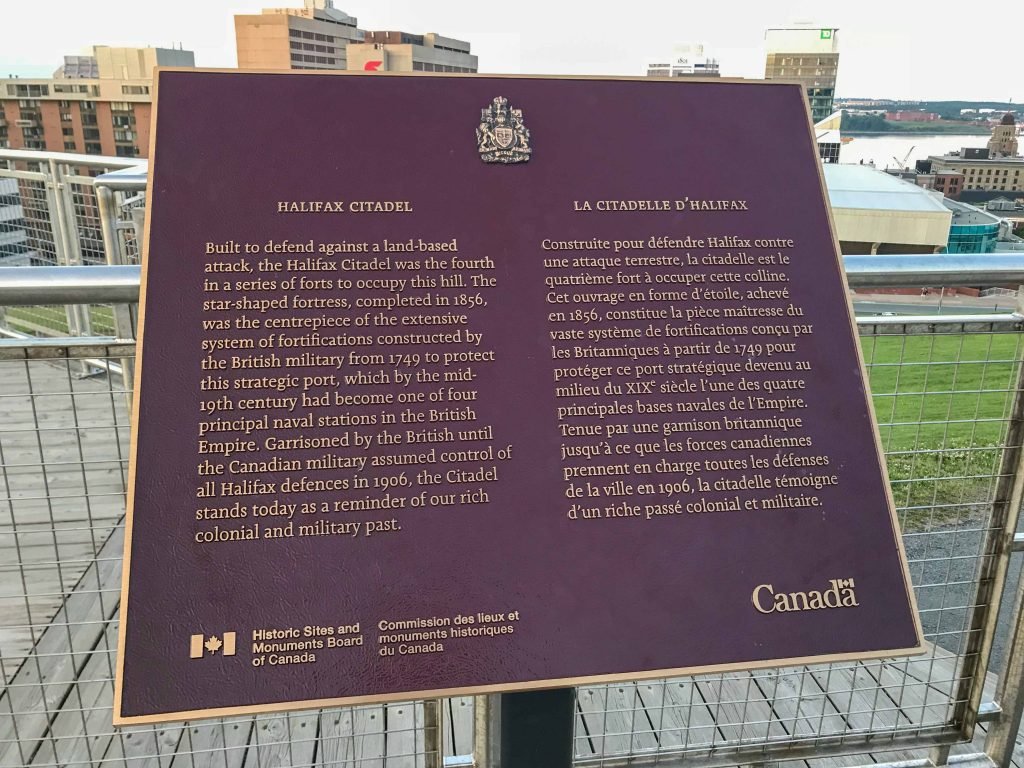 It's also a great place to return during a beautiful sunset. Since the Citadel is located at the top of Halifax, you'll get a clear and a somewhat unobstructed view of the sky.
---
---
5. Day trips from Halifax
Halifax is a city in a hub surrounded by nature and coastal waters. There are various places to visit during a day road trip. Here are a couple of highly recommended suggestions to add to your sea bound coast list.
- Polly Cove
Some might say there's a typo here as they think we're talking about Peggy's Cove. However, this is Polly - Peggy's cousin 😉
There's a catch though, here you need to put in the effort in order to reap the rewards. There's a 'short' trail that is barely visible from the highway. So we recommend that you program 'Polly Cove' in your GPS to find the accurate location.
Based on the time stamp from our pictures, we spent roughly 1 hour from the parking, the hike, taking pictures and back again. The terrain is a bit rough, although there's usually a trail presence it's sometimes confusing as you ask yourself 'are we on the right path' ?
Just follow the light and the sound of the water, you'll eventually get there !
When you get there, you'll be greeted with gorgeous views and peace and quiet from the everyday hustle. Weather dependant, you might also see Polly's cousin Peggy in the distance !
- Peggy's Cove
Established in 1868, Peggy's Cove is a small Village located on the eastern shore of St. Margaret's Bay.
It was upon finding parking that we realized how popular Peggy's Cove actually was. There were lots of tourist Buses and lots of people, but that didn't phase us.
Initially, the community revolved around the community. That's until it was surpassed by tourism. Despite the crowds of tourists, it's said that locals still fish for their lobster here.
The small Fishing village is really picturesque and you you will find amazing colors from the houses and boast reflecting in the water, and we were really lucky, since we got a perfectly blue-sky.
This is the main spot for tourists, yet we refrained from getting too close. Partly because we had another destination in mind and we didn't want to get caught up in the crowd.
- Lunenburg
Lunenburg came as a complete shock to us, since we never heard of it. We usually 'research' our destinations prior to our trip and somehow this one came out on top!
As displayed in the image, the city is really colourful, with traditional and historic English houses. Lunenburg is also filled with lot's of cute and colourful craft stores and great sea food restaurants.
---
Although we didn't have a chance to try each restaurant in Lunenburg, we highly recommend 'The Half Shell' for their courtesy, great staff, scrumptious food and amazing view! That's a perfect 5* which doesn't come easy.
The sea bound coast offers some of the best seafood we've ever had! Serge ordered the 2 piece fish n chips and Eli the fish burger with fries. If it's not too warm and there's still space, we recommend to sit on the back patio !
In addition to walking along the boardwalk (which we did), there's a small museum called "Knaut Rhuland House Moseum". It's a late 18th century residence that now is a museum and you can visit for Free.
The 2 1/2 story house has a lot of interesting items, with self read information, it was fun to go back in time.
Since it's free, consider giving them a small donation to help preserve Lunenburg's heritage. There's also a gift shop if your interested in procuring a souvenir.
Here is their Official Website for further information:
We noticed quite a few church towers as we walked the streets of Lunenburg and we particularly drawn to this church.
St. John's is recognized as one of North America's best examples of Carpenter Gothic architecture. Additionally, it's second oldest church of English origin in Canada, as well as a Canadian National Historic Site.
Despite a major fire in 2001, St. John's has been fully restored and was re-opened in June of 2005.
---
THANK YOU for going over our Nova Scotia blog, we hope it inspired you to discover 'the Seabound Coast' !
Below you will find our Maritimes eBook with tons of information on where to stay, visit and eat. The Canadian Maritimes is a special place to visit, do yourself the favour of having all the information at your finger tips. Our eBook is saved in a PDF format, easy to read on a smartphone and it'll put the fun back in your vacation.
Spend more quality time discovering and less time searching !
Please note that your purchase will be reinvested in more eBooks, thanks for sharing the LOVE !
---
Our Motivation is your satisfaction
Inside our book you'll find a full index, tips for saving money and hidden gems for New Brunswick, Prince Edward Island and Nova Scotia. Plus helpful tips to help maximize your time and money.
Did you know you could combine your Hopewell Rocks ticket with a Kayak expedition !?
List of very affordable and authentic seafood restaurants !
Recommendations and time allocation for various attractions.
Interactive hyperlinks for local businesses.
and much more!
---
Itineraries and Attraction recommendation
The Sunrise trail, Celtic trail and Cabot Trail - we recommend 2-3 days
Meat Cove - 3/4 to a Full day
Louisbourg Fortress - 1/2 to a Full day
Halifax city - 2-3 Full days
Polly Cove and Peggy's cove - 1 day trip
Lunenburg city and surrounding - 1 full day or more
---
---
---
Growing Portfolio
1000+ images and counting​
We've been taking quality shots since 2016 and adding them to our Shutterstock portfolio.
You'll find a wide range of images, some that you can print for your home decoration or even use for a digital project you're working on.
---
Recent posts
Please follow and like us: