We spent 4 full days Discovering Lisbon in 2019. Please consult our list of top places to visit in Lisbon and let us know which you preferred !
Lisbon
–
Portugal
:
TOP Places to visit in Lisbon
according to US.
Portugal is a country that colonized Brazil a long time ago. Yet, still today we Brazilians feel a great deal of influence on our culture. I (Lia) speak from experience since I grew up with this Portuguese culture in a suburb of São Paulo called, São Bernardo do Campo.
Portuguese influences in Brazil
Food gets people talking, dancing and celebrating. In Brazil we have tons of bakeries called ''Padarias''. These Portuguese bakeries are quite different from the French and English style. Mainly because you'll find everything from bread, sweet and salty pastries.
After eating so many Pastéis de Nata in Lisbon, check out our Blog on how we think the establishments rank !
Recommended places to eat Natas in Lisbon !
Additionally, the Catholic religion is also something that was passed on from the Portuguese culture. On Good Friday we celebrate our devotion to Saint Anthony. The ''Padarias'' in Brazil prepare what we call Bacalhoadas (referring to a dish prepared with Cod fish). Growing up, I was exposed to this culture but never had the opportunity to actually visit Portugal.
Inspired discovery
It was just in 2019, when Serge and I from Discovering Destinations, started looking for inspiration for a new destination. We came across videos on YouTube showing Lisbon and its surroundings and instantly became captivated by the Portuguese sights. This is when we decided to visit Portugal in the fall of 2019. We would spend two weeks in Portugal and started our timeline map with places we wanted to discover.
We would like to share our favorite places in and around Lisbon, from common landmarks to hidden gems. We'll also share some tips and suggestions to make it easier to visit. Most importantly, we hope this will motivate you to book your own trip to Portugal someday !
Leave us a comment !
We will also be happy to receive your comments! Let us know if you liked it, if you have questions and if you have already visited Portugal you can also contribute adding tips for a next opportunity or for those are reading the Blog!
You can also read our Blog about how to maximize your time in Lisbon and get around in the link below!
http://www.discoveringdestinations.com/discovering-best-adventures/getting-around-lisbon/
TIP to save Money in Lisbon
:
Buying the Lisbon Transit Pass
Check out our previous Blog on how to get around Lisbon. We also explain our experience with the Lisbon Transit Pass, which saved us a ton !
Buying the Lisboa card
We personally didn't buy the Lisbon card. However friends of ours suggested to purchase it in order to save money for the main attractions. Here is the Official Website should you be interested:
Stay tuned for the Complete Blog series of Lisbon and Portugual, where you will find many other tips, suggestions and get inspired to plan your trip.
Our Lisbon Hitlist Countdown
1)
Bairro Chiado
(Chiado neighbourhood)
We arrived at the Lisbon airport around 11am. However our apartment was booked for 3pm so we weren't in a rush to get downtown. With that in mind, we opted for the metro. We used Google Maps to see which metro line would bring us to "Bairro Chiado" (Chiado Neighbourhood) which was close to our apartment. Once in Bairro Chiado, we located a locker service for our bags so that we could roam the city freely.
Actually, by pure chance, we figured out that Bairro Chiado is a perfect place to start discovering Lisbon city. It's quite touristy with lots of attractions in the area, restaurants, shoppings and easy access to public transportation and walking distance to practically anywhere.
Chiado is a famous neighbourhood in Lisbon and you will find famous touristic attractions, such as:
✅ Armazém do Chiado: A chic shopping mall with nice stores inside.
✅ The centenary Bertrand Book store: this book store appears to be open since 1732. Inside are mainly "Portuguese" books, however because the store's new gained popularity there are quite a few English book options as well !
✅ The Café a Brasileira: We didn't eat here, but we heard that its a famous restaurant with the statue of Fernando Pessoa (a really famous Portuguese poet and writer) in the front. Lots of things are going on there, night presentations as we saw "Capoeira" and other local musicians and dancers.
✅ Manteigaria: If you are in Lisbon, of course you want to eat "Pastéis de Nata" (Portuguese custard pie) and the "Manteigaria" was our favourite! Really delicious.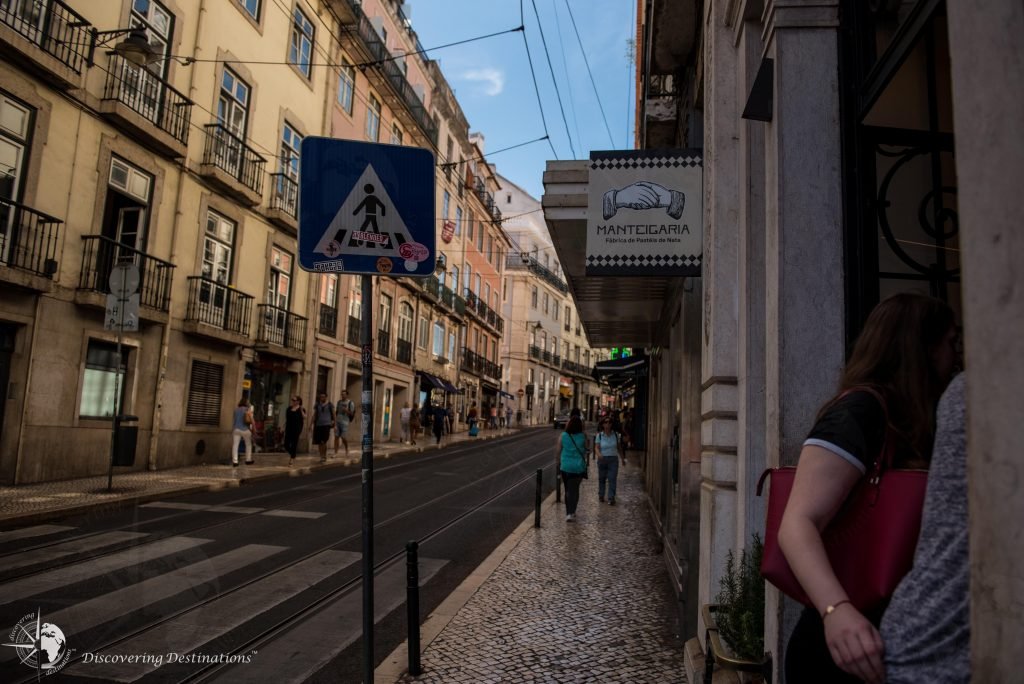 ✅ Restaurante "Mimosa": This restaurant was suggested to us by the local worker at the Lisbon Lockers (Horta Seca Street). It's a good and simple Portuguese restaurant with well priced food
Feel free to check our YouTube video "LISBON – 4 suggestions when first arriving in Lisbon". You'll find info on the Mimosa Restaurant and more !
✅ "São Roque" church: Walking from Chiado to "Largo Trindade Coelho" you will see this stunning church which, according to Wikipedia, was the earliest Jesuit church in the Portuguese era.
✅ Miradouro de São Pedro de Alcantara: A great spot with a beautiful view of Lisbon city and the São Jorge Castle. There were heavy renovations going on when we visited, however it appeared to have a beautiful park and fountain to visit.
✅ "Elevador da Bica": This a famous Lift (or elevator) that will connect the Bairro Chiado (Chiado Neighbourhood) to Rua da Boa Vista. This is where many restaurants are found as well as other attractions. It's a really cool place to visit and we especially recommend the experience of taking the "Elevator". We took the elevator around 5/6pm and it was fun to see lots of locals having drinks on either sides of the elevator ! Also, if you buy a "Day Pass" you can use the lift as many times you want (as mentioned in our Blog):
These are the places we remembered visiting, however you will find many other attractions to explore, restaurants to eat, many "Padarias" and bakeries around. Our suggestion is to get lost in the Chiado streets and have fun discovering new destinations!
2
)
Pink Street
On the morning of our second day in Lisbon, we passed through the 'Pink Street'.
According to some websites, the pink street was previously known as the "Red Light District". It's since been converted to a common street with restaurants, bars for drinks. It's also considered as a great place for a night out in Lisbon. We quickly passed through one night and went back the follow morning for some pictures. We didn't spend a lot of time on the street and unfortunately didn't get the vibe that was described to us.
Hopefully your timing will be a better one !
On our way to Belém
Check out our ONE day trip to
Belém (
including a Happy Hour at the LX Factory)
Here's our Blog
and here's our Vlog
3
)
Dinner at
the restaurant "Frade dos Mares"
Usually when we travel, we'll enjoy a nice lunch and snack with drinks at night. On this particular day, we did the opposite, a quick lunch knowing we would have a great meal. Serge researched 'nice Portuguese restaurant in Lisbon' and found one called "Frade dos Mares". We wanted to add this as a suggestion because we loved the service, food and overall experience. It was the perfect Portuguese food experience.
It was one of our most expensive meals in Lisbon, however it was worth every penny. We got a delicious 3 courses meal with a bottle of wine for about $ 80.00 euros both of us, tip included. This means when you compare Canada, Lisbon offers delicious traditional & gourmet food for ½ of the price we could get back in Montreal.
Great Reviews
Should we recommend a restaurant in Lisbon, it would be this one. At the time the Google reviews were (4.6 from 1,012 people) which justify its worth. It's a Contemporary setting for a modern take on Portuguese seafood, including many octopus dishes & meat. So there's a little of everything for everyone.
On this front we were lucky, we were able to get a table without making a reservation. However, we recommend that you reserve in advance ! We also thought it was a little different, when you arrive you need to ring the door bell, then someone comes to open the door.
Our 3rd day was dedicated to explore more of Lisbon city
4) Lisbon 28 tram
Lisbon is known for its narrow streets, 7 hills, and many tourists looking for the historical sections. We have the perfect suggestion, and it's called Tram #28 ! This way, you get to know the streets and old shops in a different way. And if you get the day pass we talked about, you can hop on and off all day long !
This tip was divulged somewhere in our Instagram feed. It was a local who posted the information, that one of the trams to the historical city centre is number "28". It also crosses Lisbon city, from the historic streets and goes all the way up to the São Jorge Castle.
Tips
✅ Get on early
The 28 tram is one of the most famous, and it can be difficult to get on let alone find a seat. We suggest that you try to get on early in the day OR strategically get it at the beginning of the line (if possible). The first stations starts at "Estrela" near the historic Basílica da Estrela, which is a baroque church;
✅
Be alert
Watch out for pickpockets, especially if standing up and holding on for the bumpy ride. Take care of your documents and personal stuff
✅ Day pass is the best
The best thing is to buy the day pass, which includes the trams. Check our Blog for further information.
✅ Last stop !
The final stop is the São Jorge Castle, however we think it's best to stop at the Miradouro Santa Luzia, which is the before last stop. It's really beautiful and it's not so crowed early in the morning.
6
-)
Miradouro Santa Luzia
The Santa Luzia Miradouro (or Observation deck) is just a 5 minute walk from the São Jorge castle. You can walk or take Tram #28.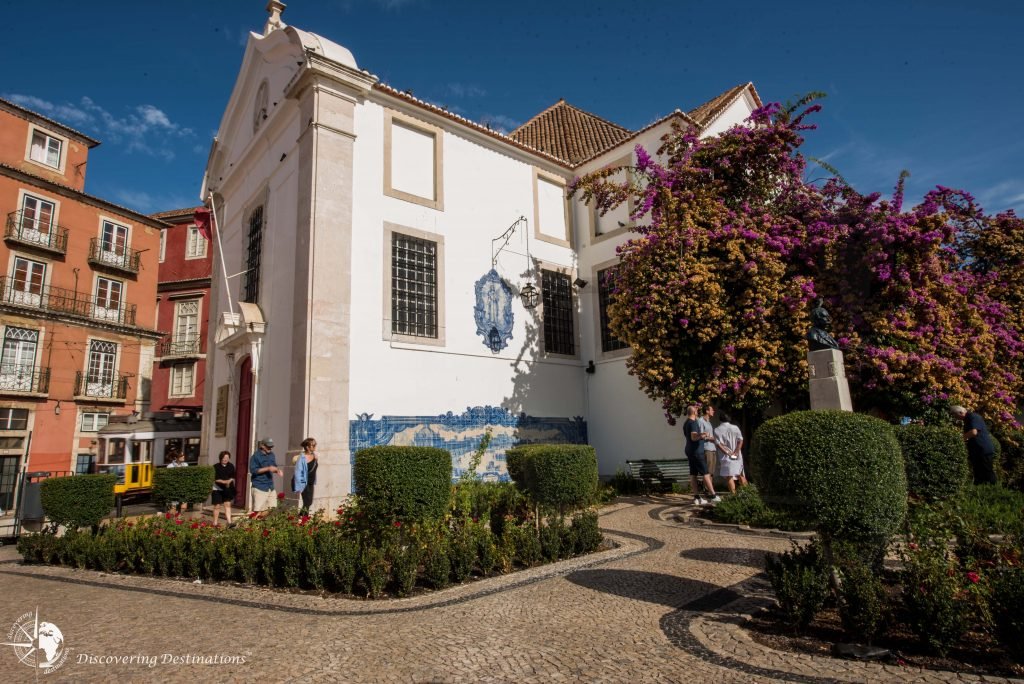 By chance, we stumble upon the Santa Luzia lookout which is a nice spot to reconnect and relax. It offers amazing views of the Tagus River. From the lookout, everywhere you look is a beautiful scenery. Most importantly, it's completely FREE to visit!
You will also find a beautiful garden decorated with the traditional Portuguese tiles and amazing flowers trees.
Santa Luzia Church and Tile store
In addition to the lookout, you can visit the Santa Luzia church which is next to the observation deck. It was a little too early so they were closed. There are also lots of stores near the lookout and all the way up to the castle. One that really intrigued us was a traditional Portuguese tiles store named "XVIII – Azulejo & Faiança". They sell beautiful and unique tiles, painted by the artists onsite !
Feel free to check our Instagram or Shutterstock picture gallery. One of our pictures could decorate your home or office.
5
)
São Jorge Castle
We saw the São Jorge Castle on our first day from the Miradouro de São Pedro de Alcântara. Instantly, we knew we had to visit! It's remarkably well kept as with most castles in Portugal and offers great view of Lisbon city and around.
As mentioned, you can easily get there with tram #28. A ride that would already be included in the Day pass.
Tips:
✅ Time logistics
You can divide your discovery in two, first with the lookout on the way up and then inside of the castle (or vice-versa)
✅ Earlier is better
Although we thought it was low season in October, it was quite busy. We can only imagine what it looks like during the summer peak. We gather that if you go early in the morning you will enjoy more of the sights
✅ Snack time
We saw a coffee shop near the castle entrance. However we think it's cheaper and more authentic if you find something to eat outside. In our Vlog we talk about a few food options. For example the Casa Portuguesa and the Tendinha de Santa Luzia.
✅ Comfortable shoes
The castle visit means a lot of time spent on your feet and potentially in the sun. We recommend comfortable shoes, sunscreen, and a small pack sac for essentials like water and snacks to last the day.
✅ Possible discount
There is a small entrance fee to pay, we left the link so you can see for yourselves. We also heard about a potential discount with the Lisboa card.
6
)
Praça do Comércio
When you get to Lisbon, you'll find your way to the Praça do Comércio at some point. It's a 2 minutes walk from the "Arco da Rua Augusta" (Augusta street historic arch). You'll know you're there when you find yourself in the middle of a big square with a large monument in the middle.
As indicated online, the square was completely rebuilt after being destroyed by the great 1755 Lisbon earthquake. The monument in the middle of the square depicts King José the 1st. Then, on either sides of the square are fancy restaurants, stores and other curious touristic attractions.
The Sexiest WC on Earth
Along the strip of restaurants and shops, we found a sign for the "Sexiest WC on Earth" by Renova. This wasn't your ordinary Washroom with it's decorations and the addition to an entrance fee. Since we were curious AND Eli needed to go to WC anyway, we paid for one of us to enter. We confirm that it's not worth to pay, because one thing Eli loves is to find new and cool WC decorations. And she guarantees that she's already seen nicer and sexier WC's than this one! Sorry, haha!
That's right, Lisbon has a beach
The square also known as Cais das Colunas (Pier Columns) gives you a beautiful view from the Tagus River beach. It's a spectacular place to relax during a sunny afternoon or better yet watch the sunset. A beautiful space like this attracts tourists and of course local artists. You'll find everything from traditional Portuguese music and sand art displays at the beach.
There's a beautiful showcase of this place in our Vlog !
Beer lovers welcome
Since Serge loves beer, we planned to visit the "Museu da Cerveja" (Beer Meseum) which is also located in the commercial centre. There you have the option to grab a table or bar stool for a pint or pay a E5 entrance fee for a museum visit. What's cool is along with your entrance fee, you get a beer. This way you can visit the museum while enjoying a beer of your choice. Up the red carpeted stairs is the entrance to the museum. It talks about the Portuguese beers in various parts of the world. We felt it was a beautiful place for a quick visit, and got the impression that it might be expensive if you went for lunch or dinner. Feel free to look it up on Google Maps as we usually do. This way you'll the peak times, and plan your visit accordingly.
7
)
Rua Augusta
The Rua Augusta is a main corridor, for pedestrians only. It's right in the middle of Lisbon, surrounded with fancy shops and really touristic restaurants. You'll know you've arrived when you see a stretch of outdoor restaurant terraces. Some of the city's main attraction are walking distance "Elevador Santa Justa" and "Arco da Rua Augusta" (Augusta street historic arch) and a little ways further "Praça do Comércio".
Stay Alert
There is a lot of activity all along Augusta street, from international artists and human statues. Please take care however for those shady individuals who try to sell you drugs. We unfortunately encountered them quite a few times as we made our way up and down the street.
Besides the restaurants and terraces, you might want to stop for a quick bite and a drink before continuing your walk. If so, keep a lookout for traditional Portuguese dishes like the famous dessert "Pastéis de Natas" or salty snack "Pastéis de Bacalhau". We tried the fried cod cake and port wine "Bolinho de Bacalhau with Porto Wine". Although expensive it was worth every penny because of the taste and the unique local experience!
We discovered Augusta street on our own, however if you feel like amplifying your experience or meeting new people, feel free to check out online options like the Free walking tours or guided shopping tours.
8
)
Elevador Santa Justa
The Santa Justa elevator is quite impressive. You can see this massive Jenga puzzle from Augusta street. Located in the heart of Lisbon, it connects the lower streets of the Baixa Lisbon (lower Lisbon) with the higher Largo do Carmo, thus giving everyone perfect views from All Lisbon Old Town.
Here are a few pointers before you plan your visit:
✅ Plan your time
We waited almost one hour in line, but we enjoyed the local musicians and socialized with people in line. So, it was totally worth it.
✅ Do you need a ticket ?
There is a fee to enter the elevator. You can pay before you enter or use the Lisbon Transit pass, the very same as the bus and metro. If you have the day pass, simply swipe it on the yellow box inside the elevator.
✅ Pay for the better view
Once upstairs, there is an option to access another level with an even clearer view. We paid roughly 3 euros for both to go up the spiral staircase. We felt it was totally worth the small fee since we had gorgeous views of Lisbon old town. However, we would like to mention that it might not be easy for everyone to access the old spiral staircase.
C

heck their official website for fees and general information. The

Miradouro (view point)

hours can vary according to the seasons.
9
)
Ruinas Nossa Senhora
do
Carmo
Once you're up the Santa Justa elevator, you'll be in a better position to see the Carmo Convent since it's next door. There you will see the beautiful views of the ruins (Ruinas Nossa Senhora do Carmo - Convent of Our Lady Mount Carmel). The church was yet another victim from the 1755 Lisbon earthquake. However, you can still visit spectacular looking ruins.
Unfortunately we arrived a few minutes too late since they closed the main doors. We would have loved to see inside, so we hope you can make it and show us the inside - if you make it 🙂
10)
Igreja da Sé (Lisbon Cathedral)
The "Igreja da Sé" (Lisbon Cathedral) is the oldest church in the city. It's a short walk from the main Augusta street or Praça do Comércio.
We admired the beautiful building and structure, however didn't have opportunity to visit inside. It appears to have been restored several times. Yes, you guess it, after the 1755 Lisbon earthquake. Double check the official website for their hours and entrance fee.
We also enjoyed the surrounding area around the Lisbon cathedral. The streets had a different feel, including restaurants and souvenirs stores.
11
)
Rossio
square
Our last day in Lisbon, we decided to get lost in the small streets of Lisbon. We left the heavy camera gear at the hotel to enjoy roaming the cit freely with locals and tourists.
This is when we discovered Rossio square, which appeared to offer a local food market and small souvenir stores on the Saturday. We tasted Porto wine and beer, however they also had sausages and famous Sardines cooked fresh on the spot.
The square is really beautiful and centrally located, so it's a great place to visit before branching off to other city attractions.
Additionally, the square appeared to have a significant importance for Portuguese history, with the 13th century column of Portuguese King D. Pedro IV. There are also many cafes, shops and restaurants around.
12

)

Church of São Roque

Lisbon city plays host to many churches. Regardless of your religion, we totally recommend visiting a few of them because it's a unique experience. We want to let you know that churches in Lisbon are different from other European countries. This might be hard to compute when you see the plain looking exteriors and think "Maybe it's not worth to get inside". However, inside is a game changer as they showcase the extremely beautiful Sacred Arts, with details in many colours. The Gold accents will remain forever in your memory because of the incalculable value behind of each piece.
A great recommendation
4 days in Lisbon is a good start, but there's so much more to see. You could spend 1-2 weeks going around and discovering new places. We were also fortunate with great weather and wanted to maximize our time outside. This being said, we didn't visit many churches.
However we totally recommend to visit the although small yet gorgeous Church of São Roque, located at Largo Trindade Coelho. It was the earliest Jesuit church in the Portuguese era, and one of the first Jesuit churches anywhere according Wikipedia.
More on São Roque
This 16th century Church has beautiful chapels all around basically made by craftsmen and artisans. It oozes with unbelievable details, where you can contemplate several altars with Saints, and one of our favourite was the Chapel of St. Anthony. It was created with perfect details and design, really difficult to not notice, and it's also incredible to think that part of those Sacred Arts were restored after the massive 1755 earthquake.
Look up !
Please, don't leave the church without looking up to the painted ceiling ! It's one of the best parts 🙂
Leave your Comments below and tell us what you thought about it!
Plan your Trip to Lisbon - Portugal
Now that we shared our experience in Lisbon - Portugal, and we tried to give you our best tips an suggestions, following a summary where you can just start to take note of places you can already imagine yourself visiting and be ready to discover one of the most beautiful cities in Europe!
Highlights
Food Matters! Stay tuned for our best suggestions where eat and what eat when in Lisbon - Portugal!
Inspired discovery. Don't try to find a reason to travel, just think that you don't belong to a street, to a neighbourhood, you were born in "This Planet" called Earth. Our planet is huge and deserves to be explored! However you can be inspired with our quick history - why Lisbon - Portugal!
TIP to save money in Lisbon;
Day 1 - ) Bairro Chiado: Where you can see some of the best places in Lisbon as Armazén Chiado; Bertrand Book store; Café a Brasileira; Manteigaria and many other restaurants, cafes, etc
Day 2 -) Quick visit to Pink Street; day trip to Belém district plus happy hour at LX Factory and dinner at the restaurant "Frade dos Mares" !
Day 3-) A ride at the historic Lisbon tram 28; Miradouro Santa Luzia; São Jorge Castle; Praça do Comércio; walking at Rua Augusta; getting amazing city views from Elevador Santa Justa, quick overview of the outside of Ruinas Nossa Senhora do Carmo
Day 4-) Igreja da Sé; Rossio Square, Church of São Roque.
Our Lisbon Vlog - hope you Enjoy !
Few additional pictures
Please follow and like us: