''Why visit Santiago Chile and what's there to see & do''​
---
Wine
Pro tip, stock up on delicious cheap wine from the local grocery stores!
+ Tours
Free walking tour, Cajon del Maipo, Valparaiso and much more!
---
This Chile Blog is divided into 3 sections. First we'll identify top places to discover in Santiago city.
Then we'll list a few day trips & lastly 'cool spots' to check out in the city.
We've also made a Google My Maps which is Free to download.
Simply provide us with your email address and we'll gladly share it with you 🙂
---
---
Why did we visit?
Lia and Serge took a sabbatical in 2016, they went to spend some time in South America.
Before they left on their trip, they visited a travel convention in Montreal and entered into a contest.
We wish we could tell you they won an all expenses paid trip, however Serge did win a contest, giving him a Chile guide book. Thereby giving them the idea to discover a new country in South America!
---
Disclosure: This page contains affiliate links, meaning We receive a commission if you decide to purchase using our links mentioned in this page, however at no additional cost to you.
---
Places to visit in montreal
Santiago Chile activities & Day Trip ideas
We visited Santiago, Chile in February of 2017. The perfect escape for us in colder climates looking to warm up during winter. During our Canadian winters, it's summertime in the southern hemisphere and on a given sunny day, temperatures would hit 25-30 degrees.
In case you were wondering how long to stay in Santiago, we felt there are enough sights to keep you entertained for 4-5 days. Who knows, you may fall in love with the scenery and decide to stay longer!
Activities in Santiago range from museums, eateries, wine tours, markets, shopping and more. We also encourage taking a few day trips from Santiago. Alternatively, it's also possible to run your own trips using the Estacion Central (bus station).
Read on to discover our recommendations of sights to see in Santiago and few other parts of Chile.
Get your FREE List - Santiago Chile sites
We've been using Google Maps for a very long time. It helps us pin places we would like to visit prior to making our trip. So we've decided to share our recommended list of places to visit in Santiago Chile with you, for FREE!
Simply provide us with your email address and we'll gladly share it with you.
What is there to see & do in Santiago Chile ?
For starters you can download our FREE Map in addition to reading our blog!
Santiago Chile is rich in culture, sites, food and drink! You're welcome to dive into each of these categories.
An absolute must is visiting one of the surrounding vineyards, visit a museum or the central market, take the funicular up San Cristobal mountain. If you're into it, there is a drink called Terremoto which stands for earthquake. It's a mixture of wine, ice cream, alcohol and something else. Essentially, after one of these drinks, you're supposed to feel the ground shake - lol.
We also recommend walking up and down Merced street and explore the Bellavista neighbourhood.
Montreal tourist attractions
1. Freewalking Tour
We arrived in Santiago on a given afternoon, and it was too late to plan anything. As such, we decided to explore the surroundings of our hotel. Our hotel was at the Travel Place Andino, actually it wasn't really a hotel yet a mini apartment on a given floor. This was in a neighbourhood called Providencia, a relatively upscale part of Santiago.
That very night we planned a few activities for our first full day in Santiago. We came across a Freewalking tour and decided to book it. After all what better way to discover a new city than with a tour ! We secured our booking and were informed to meet our guide the very next morning at 9am at the Plaza de Armas.
The next day we took the metro towards Plaza de Armas square. The metro was our ideal solution and a very cheap one at that. Santiago's metro is very affordable however at times it's also good to double check with Uber pricing.
The first 24 hours in a new city are usually completely disorienting, which is why we booked the Freewalking tour. A random lady noticed that Lia and I looked completely lost and offered to guide us to the square. As we walked beside her, she told us about Santiago and how they had recently experienced a heavy winter. On the positive side, this particular day was sunny with a blue sky and the usual amount of smog.
We met our guide, his name was Franco and he was a Santiago native. He was super knowledgeable, funny and brought us to various interesting spots! We travelled across the city as he indicated various great spots to visit. Additionally, that walk also gave Lia and I great bearing on the city as we identified places we would like to return later in our trip.
Here's the link for more information on the Free Tour Santiago. It appears they no longer require online reservations.
Montreal Tourist
Where to visit in Santiago Chile ?
Check out our Vlog !
2. Plaza de Armas
As mentioned during point 1, Plaza de Armas is a great place to start exploring Santiago for a couple of reasons. For starters it's a rich square boasting great architecture all around. Secondly, you'll find all the major tour companies there which makes it easier to plan your day trips!
We recommend that you visit the square before the tour meeting time or make time to return later. You'll want to explore the grounds and perhaps enter the Santiago Cathedral, something the tour does not surface. And rightfully so, because they are there to help you explore the city.
3. Precolumbian Chile Art museum
As you might know by this point, Lia and I aren't big on visiting museums. Oddly we say that yet we manage to visit at least one museum per major city on average. We couldn't help ourselves in Santiago because we felt it was very rich in architecture, history and culture. FYI, it's located just a short 3 minute walk from the Plaza de Armas.
We chose the Chile Precolumbian art museum because the statues and artifacts spoke to us. If you would also like to plan a visit, please bear in mind their hours of operation. At the moment we're writing this blog, they are strictly open Wednesday through Saturday.
More information on the museum here, you might need the help of a translator since there's no English version.
4. San Cristóbal & Santiago view
At the very end of our Freewalking tour of Santiago, our guide Franco parted ways near the San Cristobal hill. Lia was keen on visiting this destination, so we got in line to purchase the funicular tickets. By the way, funiculars are quite popular in Santiago and Valparaiso as they facilitate accessibility up steep slopes. It's best defined as a type of cable railway system which connects points along a railway track laid on a steep slope.
The ride up San Cristobal was nothing short of spectacular. Santiago city grew more impressive with every feet we climbed. Once at the top, you'll find various view points offering a unique panorama of Santiago.
Montreal attractions
---
The top of San Cristobal hill was great. Everything from the structure and views. There was a large statue of the Virgin Mary, a small chapel and a souvenir store. The panoramic views of Santiago were very captivating, so much so that we didn't want to head back down.
---
5. Merced Street
Fortunately we heard of Merced street from our Tour guide Franco. He told us about the street and how it's prime location for visiting unique stores and bars.
We recommend that you start on the eastern side of the city, more specifically Plaza Baquedano and work your way west towards the city centre. Along the way you'll pass in front of the Forestal Park offering large walking paths, occasional statues and landmarks.
At one point you'll find yourselves at a fork (Merced and Monjitas), we recommend that you hang a left on Merced and continue on toward the city centre. This is where you'll start seeing the shops and bars.
Alternatively you may do the opposite path by starting at the Plaza de Armas and making your way east along Merced street. This will be a great way to get acquainted with the city.
Montreal tourism
6. Bellavista neighbourhood
The Bellavista neighbourhood is a colourful, vibrant and electrifying experience. A great place to book your hotel if you wish to pay the price. Alternatively, it's possible to visit by heading north of the Mapocho River. We crossed using the Pio Nono bridge and recommend that you do the same. You'll know you're here when you notice a bunch of closed lock on both sides of the railing.
This is the jackpot of bars and restaurants, where one is just as good as the other. Have a quick look on Google Maps and see for yourself. We recommend that you check some online and save them to your 'want to visit list'.
Montreal to do
7. Santa Lucia Park
During our Freewalking tour, we passed in front of the Santa Lucia Park. We did not go through at the time, yet Lia and I liked the first impression and made a point to return later on. We did not regret as we now consider this a hidden gem inside Santiago! The hidden part is inside the park.
Make sure to visit the Hidalgo castle once inside. The entire structure is very intriguing and almost felt like an amusement park as we explored every nook and cranny. By making your way to the top, you'll find more unique views of Santiago.
Feel free to subscribe to get your FREE Google My Maps with the Hidalgo Castle nestled in there for you !
8. Central Market of Santiago
We also think it's worth checking out Santiago's Central Market. This vibrant 1800s market is known for its fresh seafood vendors & casual cafes serving fish specialties.
If we recall correctly, we also remember seeing souvenir kiosks inside. A great way to remember Santiago by.
Few day trip ideas while discovering Santiago Chile
Santiago is well located in the country with the andes to the east and the Pacific ocean to the west. A short 1-2 hour drive is enough to find a unique and new landscape. Below we share various types of day trips, some with organized tours and other by ourselves. Read on.
1. Valparaiso day trip
Our first morning in Santiago Chile, just before our Freewalking tour, we met with various agencies on site and booked our Valparaiso tour.
We really lucked out again because we were paired with Alex for this day trip. Alex spoke English, Spanish, Portuguese and a little bit of French. The entire trip comprised of many stops, the highlight being Valparaiso. However all the other discoveries were equally interesting! For instance, there was Viña del Mar with the lush green grass and flower clock! We did a quick pit stop in front of the Fonck Museum, making us want to visit. However that was not part of the itinerary.
Reñaca beach and lunch
After Viña del Mar, we headed to Reñaca beach. This is a beautiful beach with fine beige sand. The colour of the ocean was a surreal dark navy blue. Reñaca beach is not to swim however, the undertow is too strong.
The architecture is quite interesting along Borgoño avenue. As you'll see in the image below and to the right, the levels are separated with a type of step. We believe our tour guide told us it's because of the frequent earthquakes. This engineering method gives more strength to withstand the rumble.
La Sebastiana & Valparaiso
After Reñaca beach, our tour guide took us to a nearby seafood restaurant. We had a waterfront view of the ocean from the second floor. We got back on the tour bus after our meal and headed toward La Sebastiana, the Pablo Neruda museum. Pablo was a poet-diplomat and politician who also won a Nobel Prize for literature. We enjoyed a great story from Alex our guide as well as the view from the top of Valparaiso hill.
Before heading back to Santiago, the tour bus made one last stop at the top of Valparaiso hill. From this stop, we should follow Alex down the hill. It was quite interesting and adventurous as we discovered beautiful graffiti as well as the colours and the view.
Boat tour in Valparaiso
Once we got to ground level, we headed to the port for our last adventure of the day. We boarded a motor boat and set on the ocean for a quick ride. The highlight of our ride was observing the lazy seals basque in the sun.
We enjoyed discovering Valparaiso so much that Lia and I decided to return by ourselves. We bought an open bus ticket from the Central bus station and explored Valparaiso on our own time. This allowed us to explore certain points we didn't have time to see during the tour. For example, take a funicular ride up the hill, enjoy a meal in a restaurant and lastly do a little shopping.
2. Cajón del Maipo
Our trip to Cajón del Maipo was also an organized tour that we purchased from Plaza de Armas in Santiago. They did a good marketing and selling job with the images of the mountains and turquoise blue water.
This was a 3/4 day trip which started in the morning. We made a few stops along the way, the first one was a tunnel on the side of the highway. Our guide informed us the wall was filled with copper so Lia and I managed to grab a few rocks. Then we stopped over for the rest rooms and managed to strike the image below to the right.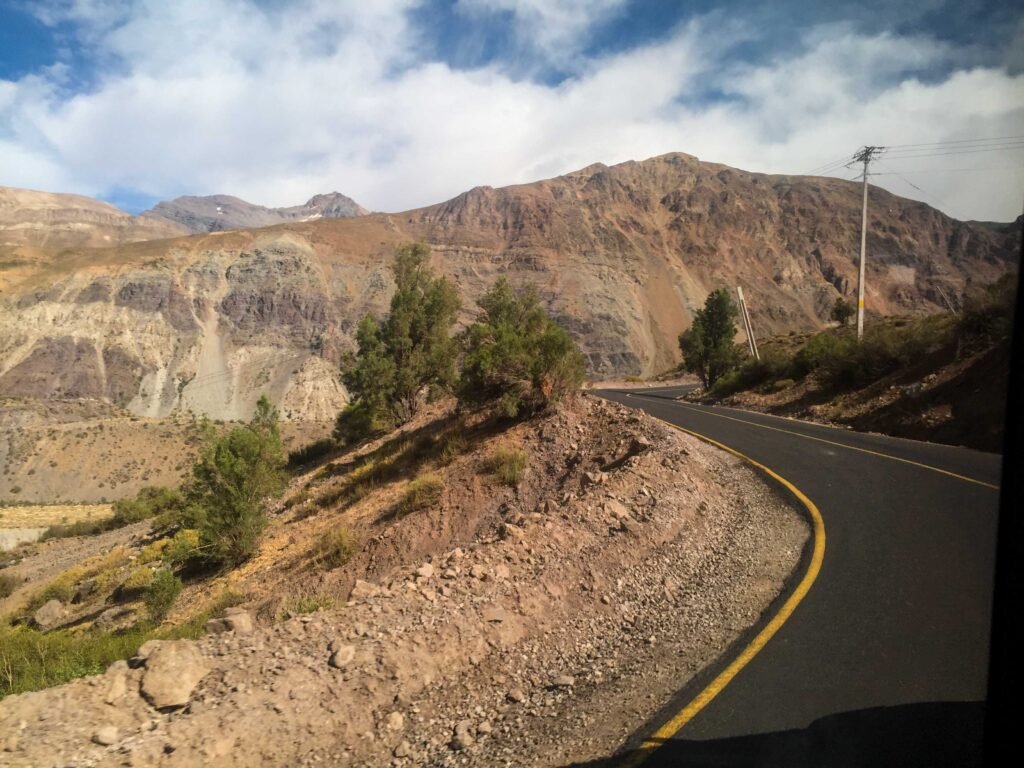 Turquoise blue water
The rest of the way to the Canyon felt surreal. For starters, the narrow dirt road along the cliff was something we had only seen in movies or documentaries. We were finally seeing this with our own eyes. Secondly, once we saw the turquoise blue water, it brought a smile to our faces. Everyone on the tour looked very animated once we arrived.
The van parked as everyone on the tour branched off to explore the grounds. Surprisingly despite the mountains surrounding us, it was quite windy.
Lunch time during the tour
Well it was more of an elaborate snack than a meal. The guides prepared a nice table with lots of wine, pisco sour, juice, chips, cheese and cold cuts.
It was a quiet ride back to the city, which was great because we took that opportunity to rest for our next discovery.
3. Santa Rita vineyard
Santiago city is surrounded by vineyards. The most popular one is Concha y Toro, then Viña Haras de Pirque and Santa Rita to name a few. Lia and I wanted to experience something different, so we opted for Santa Rita.
All of these vineyards are roughly 30 minutes from the city centre, so you'll need to book a tour to get here.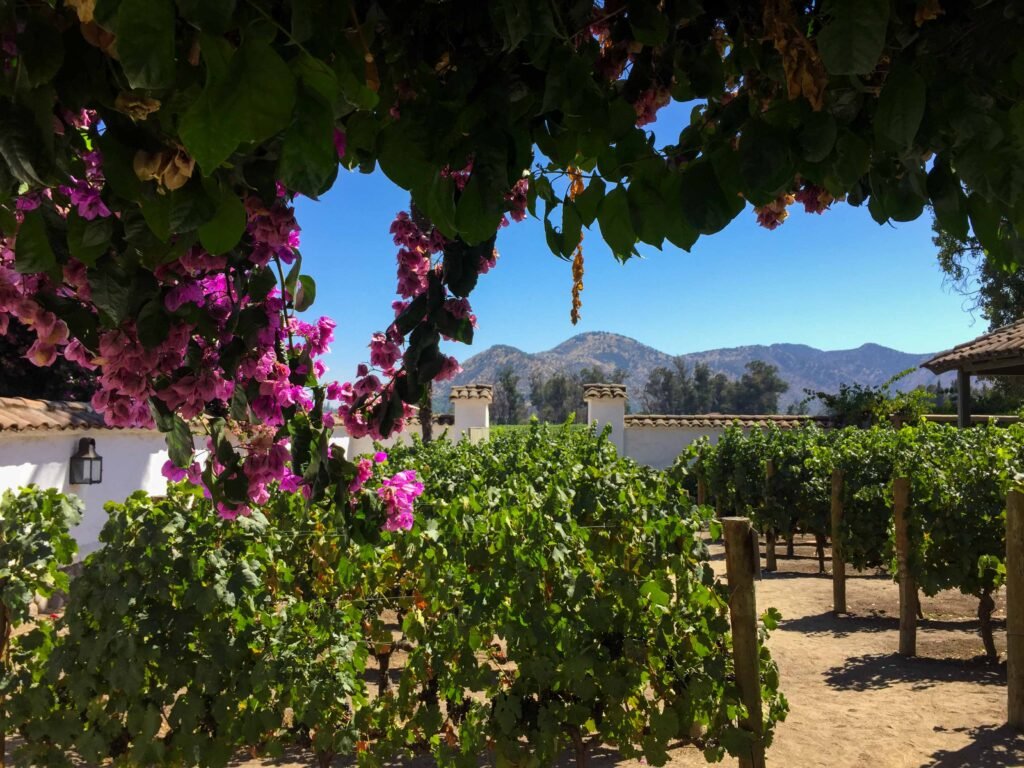 Full tour experience
We absolutely loved the scenery at Santa Rita. The mountains in the distance, the lush green vines and occasional purple flowers. All of which marinated for the eyes, the way a delicious and silky wine feels on the pallet.
Our guide Maira, a very passionate woman, took us around the grounds. She took us inside the warehouse to see the wine production, the large amounts of barrels and the basement.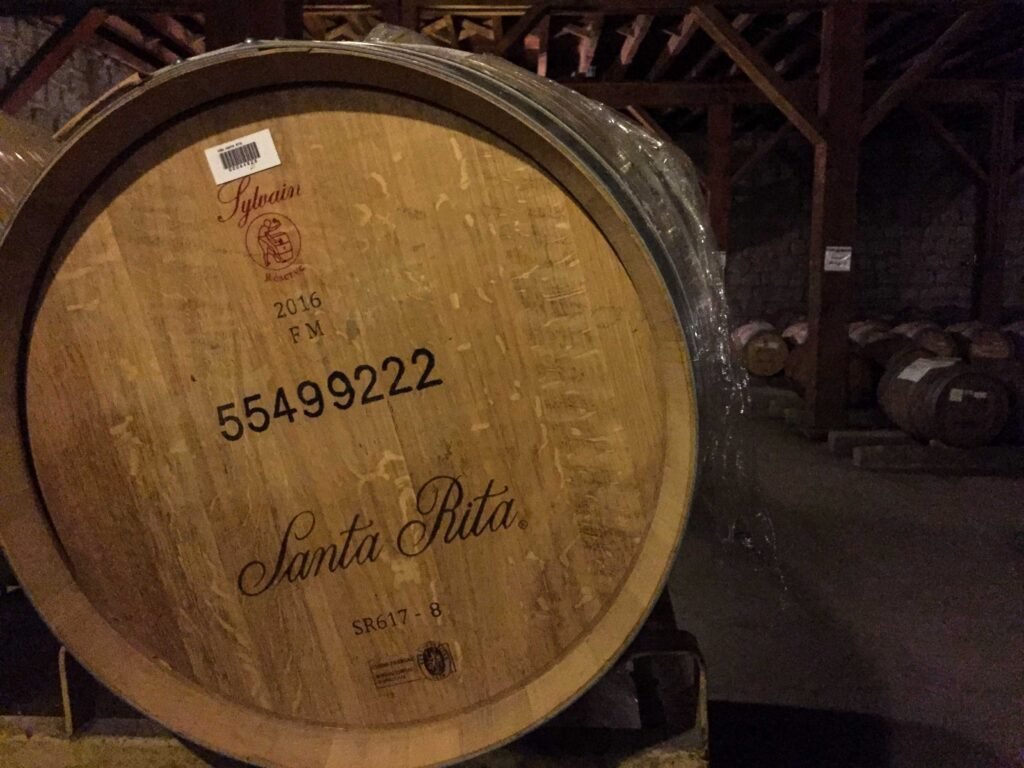 Finally, the last part of our tour was the wine tasting. Maira poured a variety of red and white wine and gave us tips on how to taste various ingredients. Lia feasted her eyes on the corks as she planned an art project for the house. Kindly, Maira gave her a bag full as a souvenir! Thanks for everything Maira !
4. Los Dominicos
Los Dominicos is a small village with authentic arts and crafts. It's located in the commune of Las Condes, which is roughly 30-40 minutes by public transport. There you'll find everything from textiles to hand made gifts, jewelry and much more.
Luckily it's so close to the city centre of Santiago, we ended up visiting twice. Part of the reason was that a few stores were closed the first time around.
Visiting the village felt like a great discovery. We also loved exploring the various types of handmade crafts.
Should you also want to visit Los Dominicos, we recommend checking with Uber or Google Maps for the metro.
Things to do in Dublin
Questions about Chile answered
Q - What things to do in Santiago ?
A - Santiago has a lot of culture, eateries, museums and day trips in a decent vicinity.
Q - Where to stay in Santiago ?
A - We really loved our comfy stay and perfectly located Travel Place Andino in Providencia. Essentially, neighbourhoods like Bellavista, Providencia and Las Condes are all very good! Use our Hotels.com link for more great finds!
Q - What is the currency in Chile ?
A - It's the Chilean Peso. In order to convert the currency into CAD, we needed to divide their price by 2000.
Q - Where to eat in Santiago Chile ?
A - Many restaurants in Bellavista have great ratings plus it's an awesome place to visit ! Additionally, you have to try 'El Rapido' for their empanadas.
Q - What is the best time of year to visit Santiago Chile
A - We visited Santiago in February and got great weather. As mentioned earlier this is their summer. Ultimately the best times to visit is February to April and October to December.
Q - Is Santiago Chile safe for tourists ?
A - We felt entirely safe while visiting all of Chile. You must however beware pick pockets and be vigilant at all times. Our understanding is the more you head east (of downtown) the safer the neighbourhood. We recommend that you keep your belongings close to you and try not to flash gadgets.
Where are the cool spots in Santiago, Chile ?
Whether you're travelling on a budget or simply looking to put your wallet to rest for a little, we've got some cool spots that will put a freeze on your spending.
Cool Spot #1
Plaza de Armas
We've talked about it a bunch in this blog, however it is a great place to start! Lia and I were absolutely amazed with Santiago's architecture. Speaking from experience, we feel this square does a great representation of that.
---
---
Cool Spot #2
Guard change at La Moneda
We first saw La Moneda during our Free walking tour with our guide Franco. It wasn't during the change of the guard though. Luckily Franco told us when to return so that we may witness it.
Cool Spot #3
Nueva York Street (New York st)
If it wasn't for Franco and the Free walking tour, we don't think we would have found this place on our own. But who's to say really.
At least we're now passing the torch to our readers.
We'll add it to the Google My Maps, that way it'll be saved for you in advance.
Simply fill in the form above with your email address and we'll gladly share it with you.
Cool Spot #4
Merced Street
As we mentioned earlier in this blog, we strongly recommend that you go up and down Merced Street.
It's a long street that runs east to west, from Plaza Baquedano to Plaza de Armas.

---

---
---
THANK YOU for going over our Santiago Chile blog, we hope it inspired you to discover 'The Pub Capital of the World' !
---
---
Itineraries and Attraction recommendation
Valparaiso day trip - 1 full day
Santa Rita Vineyard (or other) - 1/2 day
Cajón del Maipo - 2/3 day
Exploring Santiago - 2-3 full days
---
---
Growing Portfolio
1000+ images and counting​
We've been taking quality shots since 2016 and adding them to our Shutterstock portfolio.
You'll find a wide range of images, some that you can print for your home decoration or even use for a digital project you're working on.
---
Recent posts
Please follow and like us: