''Why visit Interlaken and what's there to see & do''​
---
Thrill
Interlaken is a great destination for a paraglider experience, mainly because of the surrounding mountains and lakes.
Calm
Interlaken is a charm in itself, plus there's Harder Kulm, St Beatus Cave and Jungfrau too.
---
The Interlaken Blog is divided into 3 sections. First are top places to discover in and around Interlaken.
Then we'll list a few day trips & lastly 'cool spots' to check out in the city.
We've also made a Google My Maps which is Free to download.
Scroll down to find out more on the itinerary list.
---
---
Why did we visit Interlaken ?
We took a sabbatical in 2016, started by discovering South America then Europe.
We wanted to visit Switzerland however unsure about the exact city.
It turns out that Lia's niece previously visited and really enjoyed her experience,
which is in part what got us to book the trip.
---
Disclosure: This page contains affiliate links, meaning We receive a commission if you decide to purchase using our links mentioned in this page, however at no additional cost to you.
---
Places to visit in montreal
Interlaken introduction to sights, activities & restaurants
For this blog, we felt it simpler to list the activities as we discovered them. This said, the numbered list is not to be confused with a priority list. However planning a 2-3 day trip trip to Interlaken will guarantee that you will be able to accomplish everything we've listed below.
One of the challenging things with travelling is figuring out where to visit around the city. You are welcome to use our pre-populated Google My Maps as a starting point and make your own itinerary. At the very bottom of this blog, we suggest timeline budget with recommendations on how long to plan or spend for these locations.
Read on to discover our recommendations of sights to see in Interlaken.
Get your FREE List - Interlaken sites
We've been using Google Maps for a very long time. It helps us pin places we would like to visit prior to making our trip. So we've decided to share our recommended list of places to visit in Interlaken with you, for FREE!
Simply provide us with your email address and we'll gladly share it with you.
Get inspired with the Google My Maps itinerary list !
What is there to see & do in Interlaken ?
You can start by downloading our FREE Map thereby helping you with a to-do list.
Interlaken is rich in panoramic mountain views !
Interlaken is a small and charming city with roughly 23,000 habitants. If you are looking for a quiet and relaxing vacation, then you will love an extra couple of days here to recharge ! In contrast to our Paris experience, Interlaken runs at a much slower pace. However it doesn't make it dull - with the possibility of booking your paraglider experience!
We visited Interlaken at the end of April, which is perhaps a low season. However we didn't get the impression that city tours were available. If you have the Eurail pass you can hop on the Est or West train stations or again use the local bus transportation to get around.
Montreal tourist attractions
1.Harder Kulm
As mentioned before, we've adopted a ritual when arriving in a new city. Each time we visit a new city, we plan a FreeWalking tour. We don't recall seeing any city tours in Interlaken or perhaps we visited during the low season. However, we feel the best way to get started in Interlaken is an aerial view of the city. For this, you can visit Harder Kulm, the peak of Interlaken !
Pro tip: you can use Google Maps on your smart phone and peg each location you would like to return to at a later point. For this, you simply need to have the maps downloaded no wifi or network connection is necessary!
Here is the exact Google location to purchase your tickets. And here is the link to pre-purchase your ticket, recommended once you start getting into the high season. Once you have your tickets, you're steps away from entering the funicular for the ride up.
Alternatively, if you're looking to combine the aerial view with a little adventure - consider the Paraglider experience.
Top of Interlaken, Switzerland
At the top of Interlaken you can expect gorgeous views of the surrounding mountains. You'll find Interlaken as the green patch of land, located between two lakes. To the east is lake Brienze and the west is lake Thun.
Our trip was planned around a European spring, which calls for slightly warmer temperatures than back home. With that in mind, we didn't pack large jackets. We did this knowing the temperatures would increase as we made our way into the summer. This said, Interlaken can surprise you with cold and snow, even near the end of April. Luckily, there was a structure with a restaurant where we could sit and warm up. When in Switzerland, order yourself a warm cup of hot cocoa !
2. St Beatus Cave
Filtering through the list of activities in and around Interlaken, we felt that St Beatus Cave would satisfy us. Sure getting to Interlaken by train wasn't an easy feat, we had to exercise our navigation skills to find our next discovery. The challenge in Interlaken, is the small city feel, the unknown and the lack of fluid conversation. It was difficult finding English speaking bus drivers or people in general. Many times, we simply followed people, assuming they knew where they were heading.
In order to simplify your journey from Interlaken to St Beatus Cave, here is how to get there. The easiest route is to find your way to the Interlaken West train station. From there you'll locate the bus terminal and find the #20 and hop on. You are welcome to ask the driver to notify you when they reach the base of the Cave. Alternatively, we recommend that you peg the St Beatus Cave on your Google Maps and use the GPS in your smartphone to track your arrival.
Pro Tip: It's possible to download Google Maps for offline use. This is how we navigated around Europe without the use of a phone chip.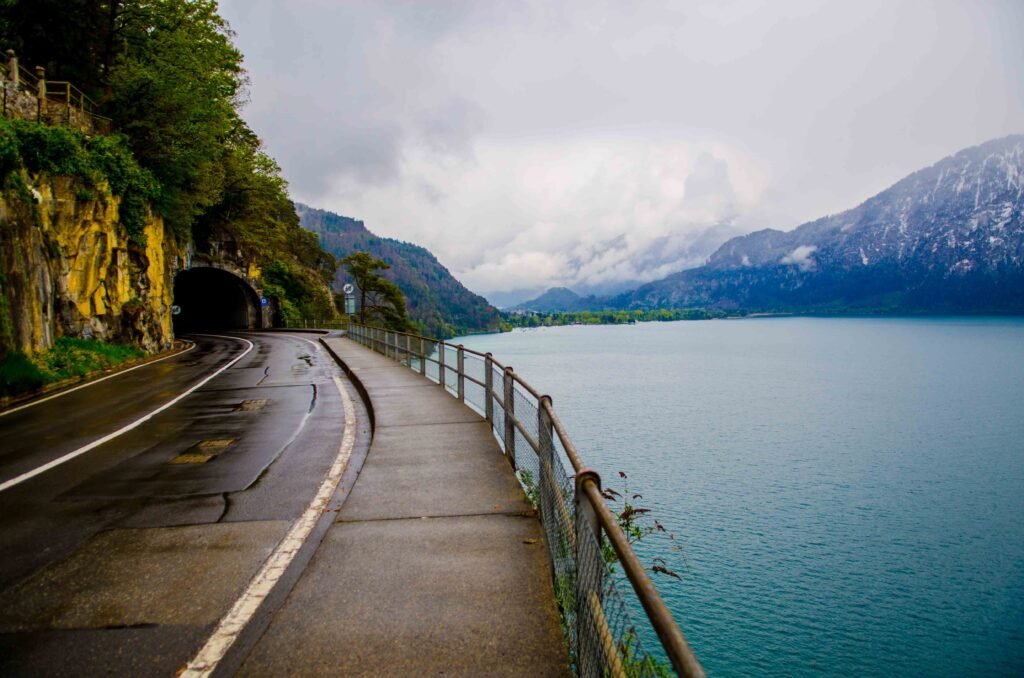 Hiking up St Beatus Cave
As you can clearly see from the bottom left image, it's a bit of a hike up to the Cave. Fear not because the walk can be done leisurely. There is a path that runs side to side with a small inclination. Also, we took quite a few breaks to take in the views of the castle like tower structure with cascading waterfalls. On the flip side you'll find a great panoramic view of the turquoise looking lake Thun.
Inside St Beatus Cave
Of course it's much more fun once you're at the top!
We especially loved the structure of St Beatus Cave. You'll enjoy a self or guided tour of the cave and museum if you wish. Guided tours depart roughly every 45 minutes with the entire tour lasting roughly 75 minutes. There's also a restaurant with a great panoramic view.
Check out their website for availability and more details.
The low light inside the cave made it difficult to capture the real experience. In some instances we caught glimpses of what appeared like an infinite cave.
Montreal Tourist
Our 6 month sabbatical recorded
Check out our Vlog from South America to Europe !
4. Visit Interlaken city
A great way to explore Interlaken city is to get yourself to the East or West train stations. From either station, you'll be able to walk across the city in 20 minutes straight. Along the way you'll find high end jewelry stores, gift shops, chocolate stores and much more.
Interlaken is filled with gorgeous panoramic mountain views. Oddly, you'll find it to be a colourful city. We say oddly since this picture was taken at the end of April, at which point it was still snowing!
Dive deeper into Interlaken with some of these suggestions below !
5. Day trip to Interlaken
Interlaken is so close to some of the highest summits in Europe. It would be a shame to come all this way without paying one of the mountains a visit. The famous high Alpine peaks are Eiger, Mönch, and Jungfrau. The later, pronounced 'Young From' edges them all by a few meters. It's also the highest point in all of Europe which is something to boast about.
We stretched out of our comfort zone to visit Jungfrau. For starters, we visited the train station to see if our Eurail pass would get us the entire way. Sadly it didn't, which meant we needed to purchase another ticket. On the plus side, we received a discount upon showing our Eurail pass. Possibly one of the many perks of acquiring the pass.
On the way, we needed to change trains 3 times. We also understood there was an alternate route to the one we chose.
Our first train lugged us from Interlaken East station, past Lauterbrunnen and made its stop at Grindelwald. Then we needed to embark on another similar train which would bring us to the Kleine Scheidegg train station. Finally, the last train would bring us all the way up Jungfrau. The views were great the entire way, however this ride was extra special. This train reaches Jungfrau on a railway that pierces through the mountain.
Jungfrau's Top of Europe
There is no comparing the weather from Interlaken's Harder Kulm peak to Jungfrau's top of Europe summit. On any given day, the temperature difference can range from 15-20 degrees.
When visiting Harder Kulm, we wore our warmest clothing and despite this we were cold. Luckily the top of Jungfrau is properly setup with large structures to visit indoor. It's also possible to get panoramic views while staying indoor or venture outside to explore greater views unobstructed by glass.
Montreal attractions
---
---
Montreal tourism
Montreal to d
Few bar and restaurant ideas while discovering Interlaken
Listed here are a few bars and restaurants that you can visit while touring Interlaken. We liked our food experience in general, however we felt the prices were quite high. Especially so since we were travelling on a tight budget. This said, we hope our experience and research can increase your food satisfaction while visiting Interlaken.
Other worthy restaurants & more to explore:
Interlaken Brauistübli cheese fondue
Located 2 1/2 kilometres from Interlaken's city centre, Brauistübli is a great place to try a cheese fondue. We stayed at the Waldhotel, located a short 3 minute walk from the restaurant. We loved the food and our experience and this you'll enjoy this as well. Exact location here.
Barracuda Cafe Bar
Restaurants can run expensive in Interlaken, especially with the Swiss Franc. On the simple and budget side, there's Barracuda Cafe that offers a variety of sandwiches and paninis with your choice of coffee or beer - depending on the time of day. Check them out here.
Hüsi Bierhaus
This restaurant offers a great selection of beers as well as dishes! You'll find some traditional eats here such as Tortes, porc knuckle and pasta. The prices are quite respectable. Exact location here.
Bären
On the more expensive side, yet offering delicately prepared dishes is Bären. This large wooden chalet will offer you the Swiss eating experience you've been looking for. It's located on the west side of the Aare river - Exact location here.
Restaurant Tenne
Here is a 4.4 Google rated establishment. The restaurant looks chic and the food looks delicately prepared. Their specialty is pizza however they also have pasta dishes. Here is where you'll find it.
Things to do in Dublin
Questions about Interlaken answered
Q - What things to do in Interlaken ?
A - Interlaken is a smaller city in comparison to Strasbourg. We felt the pace of the city was rather slow, which could be a great destination to unwind and relax. That said, there is the possibility to try the paraglider if you're up for that kind of adventure. Alternatively there's the Beatus Cave, Harder Kulm and Jungfrau that are all worth checking out.
Q - Where to stay in Interlaken ?
A - We stayed on the outer skirts of the city centre at the Waldhotel which appears temporarily closed at the moment. It was a decent location at a decent price. We had a 20 minute walk to the Interlaken West train station.
Alternatively you can stay in the city centre. Check out hotel options here.
Q - What is the currency in Interlaken ?
A - It is the Swiss Franc, which is a relatively close conversion to the Euro. We invite you to check the accurate exchange at the time you plan to travel.
Q - What is the best time of year to visit Interlaken
A - We found ourselves with 2 months to cross Europe. Our trip started in April, which is when we landed in Interlaken. It was still snowing late in April, so if you are looking for warmer weather we recommend visiting closer to the end of the summer like August for example.
Q - Is Interlaken safe for tourists ?
A - We felt entirely safe the entire time in Interlaken. For the most part, all of our sight seeing took place during the day, so we seldomly went very far at night. This said, be sure to remain vigilant.
Where are the cool spots in Interlaken ?
Whether you're travelling on a budget or simply looking to put your wallet to rest for a little, we've got some cool spots that will put a freeze on your spending.
Cool Spot #1
Railway in the nature
On the way over to Harder Kulm, we crossed the Aare river and later crossed a railway. It was cool to see how the railroad blended with the nature.
Here is the approximate location.
---
---
Cool Spot #2
View from Schlosspark
Walking to and from Interlaken East and West train stations, we found spectacular views of the flowers in bloom and 360 degree mountain views. As we recall, this view was taken from the Schlosspark.
Here is the approximate location.
Cool Spot #3
Turquoise lake Thun and tunnel
This picture was taken as we left the St Beatus Cave. We crossed the Seestrasse and got a fantastic view of lake Thun, the mountains and the tunnel. Despite the cloudy day, we managed to take in the magnificent colours.
Here is the exact location.
Cool Spot #4
View from the Swiss railway
We don't have the exact location where this picture was taken. However we can tell you that it was on the way back from Jungfrau. We've tried relocating it on Google Maps, once we retrace the exact location, we'll update this post.
Also, this view comes with a fee - the train ticket 😆
Cool Spot #5
View of the Top of Europe
At the very top of Jungfrau, there's a panoramic structure where people can admire the mountain top. There's also an outdoor deck where it's possible to get a clearer and unobstructed view. We took this picture from the deck.
Here is Jungfrau's location.
---
---
---
THANK YOU for going over our Interlaken blog, we hope it inspired you to discover
'A piece of heaven in the Swiss Alps' !
---
---
Itineraries and Attraction recommendation
St Beatus Cave - 1/2 day
Jungfrau - 1 full day
Harder Kulm - 1/2 day
Interlaken city - 1-2 days
---
---
Growing Portfolio
1000+ images and counting​
We've been taking quality shots since 2016 and adding them to our Shutterstock portfolio.
You'll find a wide range of images, some that you can print for your home decoration or even use for a digital project you're working on. Check our portfolio here.
---
Recent posts
Please follow and like us: