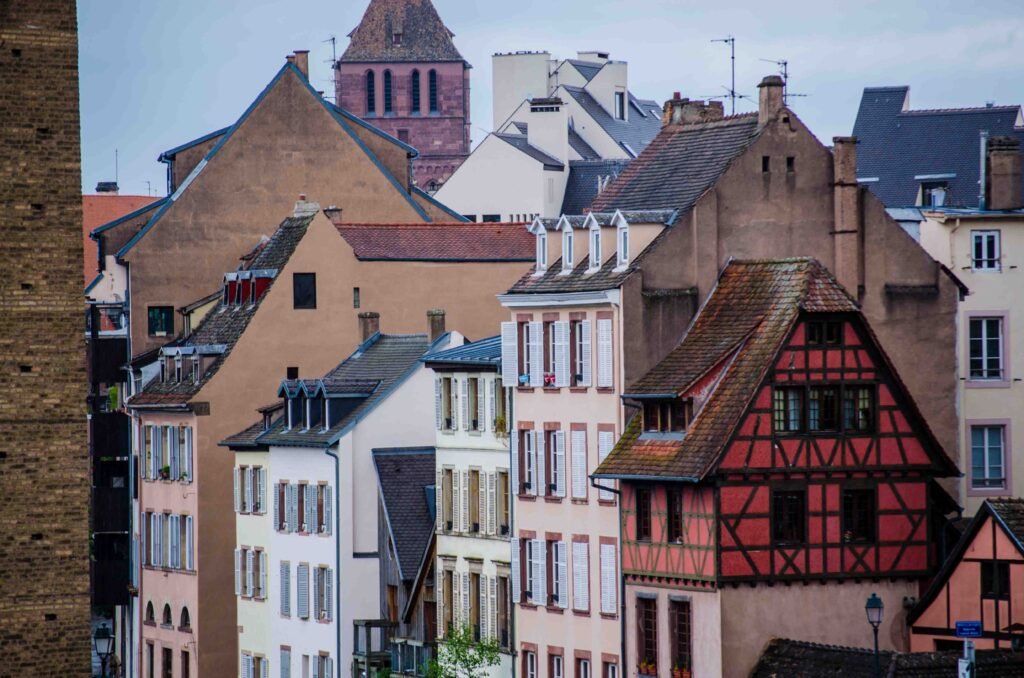 ''Why visit Strasbourg and what's there to see & do''​
---
Starter
Start discovering Strasbourg with the Batorama boat tour on the Faux-Rempart canal.
Sites
Check our blog for a review of 8 'must sees' in Strasbourg.
---
This Strasbourg Blog is divided into 3 sections. First we'll identify top places to discover in Strasbourg.
Then we'll list a few day trips & lastly 'cool spots' to check out in the city.
We've also made a Google My Maps which is Free to download.
Scroll down to find out more on the itinerary list.
---
---
Why did we visit Strasbourg ?
We took a sabbatical in 2016, started by discovering South America then Europe.
After Paris, we started heading east and decided to make a quick 2 day stop in Strasbourg !
Having heard that Strasbourg was taken over by Germany only to be regained by France
got us curious to explore the rich history and architecture.
---
Places to visit in montreal
Planning a trip to Europe, click here to check available Eurail passes or find more information at the end of the blog.
Strasbourg activities & restaurant recommendations
For this blog, we felt it simpler to list the activities as we discovered them. This said, the numbered list is not to be confused with a priority list. However planning a 2-3 day trip trip to Strasbourg will almost guarantee that you will be able to accomplish everything we've listed below.
One of the challenging things with travelling is figuring out where to visit around the city. You are welcome to use our pre-populated Google My Maps as a starting point and make your own itinerary. At the very bottom of this blog, we suggest timeline budget with recommendations on how long to plan or spend for these locations.
Read on to discover our recommendations of sights to see in Strasbourg.
Get your FREE List - Strasbourg sites
We've been using Google Maps for a very long time. It helps us pin places we would like to visit prior to making our trip. So we've decided to share our recommended list of places to visit in Strasbourg with you, for FREE!
Simply provide us with your email address and we'll gladly share it with you.
Get inspired with the Google My Maps itinerary list !
What is there to see & do in Strasbourg ?
You can start by downloading our FREE Map thereby helping you with a to-do list.
Strasbourg is rich in architecture, sites, food and drink!

Yes we have said this about other locations before, yet Strasbourg has the rich history. It was overtaken by the Germans during WWII and later regained by France. The fact they are neighbouring countries might also explains the similarities in architecture and food.
Strasbourg is a rather small yet charming city and there is much to see. If you are looking for a quiet and relaxing vacation, then you will love an extra couple of days here to recharge !
As usual, we recommend starting with a boat tour on the Canal du Faux-Rempart which runs a full circle around the city centre. This is a perfect way to get acquainted with the city's layout not to mention points of views you wouldn't normally see on land.
Montreal tourist attractions
1.Batorama Strasbourg Grande Île
Canal du Faux-Rempart
As mentioned before, we've adopted a ritual when arriving in a new city. Each time we visit a new city, we plan a FreeWalking tour. Or in the case of Paris and now Strasbourg, a city boat tour. This allows us to grasp a visual of the city's layout and pin places we would like to visit later on.
Pro tip: you can use Google Maps on your smart phone and peg each location you would like to return to at a later point. For this, you simply need to have the maps downloaded no wifi or network connection is necessary!
Here is the exact location to purchase your tickets and here is the pier to board the Batorama. We felt the need to specify since we thought we could purchase the tickets near the pier, only to be redirected. Also, feel free to check out this affiliate link for a private city centre walking tour.
Strasbourg: 20 Centuries of History
This boat tour lasts approximately 1h15 and costs roughly 14 euros per person. A reduced rate is possible for those between 4-12 years of age.
The boat sets west on the canal in the direction of the covered bridge. Along the ride you'll find parallel running streets, the locks and a hydraulic bridge that rotates as the boats approach. All of which can be seen up close on land afterwards. The hydraulic bridge we referenced is called 'Pont du Faisan' and you'll find out more about on point #4 below.
Later on the boat tour, it passes in front of the covered bridge and then swings all the way around the loop, back to the original starting point. We loved this discovery tour because we found gorgeous views throughout the entire ride. It also acted as a refuge from the rain.
2. Cathédrale Notre Dame de Strasbourg
We arrived in Strasbourg during the afternoon, we checked into our AirBnB and set out to visit the city. Ideally we would have loved to start with the boat tour, however all the tickets were sold out. So we purchased them for the following morning.
Once we had our tickets, we decided to explore the nearby square. The most impressive structure in Strasbourg, if not all of Europe could possibly be the Notre Dame de Strasbourg Cathedral. It's designed with such intricate details, grooves and lines. Not to mention the richest and bronziest colour ever.
Strasbourg Astronomical clock
Do yourself a favour and visit inside. There you will see the Astronomical clock and the beautifully stained glass. The current clock dates back from the 1800's however its predecessors go as far back as the 1400's. It is the combined work of artists, mathematicians and technicians. We found equally amazing works of art in cities like Prague and Munich.
3. Stroll along Pl benjamin Zix
It was thanks to the Batorama that we noticed a parallel running path to the canal. This little avenue runs from the Rohan palace all the way to the covered bridge. We highly recommend it for its scenic view and discoveries along the way. It may feel disjointed in certain areas, however we recommend that you follow the course. You'll be glad that you did.
This front row view of the canal is one of the closest things to experiencing Strasbourg as a local. While tourists typically hunt for the main attractions and shops, you'll be experiencing a different side of the city.
We walked the entire route from the Batorama pier until the covered bridge. Along the way we witnessed a family of ducks, stunning architecture and marvellous colours.
Montreal Tourist
Our 6 month sabbatical recorded
Check out our Vlog from South America to Europe !
4. Pont du Faisan
This is a hydraulic bridge that spins on itself in order clear the canal and allow the boats float by. Every now and again, an alert would notify us the bridge would be rotating. The preparation reminds that of a train, barring off the road for intersecting traffic. At which point everyone stands on the edge and watches the boats coast through. Shortly after, the bridge returns to its original stance.
This bridge is located after the locks and shortly after the bend in the canal in direction toward the covered bridge. As seen in the top left image, the architecture is really beautiful at this level.
Dive in deeper with your Strasbourg 3 day city pass here, with boat tours, museums and more!
5. Ponts Couverts de Strasbourg
This is where Strasbourg really shines, this is where it differs from other European cities. You'll enjoy a full morning or afternoon discovering this area. It's possible to get walk around and explore the entire ground. This area offers spectacular 360 degree views of the canal and architecture.
An extension of La Petite France district, this part of the canal is dominated by four 14th-century towers, remnants of the former ramparts. These ramparts guaranteed the independence of the republic of Strasbourg. As you can see from the images below, large ships would not be able to get through.
This trio of bridges is the iconic face of Strasbourg.
It may not look evident from these pictures, however it's quite easy to navigate around. As mentioned earlier, we highly recommend that you dedicate a good chunk of time in this area. Between the Batorama, the walk along Benjamin Zix and this location, you'll be in for 3/4 of a day.
6. Vauban Dam panoramic crossing
The Barrage Vauban or Vauban Dam, as shown in the image above is essentially a long covered bridge. This defensive structure erected in the 17th century and was then known as the Great Lock. Although it did not operate as a boat lock per-say. However, as the image above depicts, this structure could prevent ships from accessing the big island.
Tour des Français / The French Tower
We encourage you to enter the Dam to get the full panoramic effect. The entrances are located at both extremities (as shown in the bottom left image). Once inside, you'll find various windows offering great views of the covered bridge and the French Tower.
Find the Vauban Dam and more listed in our Google My Maps itinerary.
Montreal attractions
---
---
7. Rue du Sanglier, Orfèvres, Chaudron et Hache
There is a labyrinth of narrow streets in and around Notre Dame de Strasbourg. We believe this is a cool place to discover and unique to Strasbourg. Surely you'll find them in other parts of Europe, however we found Strasbourg had a more elaborate experience.
For starters, it's cool because you'll be able to walk the streets uninterrupted by passing cars. Secondly, we felt that it transported us to an earlier time, perhaps a medieval time.
Montreal tourism
In these narrow streets of the historical city centre, you'll find unique gift shops, cafes, restaurants, specialty shops, jewelry stores and so much more. If you not in it for spending, then you'll surely enjoy the architecture and decor as you discover the narrow streets.
If you're into these types of discoveries, then we recommend dedicating a good portion of your day to explore every nook and cranny.
8. Palais Rohan
This Palace is considered to be an archeological museum, decorative arts and fine arts museum. It was built in the 1700's to resemble one of the great Parisian mansions. Some even call it a miniature version of Versailles.
It is considered a major architectural, historical, and cultural landmark in the city.
Montreal to do
Travel within Europe with Eurail !
Few bar and restaurant ideas while discovering Strasbourg
Listed here are a few bars and restaurants we visited while touring Strasbourg. We liked our food experience in general, however had we researched restaurants in advance, we think we could have bumped our experience up a notch. This said, we hope our experience and research can increase your food satisfaction while visiting Strasbourg.
Also, our AirBnB rental presented us with a small kitchen with a refrigerator. Which gave us the option to purchase some bread, cheese and charcuterie, local beers and chocolates. We loved this option because we were able to source fine local foods and enjoy this in the comfort of our temporary home.
1. Les BerThoM Strasbourg
Les BerThoM is definitely a bar with a wide variety of beers. You'll also find small snack options yet not enough to replace a meal. This said, make sure you've already eaten before or not depending on what you want to accomplish.
The decor was absolutely amazing, we loved it inside and out. The interior felt like what a medieval bar would look like in the old days. It left a lasting impression on us and all we remember is the tree indoor (unsure if it was a real or a fake one 🤔).
The exact location for Les BerThoM here.
Au Quai de L' Ill
The thing to try in Strasbourg and more specifically at this restaurant is the Flammkuchen. To the naked eye, it looks exactly like pizza. Some of the small differences come down to the doe and type of sauce. Plus this delicacy originates from South Germany. For starters the bread doe is rolled as thin as a crepe plus Flammkuchen means cooked in the flames.
Go ahead and try it for yourselves and see if you prefer pizza, Flammkuchen or if you can even make out the differences between these dishes.
Café Montmartre
Coming from North America, we are used to a bigger breakfast. Moreover, Lia and I usually eat a hearty breakfast when in discovery mode. We feel this allows us to focus on sightseeing without having to stop for lunch. In contrast, this is not the Strasbourg specialty, so we needed to adjust a little.
We found this little café near Notre Dame de Strasbourg called Café Montmartre. One of the items on the menu was a large baguette, a mini-pot of jam and a coffee. Hey, a full French baguette for breakfast, sign us up !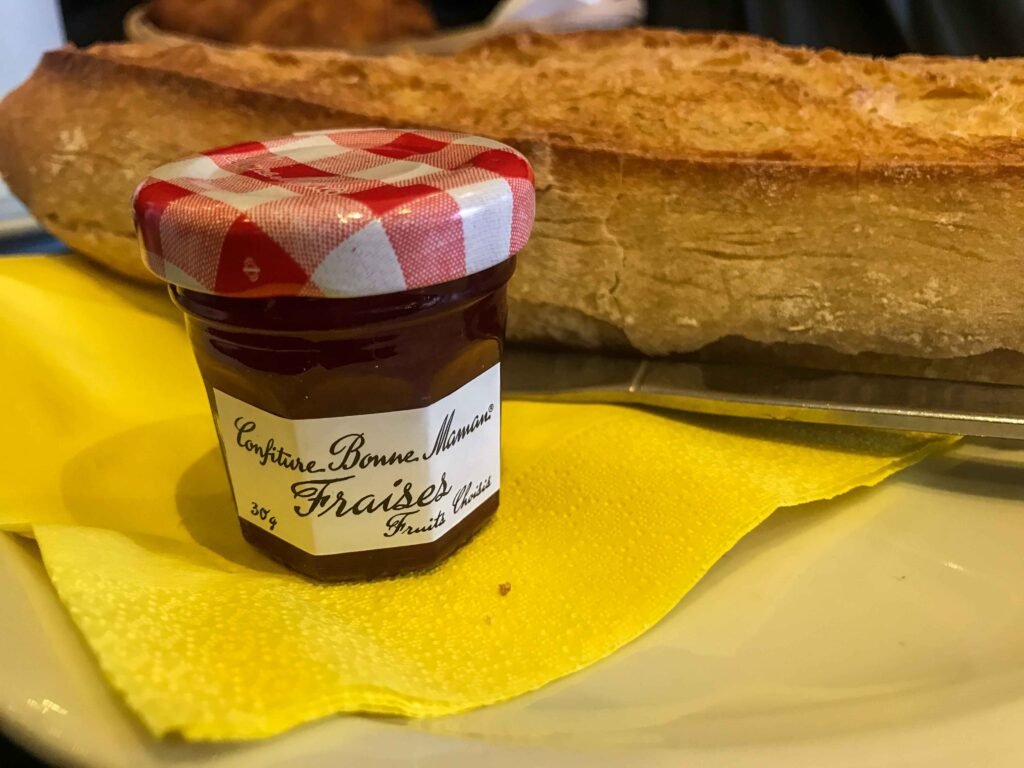 Le Saladin
This place is first and foremost known as a tea house. We stumbled upon it as we trekked from the train station in direction to our AirBnB. We're not entirely sure why we stopped here, perhaps we were already tired of lugging our gear. Then again, perhaps we were famished.
Albeit so, we enjoyed our quick lunch and mint tea. We ordered the vegetarian couscous and quite liked it.
Other worthy restaurants & more to explore:
Les 3 Ptis Cochons
Located close to the boat locks, Les 3 Pis Cochons is more of a deli shop. You can however order online via Uber Eats. We reckon this would make a great addition to a night in with wine and cheese. Exact location here.
L'atelier 116
Whether you're looking for a hearty sandwich for lunch or to start the day or again a great piece of bread to bring home, this is the spot. Well established and positively rated on Google, check them out here.
Le Thomasien
A nice rustic restaurant with meaty options and flammkuchens. This restaurant is located very close to the boat locks and right off one of the pedestrian streets. The solid Google ratings means possible wait times, keep that in mind and consider making a reservation! Exact location here.
L'eveil des Sens
The now 4.8 Google rating seem to justify a more refined experience with elaborate decor and delicately decorated plates. This restaurant is also located near the boat locks and we also recommend inquiring about a reservation. Exact location here.
Cave des Hospices Strasbourg
Located off the big island yet simply a 15 minute walk from the covered bridge. This location is a wine cellar with possible tastings. The cellar seems to be in place since 1395. Here is where you'll find it.
Alsatian Museum
This is part of the misc category because it has nothing to do with food. The museum will transport you back to a medieval time with great history and well preserved antiques. If this is your thing, check them out here.
Place Kléber
And finally, Place Kléber is the main square of Strasbourg. Sadly we did not have the time to visit it. Here you'll find an expansive pedestrian area & shops & cafes along the sides of the square. We'll make sure to add it to our Google My Maps for your review. Otherwise the exact location for the square is here.
Things to do in Dublin
Questions about Strasbourg answered
Q - What things to do in Strasbourg ?
A - Strasbourg is a smaller scale city however it does pack a punch as we mentioned earlier. Here you'll enjoy fine foods, great architecture, a super boat tour, covered bridge, great wines and beers. If this description doesn't get you excited, then maybe it's not the place for you.
Q - Where to stay in Strasbourg ?
A - We stayed on the outer skirts of the canal yet remained minutes walk away. It was the perfect location at the perfect price. Actually the big island is quite accessible with a 15 minute walk from coast to coast.
Q - What is the currency in Strasbourg ?
A - Same as everywhere else in France, previously the Swiss franc, now the Euro.
Q - What is the best time of year to visit Strasbourg
A - We assume Strasbourg gets the similar tourist influx over the high summer season. However there is a sweet spot where the weather is great and tourists are few. Consider visiting as we did in mid- to late April or May. As well, you'll find great weather off season during the months of September and October.
Q - Is Strasbourg safe for tourists ?
A - We felt entirely safe while visiting all of Strasbourg. For the most part, all of our sight seeing took place during the day, so we seldomly went very far at night. This said, be sure to remain vigilant.
Where are the cool spots in Strasbourg ?
Whether you're travelling on a budget or simply looking to put your wallet to rest for a little, we've got some cool spots that will put a freeze on your spending.
Cool Spot #1
Gnome door
Near La Boutique des Tanneurs is this Gnobe type door. More precisely it's on Rue du Bain-aux-Plantes. We loved walking up and down this narrow street and discovering hidden gems such as this.
Here is the approximate location.
---
---
Cool Spot #2
House of the covered bridge
Identified as the house of the covered bridge when we visited. We believe the establishment has changed since our visit. However the scenery and setting remain the same, a priceless view.
Here is the exact location.
Cool Spot #3
View from Vauban Dam
This picture was taken as we crossed the Vauban Dam covered bridge. The entire covered bridge offered great panoramic views of the canal and big island.
Here is the exact location.
Cool Spot #4
View from the Strasbourg Canal
We don't have the exact location where this picture was taken. However it would appear to have been taken on one of the many canal bridges. One thing is for sure, by walking up and down Benjamin Zix you'll find more of these views.
Cool Spot #5
Very European
During our discovering of Strasbourg's big island, we found countless views with parked bikes. There's something about this picture that speaks freedom, strength, power and independence.
---

---
---
THANK YOU for going over our Strasbourg blog, we hope it inspired you to discover 'La petite France' !
---

Below you will find our Eurail purchase recommendation with countless benefits plus Youtube video tutorial. Our 2 months continuous Eurail pass saved us countless hours of commuting and hundreds of dollars in public transport.
---
Countless benefits to the Eurail Pass
We used the 2 month continuous Eurail Pass back in 2017 and it was a dream! Looking back now, we can see how it's an important decision to make. However the benefits are countless !
Money savings from transportation to and from the Airports.
Time savings from not having to take taxis or public transport to Airports.
No luggage weight limits.
No Pre-check ins, simply arrive 20 minutes before departure.
and much more!
Need More info ? Check out our video !
---
Itineraries and Attraction recommendation
Notre Dame de Strasbourg - 1/2 day
Batorama - 1/2 days
Grande Ile / Big Island - 1-2 days
Vauban Dam & Covered bridge - 1/2 day
---
---
---
Growing Portfolio
1000+ images and counting​
We've been taking quality shots since 2016 and adding them to our Shutterstock portfolio.
You'll find a wide range of images, some that you can print for your home decoration or even use for a digital project you're working on. Check our portfolio here.
---
Recent posts
Please follow and like us: