''Why visit Paris France and what's there to see & do''​
---
Wine
Pro tip, stock up on delicious cheap wine from the local grocery stores!
Sites
Check our blog for a review of 9 'arrondissements' in Paris and what to visit.
4-5 days
Minimum recommended stay in Paris !
---
This Paris France Blog is divided into 3 sections. First we'll identify top places to discover in Paris city.
Then we'll list a few day trips & lastly 'cool spots' to check out in the city.
We've also made a Google My Maps which is Free to download.
Simply provide us with your email address and we'll gladly share it with you 🙂
---
---
Why did we visit?
We took a sabbatical in 2016, started by discovering South America then Europe.
We visited Paris because Serge's friend Gilles was loaning us his apartment while he was out.
This allowed us to have a starting point in Europe. Most importantly, we had an address to mail our Eurail pass !
---
Disclosure: This page contains affiliate links, meaning We receive a commission if you decide to purchase using our links mentioned in this page, however at no additional cost to you.
---
Places to visit in montreal
Paris France activities & Day Trip ideas
For this blog, we felt it simpler to break down the activities by neighbourhoods or sections. In Paris France they call this 'arrondissement' and it can easily be seen on Google Maps. More over, we'll also prioritize the arrondissement and the respective activities.
You are welcome to use our pre-populated Google My Maps as a starting point and make your own itinerary. At the very bottom of this blog, we suggest timeline budget with recommendations on how long to spend.
Read on to discover our recommendations of sights to see in Paris France and few other parts of this region in France.
Get your FREE List - Paris France sites
We've been using Google Maps for a very long time. It helps us pin places we would like to visit prior to making our trip. So we've decided to share our recommended list of places to visit in Paris France with you, for FREE!
Simply provide us with your email address and we'll gladly share it with you.
What is there to see & do in Paris France ?
You can start by downloading our FREE Map thereby helping you with a to-do list.
Paris France is rich in architecture, sites, food and drink! You're welcome to dive into each of these categories.
An absolute must is visiting the main attractions, as cliché as it may appear. You should also plan a visit at a neighbouring castle like Versailles or Chantilly. We're not avid museum goers, however discovering the Louvre was a must. We'll also help you peg a few inconspicuous spots to help see Paris like a local would.
We also recommend starting with a boat tour on the River Seine, this way getting acquainted with the city's layout.
Montreal tourist attractions
1. Paris Sightseeing with Bateaux-Mouches
16th arrondissement
We've adopted a ritual when arriving in a new city. Each time we visit a new city, we plan a FreeWalking tour. Or in the case in Paris, a city boat tour on the river Seine. This allows us to grasp a visual of the city's layout and pin places we would like to visit later on.
We can't take the credit for this idea, because it was our friend Eddie who shared it with us. Yet it makes so much sense, it's hard to go back to our old ways.
Here is the exact location for the Bateaux-Mouches. Also, feel free to check out this affiliate link for the sunset ride on the Seine river.
This boat tour cost us approximately 10 euros each. It took us up the Seine river, past the famous Pont Neuf and Notre Dame de Paris cathedral. Then it headed back down, a little past the Eiffel Tower thereby offering us the view depicted in the image above.
https://www.getyourguide.com/paris-l16/paris-seine-river-morning-guided-sightseeing-cruise-t405244/?partner_id=4R6BSUK&utm_medium=online_publisher&placement=content-middle
2. Eiffel Tower and Champ de Mars
Paris 7th arrondissement
On our first full day in Paris, we headed over to see the Eiffel Tower. Prior to visiting Paris, as with any other new city, we wondered how we would get around. Turns out it was a breeze with the use of Google Maps, breaking it down step by step. It was by far one of the best integrations we experienced in Europe.
We exited the Bir-Hakeim metro station and made our way over through Champ de Mars. It felt like the best drumroll experience with each step we took in its direction.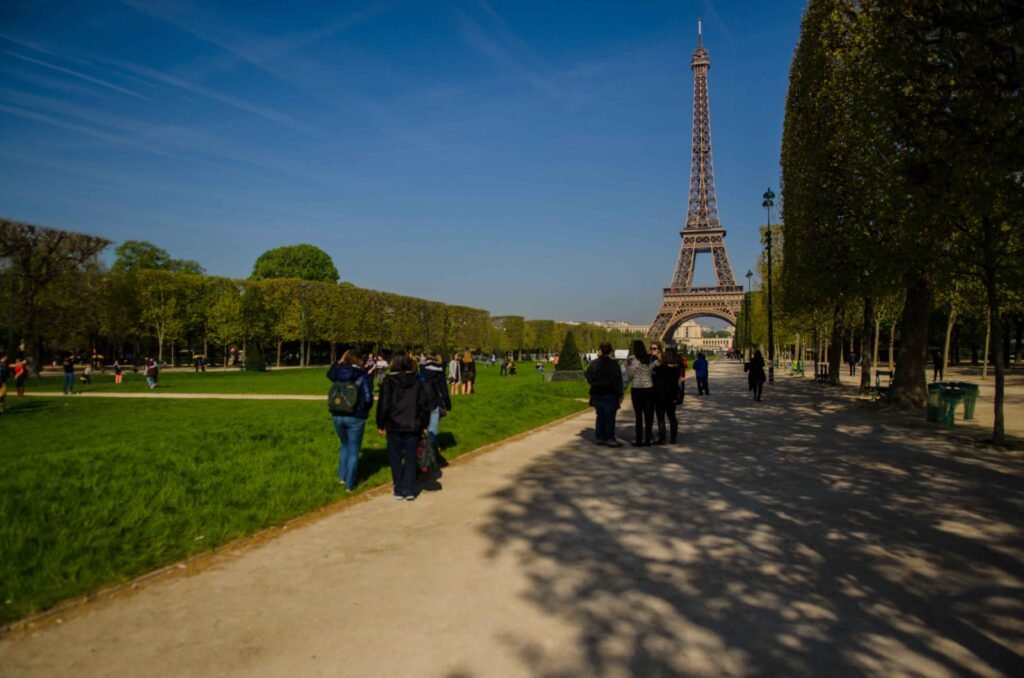 3. Champs Élysées & Arc de Triomphe
8th arrondissement
The Seine river dissects the centre core of Paris with a kind of half circle. There are dozens of connecting bridges, one more famous than the other. We stumbled upon Alexandre III bridge which was beautifully decorated with golden accents. This bridge is roughly 20 minutes from the Eiffel Tower heading east.
What's also great about crossing this bridge is the view at both ends. Looking at the south side, you'll find a large avenue with the Army Museum in the background. To the north and as you cross the bridge, you'll find the petit and grand Palais. This translates to small and large palace.
Once across the bridge, if you keep heading straight ahead you will reach the gardens of the Champs Élysées. At the Champs Élysées street you can either head right or left. We recommend that you walk up and down the avenue, ideally even start from the Louvre museum and head all the way down. This way you'll naturally come across the Tuilerie Gardens, Place de la Concorde, the ferris wheel. Making a left turn on the Champs Élysées will get you across the garden and then the shopping plaza.
If you continue in the western direction, you'll eventually get to the Arc de Triomphe.
The view as you approach the Arc the Triomphe is quite impressive. It sits in the middle of a large roundabout, like a little island. What's even cooler is that you can visit it up close. You'll need to find the indications and access the underground passage.
Montreal Tourist
Our 6 month sabbatical recorded
Check out our Vlog !
4. Pont Neuf, the Louvre and Jardin de Tuilerie
1st arrondissement
We're not museum goers, however we do appreciate exclusive places and works of art.
For starters, we loved the Louvre's signature triangle shape entrance. It's very well organized, offering free lockers (at the time we visited) to put large backpacks or various items. For instance, we had a tripod hanging on the side of our backpack and were told we couldn't enter with these items. Luckily, it was possible to place them in a free locker and resume the visit.
The most visited piece appeared to be the Mona Lisa. We expected a large painting and were quite shocked when we saw its size. It looked especially small in comparison to the painting on the opposite wall that seemed to take up the entire wall.
Get your Louvre tickets in advance here.
Jardin de Tuilerie & picnic
The main entrance to the Jardin de Tuilerie is located next to the Louvre museum. You'll know you're there when you see the Arch gate. We grabbed lunch from a food truck 'Paul' which serves sandwiches and pastries. Once we entered the Arc the Triomphe type gate, we found a nice cozy place to sit on the grass, enjoyed our lunch and relaxed.
The garden runs quite long actually. It will get you to the 'Place de la Concorde' which is a plaza decorated with a fountain and statues (see image below). There is also a Ferris wheel if you wish to get some height and special views of Paris (mind you there's the Eiffel Tower for that). During our visit, it was a warm sunny spring day so we enjoyed a little sun bathing with the help of the chairs surrounding the pond.
Pont Neuf & L'Ile de la Cité
To the east of the Louvre museum, you'll find the Pont Neuf. This world famous bridge connects to 'L'Île de la Cité', which is a small patch of land on the river Seine.
It's a great scenic spot with great views of the river. You'll be able to sit and enjoy watching boats cruise along. During our Bateaux-Mouches cruise, we recall seeing people sitting on the edge of the park with their feet dangling. It's a great spot to visit any time of day really. We visited late afternoon and noticed many people with bottles of beer or wine. Some of which brought their own drinks, however we purchased ours from a 'business man' who walked up and down the park selling bottles of Heineken.
The exact location of the Square du Vert-Galant park.
5. Montparnasse Cemetery & the Catacombs
14th arrondissement
Visiting cemeteries is not a usual pass time of ours when back home, however we read this as a to-do activity on someone else's blog. It seemed like an odd thing to do at first, yet once there we enjoyed the above ground structures and the labyrinth like adventure.
At the main entrance was a kind of security cabin with plastic laminated maps. On the map was the list of famous people and location of their tombstone. For instance, Jean-Paul Sartre, Serge Gainsbourg, Julio Cortázar and many more.
Ok, maybe visiting a cemetery is not your thing. Perhaps you'll prefer visiting underground tunnels in Paris showcasing skeletons.
More information on the Paris Catacombs here. We also urge you to book your tickets in advance, for starters it's now mandatory. Secondly, there's Always a queue to get in, so buying your ticket in advance will save you lots of time! Purchase your tickets here and skip the line with Get your Guide.
6. Montmartre neighbourhood
18th arrondissement
Visiting the Montmartre neighbourhood can take as little as a few hours up to a full day. It's a well organized part of Paris, well decorated, lively and energetic. You can start from the Blanche metro station and visit the famous Moulin Rouge. Alternatively the Pigalle metro station is closer to the Sacré Coeur Basilica. Heading from the Pigalle metro station we recommend that you visit Sacré Coeur for the best and cheapest view of the city !
Mur des je t'aime / Wall of love
On your way to the great city view, we recommend that you visit the wall of love. It's a painted wall with tiles within a park. The writing on the wall depicts various 'love' words in many different languages. We were shocked to see the continuous flow of people stopping here to take pictures. Chances are it's always busy here, so bring your patience and show some love.
More on the Wall of Love here.
Montreal attractions
---
Funicular or walk up to Sacré Coeur
We made our way from the Wall of Love to the Sacré Coeur Basilica, zig zagging through the neighbourhood. In doing so, we climbed many stairs and steadily walked uphill. We ended up walking through Place du Tertre, which is a cobbled square filled with shops, buskers and artists.
By the time we reached the Sacré Coeur Basilica, we were already up the mountain. No wonder this place offers gorgeous views of Paris. What we failed to notice was the funicular ride linking the lower level to the top of the mountain. We wish we had known in advance, however do not regret our adventure and discoveries up the mountain. Alternatively, you could head up the hill with the help of the funicular, save your legs and explore the neighbourhood as you make your way downhill.
As we understood, the Montmartre Funicular is part of the subway system, so you can use your daily pass if you have one.
---
7. Notre Dame de Paris
4th arrondissement
Yet another bustling discovery in Paris is the Notre Dame de Paris located at the eastern extremity of L'Île de la Cité. This means you can combine the Pont Neuf discovery along with this one.
We passed in front of the cathedral numerous times each of which showcased long line ups. Sadly, there isn't a fast track to get in, except for waiting in line. Once you are in, you'll be glad you waited!
It's quite dark inside, however this allows for a beautiful shadow and light show. Check the second image below to see what we mean.
A few years after our visit, we were sad to hear about part of the cathedral catching fire. There were substantial donations given in order to fully restore the building. Hopefully the renovations will be complete at the time you wish to visit Paris. More on the cathedral here.
Montreal tourism
8. Jardin de Luxembourg
6th arrondissement
We were grateful to have our accommodations taken care of by our friend Gilles. This meant that we could stay a little longer in Paris without having to worry about lodging. With each additional day in Paris, we set out to explore new areas of the city.
This park is located between the Montparnasse Cemetery and the Notre Dame de Paris cathedral. Something to keep in mind if you want to create your own itinerary. We especially liked making our way from the Jardin des Grands Explorateurs and through the narrow alleys in the park. There were many people enjoying themselves in the park, some were playing Pétanque others were sailing mini boats on the pond.
No matter your age, you might enjoy renting a miniature sail boat and watching it glide on the pond. More on the Luxembourg Garden here.
Montreal to do
9. Promenade Plantée & Marché Aligre
12th arrondissement
While researching places to visit in Paris France, we came across a place called Promenade Plantée. It's also knows as Coulée Verte.
The Coulée Verte is an old viaduct that was converted into a park pass through. Once it became obsolete, logically one of the options was to tear it down. Instead the consensus was to revamp the structure by green-ifying it!
Here is the exact location of the park and here is where you can find more information. You might need the help of Google Translate for this last link.
We made our way from the Coulée Verte to Marché d'aligre which is a food market. Be sure to look it up online because they appear to close early. The market was already wrapping up by the time we arrived but we lucked out with a nearby flea market.
Everything from books to houseware and jewelry. Serge ended up buying a cool putter glass.
10. Marché Mouffetard & Pantheon
5th arrondissement
Our very first discovery in Paris was the Mouffetard Market. Our friend Gilles indicated this spot to get some quick groceries.
It's open from Tuesday to Sunday. You'll find everything from a bakery, flower shops, cheese and charcuterie shops and much more.
More on the Mouffetard Market here.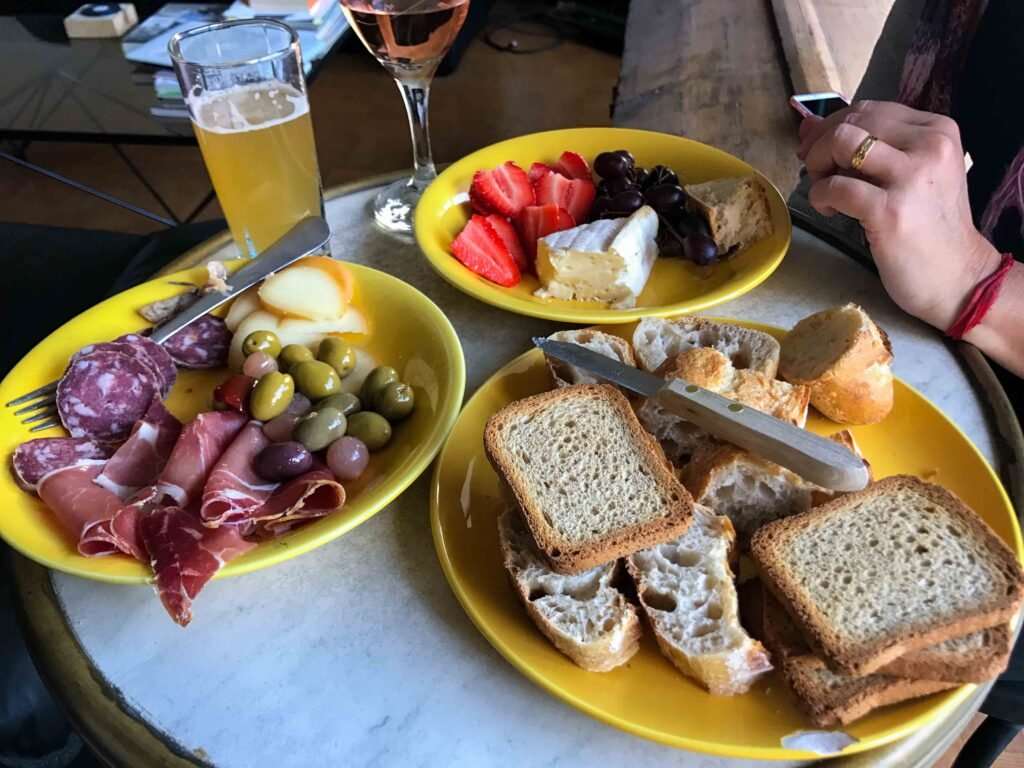 After a full day of sightseeing, we stumbled across a wonderful square with a view of the Panthéon. There was a good looking pub called The Bombardier, so we decided to give it a try. What a pleasant surprise, we ordered one of the best fish n chips we've ever had. Additionally the decor and ambiance were great. We were right in time to listen to some live music. We recommend that you visit this place if you've into pubs!
Few day trip ideas while discovering Paris France
1. Mont Saint-Michel
This was a dream of Lia's, to visit the Mont Saint-Michel. One day it felt like a pipe dream, so out of reach. Next thing we knew, we were on our way to visit this impressive piece of architecture.
We found it especially hard to plan the visit, because it looked so remote. There were so many hotels and B&B's around and as it usually goes, the closer to the attraction the higher the price. Rest assured that we finally found something great near Pontorson. We arranged to be picked up from the train station by the host who also helped us get to the Mont. There was also a local bus running to and from Saint-Michel.
Check this link for a possible day trip to Mont Saint-Michel. Thereby eliminating extra costs for hotels, meals and transportation.
Quickest tide in the world
We settled in the B&B late in the afternoon and planned a quick visit to the Mont. Our host Marianne offered to give us a ride since the bus wasn't running on full schedule yet. It turns out April is not considered high tourist season yet. Something to keep in mind if you want to visit during the off season.
We walked across the bridge and got the full Mont Saint-Michel frontal. The tower sits atop of a mountain, giving off a very impressive feel. You'll be happy to know that it's free to enter the city and roam around. There are gift shops, restaurants, hotels and even a post office!
It was a quick glance since we only had a few hours to explore. That said, we did have a great timing as the tide came in during our visit. If we didn't witness the quickest tide, we don't know which one is. One minute we're exploring the grounds and the next we're hearing water flowing like a cascade. Turned out the rush of water was so strong it sounded like a waterfall!
Full day at Saint-Michel
The next day we planned to spend the entire day in the city. By this point we were comfortable with the surroundings, as well as hoping on the local bus.
Once we arrived at the Mont, we went straight up to the Abbey. They had French and English tours, and tickets cost roughly 10E per person. We followed our guide for the most part of the journey and envisioned what the inside would look like back in the day. Sadly, there were no decorations inside, so we had to try to imagine them. We did catch glimpses of great craftsmanship and architecture.
We were shocked to hear that the Mont served as a jail for many years. At which point, all the windows had been shattered as a safety precaution.
Mère Poulard and the rest of Saint-Michel
There is a good variety of simple restaurants and bistros on the Mont. It's also possible to eat at a restaurant called Mère Poulard. This is where they serve the famous egg soufflé type omelette. You might need to make reservations for this restaurant as it appears to be regularly in high demand.
We spent the rest of the day exploring every nook and cranny. There was a charming church called Église Saint-Pierre - Le Mont-Saint-Michel. It was apparently founded in the 8th century.
We regret a few things, one of them was to have explored the ground during low tide. We witnessed people going for a walk out in the ocean floor. The second regret was that we would have loved to spent more time exploring the region besides Mont Saint-Michel. For instance, the Normandy region, St Malo, etc.
2. Day trip to Chateau de Versailles
Visiting Versailles from Paris is quite doable in one day. You'll need to find your way to the Montparnasse transit station and purchase a train ticket. However, if you have the Eurail pass bonus, you'll be able to ride free of charge - which is what we did. The entire journey could take between 60-90 minutes depending on your location in Paris.
Once the train arrives in Versailles, you'll have a 10-15 minute walk to arrive at the castle. We HIGHLY recommend that you purchase your ticket in advance ! When we arrived there was a huge line to get in. Plus it wasn't really clear what we were in line for. So one of us stayed in the queue while the other person went at the customer service kiosk. Which was of course with another waiting line inside.
We were grateful for the tips the customer service agent gave us. Given the long waiting line to visit the palace, they advised that we start with the garden. It was possible to make our way down the garden, the pond and all the way to Marie-Antoinette's Estate.
Versailles Palace
After exploring the garden and Marie Antoinette's estate, we circled back to the main entrance. We hoped to find a shorter line to visit the palace. The queue was shorter indeed yet we still had a one hour wait.
In contrast to our experience at the Mont Saint-Michel, we really enjoyed the decorations inside the palace. This time there was no need to 'envision' the decorations. We enjoyed peeking inside various rooms with the colour matching patterns, the occasional views from the gardens outside and the large ball room with hanging chandeliers. It was very busy inside, since we recall visiting on a Sunday. That being said, if at all possible to plan your trips during a weekday. This way you might find it less crowded.
Inside Versailles palace
We finally made our way inside the palace. It was quite larger in comparison to Marie Antoinette's estate. We especially recall a large ball room with crystal chandeliers.
Things to do in Dublin
Questions about Paris answered
Q - What things to do in Paris ?
A - Paris is filled with European culture, eateries, museums and day trips in a decent vicinity. This city is extremely well organized and there are enough things to visit over a lengthy vacation. Check out our free Google My Maps to start your discovery list.
Q - Where to stay in Paris ?
A - We felt very safe in the many neighbourhoods we visited. Plus Paris has a very quick and efficient transit system. This said, we think you would enjoy anywhere in the city centre. Although if you are trying to book a hotel with a budget, consider something close to a metro station. This way you'll be a short ride away from the centre.
Q - What is the currency in Paris ?
A - Previously the Swiss franc, now the Euro.
Q - What is the best time of year to visit Paris
A - It depends what you are looking for. Usually people try to visit during warm season yet low tourist season. Our vacation took place in April and we had amazing weather although lots of tourists. We can only imagine what peak season looks like.
Q - Is Paris safe for tourists ?
A - We felt entirely safe while visiting all of Paris. For the most part, all of our sight seeing took place during the day, so we seldomly went very far at night.
Where are the cool spots in Paris, France ?
Whether you're travelling on a budget or simply looking to put your wallet to rest for a little, we've got some cool spots that will put a freeze on your spending.
Cool Spot #1
Midnight in Paris stairs
Saint Étienne du Mont is where part of the movie Midnight in Paris was shot. The stairs where Gill Pender sat while waiting for his ride to appear.
It's also a cool spot during the daytime. We found one of our favourite pubs just across the street, called The Bombardier. Give that place a try, even if it's just for a drink!
Here is the exact location.
---
---
Cool Spot #2
Champ de Mars - Eiffel Tower
As we mentioned during this blog. We really enjoyed our walk from Champ de Mars up to the Eiffel Tower. The square was beautifully maintained and we loved watching the Eiffel tower grow larger with every step we took.
Here is the exact location.
Cool Spot #3
Île de la Cité
Although we knew this place existed, we felt that we stumbled upon it by chance.
As we crossed Pont Neuf, we noticed stairs heading down to a park. If it wasn't for our instinctive discovery mode, we wouldn't have found this place when we did. Which is why we are sharing this hidden gem with you.
Here is the exact location.
Cool Spot #4
Free View of Paris
As we arrived in Paris, the taxi driver told us the best elevated spot for a city view is from Sacré Coeur. Well it's free if you make it up the hill walking. Alternatively it'll cost you a funicular ride. However if you have a transit pass, you'll be able to use it to ride the funicular.
Here is the exact location.
Cool Spot #5
Mur des je t'aime
We stumbled upon this place by chance. As we navigated the Montmartre neighbourhood, we came up to a lively square. The wall was painted blue and had a bunch of writings on it. At the very top was a painted woman with the words 'love is messy, so let's love'
Here is the exact location.
---

---
---
THANK YOU for going over our Paris France blog, we hope it inspired you to discover 'The French Capital of the World' !
---
---
Itineraries and Attraction recommendation
Versailles day trip - 1 full day
Mont Saint-Michel - 1-3 days
Montmartre neighbourhood - 1/2 - 1 day
Catacombs - 1/2 day
Champs Élysées & Arc de Triomphe - 1/2 day
Eiffel Tower - 1/2 day
Louvre Museum - 1/2 - 1 day
---
---
---
Growing Portfolio
1000+ images and counting​
We've been taking quality shots since 2016 and adding them to our Shutterstock portfolio.
You'll find a wide range of images, some that you can print for your home decoration or even use for a digital project you're working on. Check our portfolio here.
---
Recent posts
Please follow and like us: