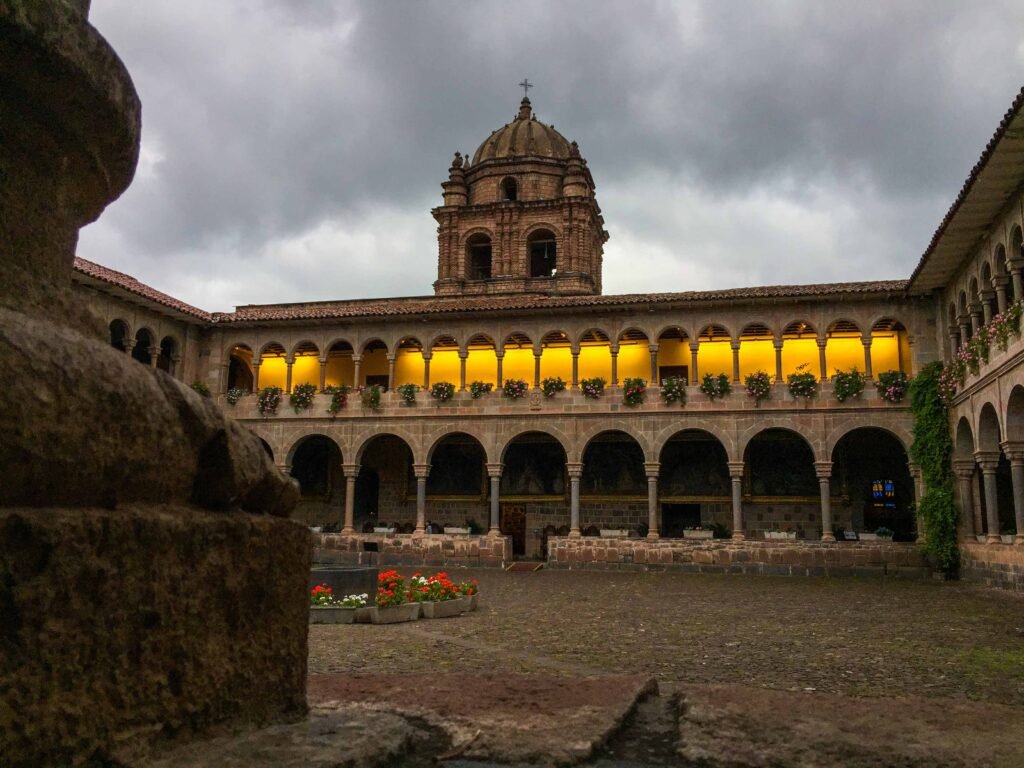 ''Why visit Cusco Peru and what's there to see & do''​
---
Pisco
Pro tip, the national drink in Peru is Pisco sour!
+ Tours
Cusco city tour, Machu Picchu, the sacred valley and much more!
4-5 days
Recommended stay in Cusco & the Sacred Valley
---
Our Cusco Peru Blog is divided into 3 sections.
Within we identify top places to discover in Cusco & the Sacred Valley.
Then we'll list a few day trips & lastly 'cool spots' to check out in the city.
We've also made a Google My Maps which is Free to download.
Simply provide us with your email address and we'll gladly share it with you 🙂
---
---
Why did we visit?
We took a sabbatical in 2016 and spent some time in South America.
Before we left on our trip, we visited a travel convention in Montreal and entered into a contest.
We wish we could tell you they won an all expenses paid trip, however Serge did win a contest, giving him a Chile guide book. Thereby giving us the idea to discover new countries in South America!
---
Disclosure: This page contains affiliate links, meaning We receive a commission if you decide to purchase using our links mentioned in this page, however at no additional cost to you.
---
Places to visit in montreal
Cusco activities & Day Trip ideas
With the help of Kayak, we created a multi-trip itinerary from São Paulo Brazil. As you might already know, this trip started with Santiago and then Cusco Peru. While our flight from São Paulo to Santiago was smooth, heading to Cusco on the other hand was less desirable.
Our flight left Santiago to Lima arrived at 5pm and left us with a 12 hour layover. During that time we needed to pick up our baggage from the conveyer belt and wait at the airport entrance until 3 hours before our flight. Problem was that our flight to Cusco was leaving at 5am. While booking this flight, we imagined ourselves being able to sleep on benches inside the airport. However we were left waiting in the airport entrance and sitting on the 2nd level floor in a corridor.
Bear this in mind and consider paying more for your plane ticket if looking for more comfort.
Read on to discover our recommendations of sights to see in Cusco Peru and few other parts of the Sacred Valley.
Get your FREE List - Cusco Peru & Sacred Valley sites
We've been using Google Maps for a very long time. It helps us pin places we would like to visit prior to making our trip. So we've decided to share our recommended list of places to visit in Cusco Peru with you, for FREE!
Simply provide us with your email address and we'll gladly share it with you.
What is there to see & do in Cusco & the Sacred Valley ?
For starters you can download our FREE Map in addition to reading our blog!
We thought Santiago would be hard to beat, however Cusco and the Sacred Valley presented another level of culture, sites, food and drink! You're welcome to dive into each of the categories below.
At a minimum, we recommend roughly 3 days in Cusco, 1 day for Machu Picchu and another 1-2 days to discover the Sacred Valley. We also missed out on a chance to visit the 7 colour mountain Vinicunca however we'll cover this destination in the day trips section.
Prior to visiting Peru, we thought Machu Picchu was the biggest attraction. Albeit so, there are so many other archeological sites to discover. There are many of these sites around Cusco city, for a quick accessibility. Then there's the Sacred Valley and lastly Machu Picchu. The later can be accessed by train or again hike via the Inka Trail.
Montreal tourist attractions
We arrived in Cusco as the sun rose, completely exhausted from our travels and lack of sleep. We picked up our luggage on the conveyer belt and headed to the exit at which point we were greeted by dozens of taxi drivers. All were asking for our money, however we had previously arranged a driver with our hotel. If at all possible, we recommend that you do the same, this way eliminating any confusion once you arrive.
Our driver, named Alex, brought us to our hotel. During the short trip, he gained our trust and we decided to plan a day trip with him. First he recommended that we check in at the hotel then we made plans to reconnect later, once we had a chance to get some rest.
Unbeknownst to us, Cusco sits at 3,000 meters above sea level. According to external sources, some people experience headaches and nausea at any point higher than 2,500 meter above sea level. That, along with the cold hit us pretty hard. Many remedies exist, one of them being coca tea.
1. Cusco City Tour
Our driver, named Alex a native from Cusco Peru, was a great asset during our trip. He was not certified as a tour guide, but was full of knowledge and guided us with his best interest. Despite his knowledge, he also wasn't allowed to follow us on the sites. However he instructed us when we should pay for a guide and when it was not necessary.
His first golden nugget was proposing that we purchase the 'boleto turistico'. This multi-ticket is a great investment if you're planning on discovering many sites in Cusco and the Sacred Valley.
The Alex took us to purchase proper ponchos since we were poorly prepared for the weather. Santiago and Cusco do not share similar temperatures. We estimate there's roughly a 10 degree different, not factoring the humidity.
Lastly, we were winded by the altitude so Alex recommended that we run the city tour of archeological sites. He would drive us from site to site and we would keep our walking to a minimum.
Tambomachay
Still within the Cusco city limits, Tambomachay is roughly 20 minutes by car from Cusco's historical centre. The best way to plan a visit is through a guided city tour. Alternatively, you could also hire a taxi who can take you around the various sites.
It appears the function of this site is unknown. Sources think it might have been a type of spa for elites, a guard post to protect Cusco or again used for religious functions. Water continues to flow from the spouts down below and apparently the aqueducts are still interconnected from waterfalls afar.
Beware that Tambomachay stands at roughly 3700 feet which is well inside the range of altitude sickness. This said, if you haven't already acclimatized yourselves to this height, consider taking it easy.
PukaPukara
Our next stop was Puka Pukara, also referred to as the red fortress. This archeological site is located figuratively beside Tambomachay. We felt there was much more substance at this site. For instance the fort appears to be very much intact. Also the mountain views and landscape was simply captivating.
It appears that Puka Pukara was a military hub which also functioned as a military centre. Some say the construction was 'rushed' based on the stacking of the rocks. For instance, because of the irregular shaped rocks.
Pukamuqu
Getting closer to Cusco's historical centre, Pukamuqu is a mountain which also goes by the name of 'red hill'. Located roughly 6 kilometres from the city centre and 16 minutes by car. You'll find gorgeous view of the valley below and the surrounding mountains. Additionally, there the White Christ and three wooden crosses.
You won't need the tourist ticket nor pay for admission here. Sitting at 3600 feet, simply get up there and enjoy the view!
Sacsayhuaman
Sacsayhuaman or as a pastor we met said (as well as easier to pronounce) 'sexy woman'. Located 700 meters from Pukamuqu, Google estimates a 10 minute walk. However that might take a little longer considering the 3700m altitude. Alternatively it's a 4km ride in the mountains which also takes 10 minutes.
It appears this complex was built by the Inca in the 15th century. This site is large enough to hold thousands of people which is fitting because it was constructed for communal ceremonial activities.
What we enjoyed most about this site was the large rock with slide type grooves running down the side. We witnessed many individuals carefully making their way up and then sliding down. It looked like so much fun that we decided to give it a try!
Montreal Tourist
Where to visit in Cusco Peru ?
Get our MyMaps with list of sites to visit
2. Cusco Historical Centre
A great place to start exploring Cusco is at the Plaza De Armas square. The centre portion is flat with a mixture of concrete with patches of grass and a fountain. Surrounding the square you'll find low rise buildings plus two churches demonstrating unique architecture.
Cusco's historical centre is quite extensive. It runs roughly 5 blocks long by 5 blocks wide.
Cusco Carnival & Celebrations in February
In February Cusco local celebrate the 'Virgen de la Candelaria' also known as La Mamacha Candelaria. It's an 18 days party and we consider ourselves fortunate to have been welcomed by local.
We noticed a party at the Iglesia de la Companía de Jesús while discovering the Plaza de Armas. Intrigued, we approached the party to get a closer look and take more pictures. Next thing we knew, we were dancing and drinking with the locals. Their clothes were mesmerizing and despite the fact that we were underdressed, they embraced us just the same.
If you find yourself in Cusco during the month of February, be sure to take note of this church and take part in the celebration!
San Pedro Market
Lucky for us, our hotel was located minutes away from the San Pedro Market. Well rated on Google with a 4.2 score, you'll find everything you can possibly need and more. Anything from food product to souvenirs to take back home. Be warned the San Pedro Market is more on the rugged and rustic side. We felt it slightly disorganized and dirty.
Alternatively, there's another market which goes by the name Mercado Artesanal de Productores Inti Paqarek. We felt this one was slightly more organized, especially for purchasing textile and clothing.
3. Chocolate Museum
This is a great place to visit, chocolate fan or not. And let's be real, everyone likes chocolate from time to time. Plus, higher the cocoa percentage is actually good for the health.
The 'Museum' is free to visit. A designated guide will give you the tour and explain much about chocolate and the cocoa bean. You'll get to try cocoa nibs, chocolate tea and other goodies. Tours are given in English. They are well equipped to plan a workshop or cooking class.
More on the ChocoMuseum here. There seems to be more than one location in Cusco, however we're pegged this as the correct location we've visited : Plaza Regocijo, Cusco, Peru
4. Handicraft Center Cusco
Located a brisk 15 minutes walk from the San Pedro Market and roughly 6 minutes from the Qorikancha Inka Ruin. We felt the Mercado Artesanal de Productores Inti Paqarek was slightly better organized and cleaner than the Pedro Market.
Our friend Corina is from Peru and she advised that we could negotiate a better price with the merchants. However our advice to you is to offer or pay the amount you feel the items are worth. For starters, this will give you a better appreciation of the product. These are quality goods that are made to last. Lastly, locals live on the money that we give them in exchange for these products. Alas, keep this in mind as you prepare to negotiate with the merchants.
Montreal attractions
---
---
5. Qorikancha
Also part of the boleto touristico is Qorikancha, a short 8 minute walk from the edge of Plaza de Armas. Now a museum, Qorikancha was an Inca ruins from the 15th-century. It was once a temple that had walls & floors covered in pure gold. From Quechua it's name translates to 'the golden temple'. We envisioned it while discovering the inner court, see the golden hallway from the picture below.
It appears that Qorikancha was built using the ashlar masonry technique. This essentially means perfectly edged rectangles for a seamless fit with little need for a binding agent. Plus, as you'll see for yourselves when you visit, the large stones were made to stay in place.
Beautifully decorated inside and out, we especially loved exploring the inner courtyard as well as the view of the city from the second level. Qorikancha is a must visit while in Cusco!
Montreal tourism
Montreal to do
Few day trip ideas while discovering Cusco Peru
Cusco is well located in the the andes is well known for the archeological ruins and Spanish colonial architecture. Cusco city itself offers a great range of surprises and it's also the central hub for accessing the Sacred Valley as well as Machu Picchu. Oh and a little surprise for you beer enthusiasts!
Read on for day trip ideas from Cusco.
1. Machu Picchu & Aguas Caliente
There are a few ways to get to Machu Picchu. For starters, walking around Cusco you might come across dozens of people trying to sell you a trip to MP. It's also possible to book your own way by train. We opted for the latter, however we're not really sure it was the simplest way. This said, we have no regrets as it was a comfortable ride, despite being a long one.
First, we booked a ride with our guide Alex. He took us from Cusco to Ollaytantambo because it appeared that trains no longer leave from Cusco. Once in Ollaytantambo, we should hop on our train and head toward a city called Aguas Caliente. Speaking from experience, this is quite a scenic route and we're happy we opted for the train with panoramic windows.
Aguas Caliente
Aguas Caliente is a small town at the base of Machu Picchu. From here, you can hike or take a bus ride up the mountain to see the archeological site. We planned a day trip which meant we needed the quicker option. Alternatively, you can plan an overnight in Aguas Caliente to explore the town and hike up the mountain if you like. For those looking for more of a challenge, there is a way to hike the entire way from Ollaytantambo called the Inka Trail.
Once we were heading up the mountain, felt quite glad to have opted for this option. As the bus zig-zagged all the way up 2000 meters. It was all the more impressive when we tried visualizing the Inkas heading up the mountain to build their village.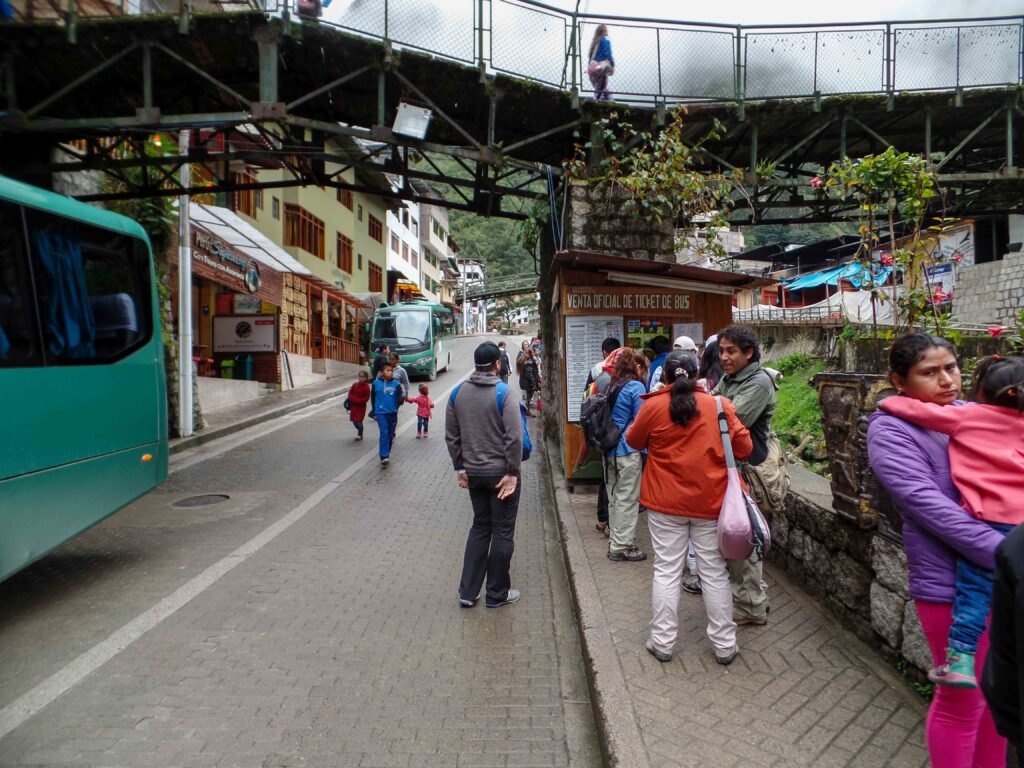 Self or guided tour
Once at the top of the mountain, expect to be swarmed by countless guides. It's quite expensive if you're 1-2 people for 1 guide, for this reason we recommend that you pair with other people. This way splitting the cost amongst 6 or more individuals makes it more affordable.
From our recollection, we don't believe a tour guide is mandatory. Which means you can visit Machu Picchu by yourselves. However our thoughts once here was that MP is such an important piece of history that it deserved a guide to help us uncover the story.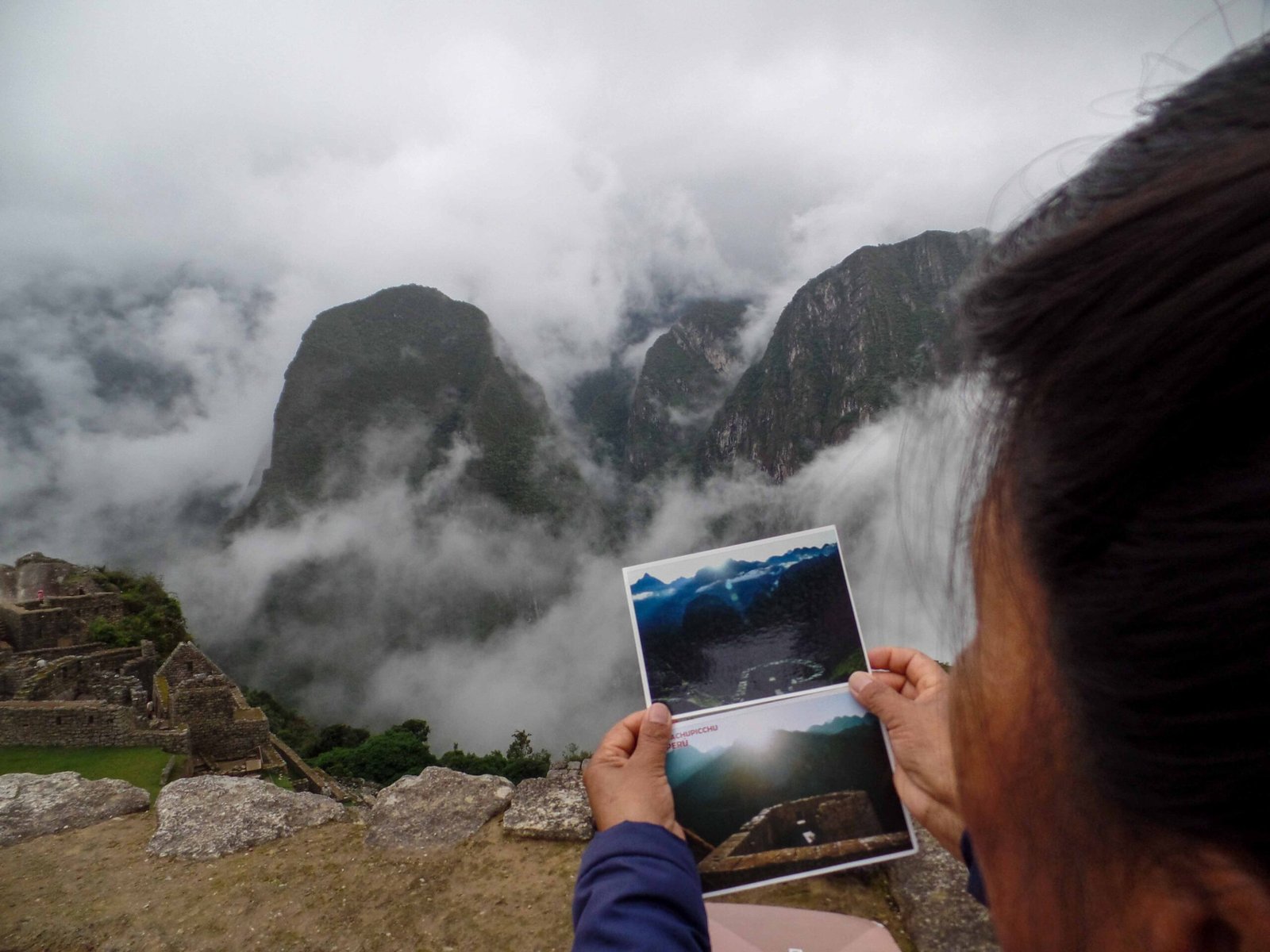 The Sun Gate
Our tour guide parted ways close to lunch time, which is when we headed over to the cafeteria to have our lunch. Actually, our lovely attendants at the hotel prepared a breakfast for us, part of which we finished for lunch. We purchased a few more items to complete our meal.
After lunch we headed back at the top of the mountain to admire the ruins once more. Then we explore our options and found a place called the Sun Gate. Our guide told us about it and mentioned that it was a little of a hike. We were curious to discover this place and gain a new perspective from Machu Picchu.
It was a quite a hike and we still felt exhausted from the high altitude. However it was worth every bit, for the mountain views and the distant ones of Machu Picchu.
Once you've seen Machu Picchu from various angles, you might start to wonder what else there is to see. Don't get us wrong, that view does not get tiring anytime soon. However when you come this far, it's good to stretch yourself a little further!
There is also another hike around the other way if you're up to it. It's called the Inca Bridge, less frequented and presents gorgeous views of the valley below. Additionally you'll witness the Inca Bridge, which is a series of steps made from the Rocky Mountain. It was inaccessible to cross when Serge visited, and rightfully so, because one wrong step and one falls to their death. This said, we do urge you to be careful while hiking to the bridge because you'll encounter narrow paths!
2. Sacred Valley
Our guide Alex meant well as he tried to pack the entire Sacred Valley in one day and you're welcome to do the same. However our advice to you is to break it into two separate trips if possible. We felt on a timer every single time we stepped out of the car. For example, once we arrived in Ollaytantambo, Alex gave us 1h30 to explore the grounds. Had it been for us, we would have spent 1/2 day exploring here. Especially since it's a 1h30-2h ride from Cusco and we would have love to make the most of it.
Moray
Moray is roughly 1h30 from Cusco and 1h from Ollaytantambo. The view is simply captivating and mesmerizing as we walk up to the ledge at the very top. Our eyes followed the perfect circles in awe and wondered what all of this meant.
With a slight language barrier, Alex explained that Incas ran various experiments for farming food. He went further and explained the result of these experiments produced new types of potatoes and corn. Furthermore, Alex told us there were more than 3000 types of potatoes in Peru. To be more precise, we've seen sources advertise over 3800 even! All are different shapes, size and colour.
It would appear that Moray was the area where the Incas experimented with the altitude. Where each new height would create a new type of potato!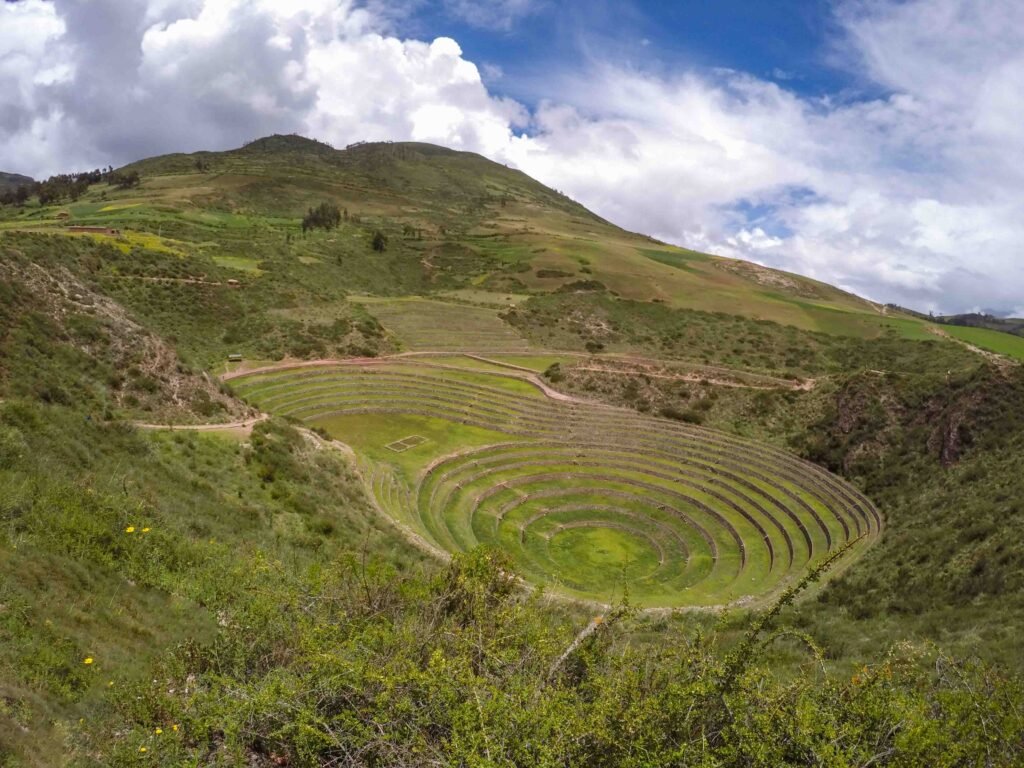 Salineras de Maras
A salt provider and mesmerizing view!
According to online sources, this salt mine has been around since the 1400s. Again, this would have been conceived and built by the Incas. The process is quite simple, first these basins were dug up allowing water to slowly drip and fill. Then by process of evaporation, water would rise allowing the salt to remain in and around the 'tubs'. Later individual workers would come and scrape the salt, package it and sell it to locals.
We were able to walk up and down the narrow path, in order to explore the entire setup. As we returned to the main entrance we purchased some salt to bring back home. It was perhaps not the most exciting sight we've visited, however loved the idea to bring a different type of souvenir home.
Ollaytantambo
Ollaytantambo is a must when touring the Sacred Valley, it is also on the way to Machu Picchu, located roughly 1h30 from Cusco. Our first impression was how this site looked bigger and more imposing than Machu Picchu. The slight difference is that you won't need to hike up a mountain or take a bus to the summit in order to view Ollaytantambo because it sits on ground zero.
As mentioned earlier in the blog, our driver Alex left us with 1h30 to explore this archeological site. After Ollaytantambo, we could easily say that it's possible to spend up to 1/2 a day here. There are so many levels and so much to explore. Unless of course you see this as one giant rock.
Pisac
Pisac was our last stop of the day after Ollantaytambo. One thing we hadn't realized prior to our visit, was how early these parks close. The Pisac archeological site opens at 6am however closes at 5pm. To be clear, the last entrance takes place at 5pm as they allow tourists roam until 6pm. It's roughly 1h away from Cusco and the best way to access is with a tour or private taxi.
Once again, no one seems to have the exact use for this site. However once you break it down, you'll notice that Pisac has the same agriculture structure as Moray, similar military setup as Puka Pukara, the residential and religious sections also. Besides Ollantaytambo, Pisac is just as impressive and deserves more than 1h30 to explore. With the lengthy rides between parks, we highly recommend that you visit both Pisac and Ollantaytambo on separate days and pair each with other activities.
More information on Pisac here, however you might need Google translate as there's no English version.
3. Chinchero and the Textile centre
Acllas Textile Centre
On a given day, Alex surprised us with a place called Centro Textil Acllas. At the main gate, we were greeted by cute creatures like llamas and guinnea pigs. We received a warm welcome from everyone at this site. They allowed us to explore freely and then took the time to explain how they colour the fabric. The various bowls you see in the image below depicts natural ingredients which are used to die the wool.
It seems unfathomable that this process manages to make various pieces of clothing like toques, scarves, runners, sweaters and ponchos. In the other image below you'll see how everything is made by hand. We purchased a few of these items back in 2017 and our items are very much intact today, almost 5 years later.
Once you see the hard work that goes into the creation, you'll immediately feel grateful paying the face value for these items. More on Centro Textil Acllas here.
Chinchero Archeological site
Almost next to the Centro Textil Acllas is the Chinchero archeological site. You'll either hop in the car and drive for 2 minutes or alternatively walk, thereby taking 9 minutes. The red cobblestone roads and hallway gives a sense of medieval times village, in a South American fashion.
We visited a small chapel with beautifully decorated facade. What looked like a crossover between tile mosaic art and hand drawn paintings. The inside of the chapel was small and quaint.
A few steps further you'll find the Chinchero archeological site. What we really enjoyed was the melange of colours on the horizon. The lush green grass, rich red earth looking stone fence, the cobblestone road and cloudy texture in the sky.
Cerveceria del Valle Sagrado
This brewery is located roughly 10 minutes from Ollantaytambo and 20 minutes from Urubamba. If you can add this place as you trek through the sacred valley, great! They have great variety of beers and delicious food as well.
We started off with a tasters pack, roughly 4-5 three ounce glasses of various beers. Then we ordered full pints of the ones we loved and added some food to the order. They make delicious papas fritas (potato fries) and skewer kabobs with local corn.
4. Vinicunca Mountain
Sadly we did not visit Vinicunca for lack of time. We were so fixated on making it to Machu Picchu and were blinded by other possibilities. To the point where we didn't realize there were many other archeological sites around Cusco. For this reason, we wanted to make sure we added Vinicunca, so that you in turn don't miss your chance if you choose to visit. Then you can plan your time accordingly.
It will take 3 hours to reach Vinicunca from Cusco, which means 6 hours in total. Plus you'll have to hike 6 miles to reach the colourful masterpiece so that's roughly 2 hours each way. We've read about the hike and understood that it's not for beginners. Unlike Machu Picchu, you'll want to make sure you get here on a sunny day in order to see the vibrant colours.
Things to do in Dublin
Questions about Peru answered
Q - Is Cusco higher than Machu Picchu ?
A - The answer is yes. It shocked us to learn this because we didn't understand the land layout. This whole region is full of mountains. Cusco sits at roughly 3400 feet and as you make your way to Aguas Caliente, you're actually dropping down to 2000 feet. Machu Picchu itself sits at around 2400 feet above the sea. Which means altitude sickness should not be a factor.
Q - How many days Cusco Peru ?
A - It's always tough to make this recommendation because it depends what individuals want to see and do. This said, we reckon 3 days for exploring Cusco should be sufficient. However add one more day if you want to see Machu Picchu, plus 1-2 days for the sacred valley and one more day for Vinicunca.
Q - What is the currency in Peru ?
A - It's the Sol and actually less confusing to convert than the Chilean Peso. At the moment we wrote this blog, 1 CAD will get you roughly 3 Sols.
Q - What to wear in Cusco Peru ?
A - Be sure to check the temperature prior to visiting. We were shocked when we landed since we were used to the warmer temperatures of Santiago Chile. Bring warm clothes and a wind breaker or rain jacket. Additionally, you can always purchase local wool sweaters that can serve as a great souvenir as well.
Q - What is Sacred Valley Peru
A - The Sacred Valley is a valley in the Andes region of Peru. This region stretches over roughly 60 kilometres between Cusco and Machu Picchu. The Sacred Valley comprises of fertile farmland, Spanish colonial sites, archeological sites and much more!
Q - Is Cusco Peru safe to visit ?
A - We felt entirely safe while visiting Cusco, Machu Picchu and the Sacred Valley. Granted, our driver Alex is a local and he helped us a bunch. However we had a relaxed feeling while visiting around. The only thing which left us feeling uneasy were the groups of street vendors that swarmed us trying to sell massages or trips to Machu Picchu.
Where are the cool spots in Cusco & the Sacred Valley ?
Whether you're travelling on a budget or simply looking to put your wallet to rest for a little, we've got some cool spots that will put a freeze on your spending.
Cool Spot #1
Plaza de Armas
We've talked about it a bunch in this blog, however it is a great place to start! Lia and I were absolutely amazed with this square. Speaking from experience, we feel this square does a great representation of architecture and mountain panoramas.
---
---
Cool Spot #2
Pukamuqu
Visiting this place is totally free, you do however need to make your way up the mountain. It's a 30 minute walk from Plaza de Armas if you're up for it. And a 30 minute hike at 3400meters of altitude packs a punch. However the view once you're up there will be worth every step!
Cool Spot #3
Puka Pukara
Close to Cusco's city centre, Puka Pukara offers great combination view of the mountain and archeological site. This spot is not entirely free since you'll need a 15 minute ride plus pay the entrance fee.
Cool Spot #4
Choco Museum Courtyard
We captured this shot on our way to the Choco Museum. The access is via the courtyard and on the second level. There are a few spots like this across the city

---

---
---
THANK YOU for going over our Cusco Peru blog, we hope it inspired you to discover Cusco and the Sacred Valley !
---
---
Itineraries and Attraction recommendation
Cusco City Tour - 1/2 - 1 full day
Sacred Valley - 2 days
Cusco City - 2/3 day
Vinicunca Mountain - 1 full day
Machu Picchu - 1-2 full days
---
---
---
Growing Portfolio
1000+ images and counting​
We've been taking quality shots since 2016 and adding them to our Shutterstock portfolio.
You'll find a wide range of images, some that you can print for your home decoration or even use for a digital project you're working on.
---
Recent posts
Please follow and like us: